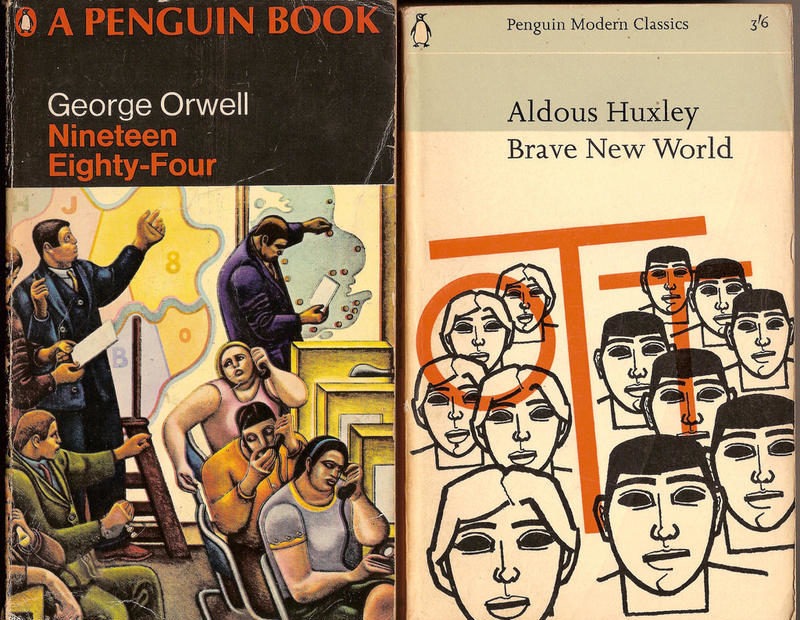 Regional Booksellers List: Dystopian Novels On Most
Why are dystopian novels back on best sellers lists? Recently, 1A discussed renewed interest in George Orwell's Nineteen Eighty-Four and The Handmaid's Tale by Margaret Atwood, and wondered if this development was in response to legislative uncertainty and fears of an atypical administration?
So we asked followers on Facebook to tell us about their favorite dystopian novels and why. Then we called booksellers to find out what trends they are seeing.
At Yakima's Inklings Book Shop, manager Emily Ring says Margaret Atwood's books The Handmaid's Tale and her MaddAddam trilogy are selling well. Ring thinks it's because Hulu is releasing a The Handmaid's Tale series in April. HBO was developing The MaddAddam trilogy as a series, but has since killed the project. Other books selling well: Night by Elie Weisel, along with Cracking the SAT. Little wonder, because Yakima students are preparing for the test and educators have assigned Night. Another popular choice is Ernest Cline's Ready Player One, set in the not-so-distant future, where people are plugging into a virtual world called OASIS which is filled with 1980's nostalgia.
Kory Gaston, manager of Adventures Underground in Richland, says there are  a couple of dystopian novels in their top 5 – Brave New World and Nineteen Eighty-Four. Gaston's customers are also into Norse Mythology by Neil Gaiman and The Princess Diarist by Carrie Fisher. Gaston says there are a lot of Star Wars fans in Richland. Another big seller is the urban fantasy by Tri-Cities-based author Patricia Briggs: Fire Touched. Gaston calls it an entertaining read.
There are no dystopian books among the top five at Book People of Moscow. Manager Carol Spurling says her customers sought nature and myth last month. Neil Gaiman's Norse Mythology and Braiding Sweetgrass – about indigenous plant wisdom – are selling well. Hillbilly Elegy by J.D. Vance and A Man Called Ove by Fredrik Backman are national sellers with local appeal. Sales of Deep Survival: Who Lives, Who Dies and Why by Laurence Gonzales– the science and art of survival – may reflect the interests of the vibrant outdoorsy community.
While there are dystopian novels on some regional booksellers top 5 lists, the trend is spotty, at least, for now.