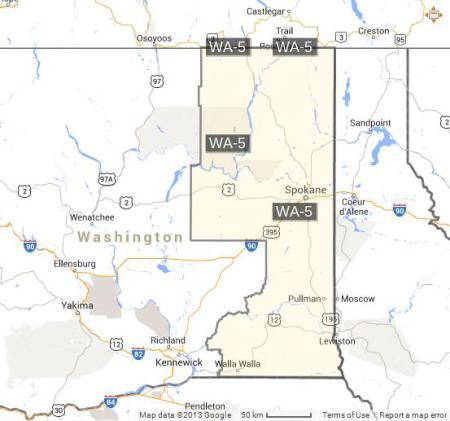 New Poll Shows Cathy McMorris Rodgers Leading In Washington's 5th District Race
Pollster Stuart Elway has released a new survey that shows Republican Congresswoman Cathy McMorris Rodgers with a six-point lead over Democrat Lisa Brown in Washington's Fifth District Congressional race.
The poll was commissioned by five media organizations, including Spokane Public Radio, the Spokesman-Review, the Lewiston Tribune, the Walla Walla Union-Bulletin and KHQ-TV.
Democrats in eastern Washington are excited that former state Senate Majority Leader Lisa Brown is running against Cathy McMorris Rodgers this year. But with McMorris Rodgers' powerful position in Congress and support from the Republican Party, it's going to be a real challenge for Brown to defeat her. Stuart Elway wanted to see if, seven months before the election, there are indications that it will be a competitive race.
"The striking thing is how close it is, given that McMorris Rodgers has been there for awhile and has won rather handily in each of her previous elections. So to have Lisa Brown this close this early is not a familiar position," Elway said.
Among the 400 or so people polled, McMorris Rodgers was favored by 44 percent, compared to 38 percent for Brown. Three percent chose another candidate and 16 percent were undecided.
The poll shows an equal percentage of voters — 45 — approve of McMorris Rodgers' job rating as disapprove. Elway says the demographic numbers show where the differences are.
"Men like McMorris Rodgers by a 23-point margin and women like Brown, prefer Brown, by an eight-point margin. So there's quite a gender gap here," Elway said. "To a large degree, that reflects what's going on, here and nationally, in party identification."
McMorris Rodgers has the overwhelming support of people who self-identify as Republican, such as Pat Clark of Spokane.
"I like all that she's trying to do, and she works very hard at trying to put good values and what's best for the American people, in my opinion," Clark said.
McMorris Rodgers also wins over independent voters, 40 to 32 percent. That includes Kurt Langland of Deer Park, who doesn't like the job Donald Trump has done as president, but he supports McMorris Rodgers.
"I'm kind of an odd fellow. I believe is fiscal conservatism, but I also see the importance of social services. I never find an ideal candidate, but Cathy McMorris at least seems to be a genuine person," Langland said.
McMorris Rodgers has a healthy lead among people with a high school education or some college and a slight lead among people who are college graduates.
Brown, a college professor by vocation, wins among those with graduate degrees and is the runaway pick for people who identify as Democrats, such as Deidre Allen of Greenbluff.
Allen says the Rep. McMorris Rodgers is rarely available to meet with constituents.
"I was also very disappointed in her stand on guns in the schools," Allen said. "I don't think arming teachers is the answer and she's still tied into the NRA so she thinks gun ownership is more important than the lives of our children and I just think that's wrong."
The poll also asked how people in the 5th District view President Trump's job performance. It shows 45 percent approve and 50 percent don't. And it queried people about two specific issues, the first dealing with guns and the second with the Affordable Care Act.
Copyright 2018 Spokane Public Radio