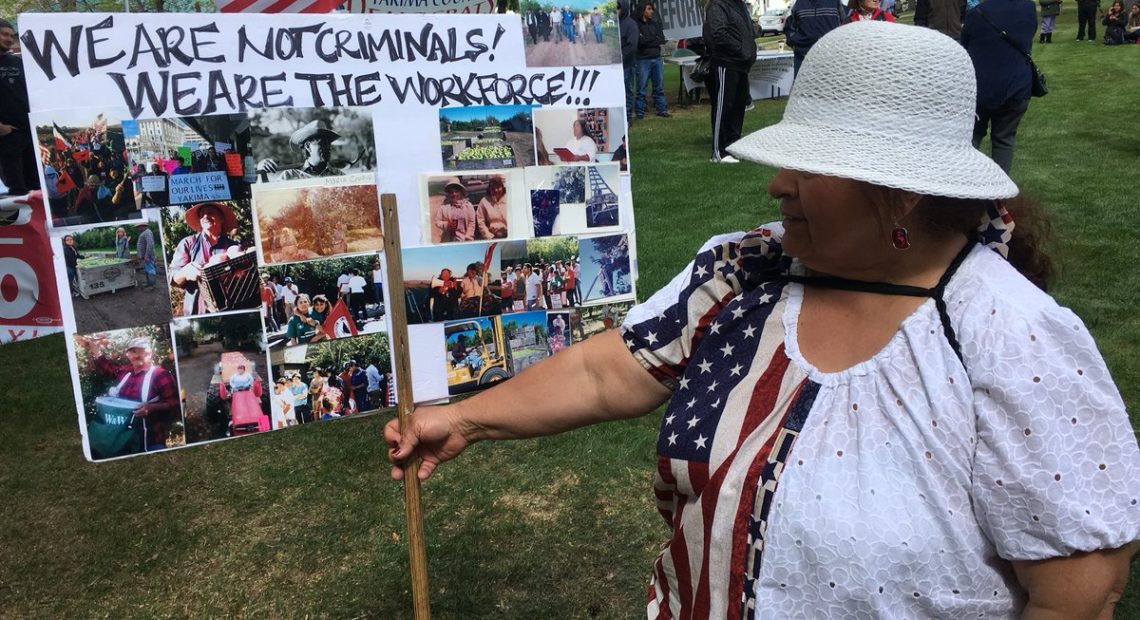 'People Are Giving Up': Low Attendance, But Hope For Future, At Yakima May Day March
May Day demonstrations happened around the Northwest Tuesday, May 1, including in Latino-concentrated Yakima.
The peaceful gathering focused on immigration reform. But turnout was low compared to previous years, with only a few hundred people attending.
Even so, United Farm Workers flag waved alongside U.S. and Mexican flags at the march. A few hundred marchers took to the streets with various chants like:
"Las calles son del pueblo. El pueblo donde está? El pueblo está en las calles exigiendo dignidad / The streets are the people's. Where are the people? They are in the streets demanding dignity."
Faith leaders, activists and organizers spoke on stage before the march. Senator Rebecca Saldana, who represents Seattle in Washington's 37th Legislative District, spoke to the crowd, as did Yakima Councilwoman Dulce Gutierrez.
But numbers were lower than in past years. Organizers thought it could be everything from an earlier march time to low morale in the immigrant community.
Maria Cuevas from Wapato was encouraging marchers to attend leading up to May Day. She's 64 and has attended every May Day march since 1986, when she marched with Cesar Chavez.
She's worked most of her life as a farmworker, is a mother of nine, and calls herself a local activist.
Cuevas hopes the younger generation joins and gets excited by May Day's intent. She says immigrants, people of color and other minorities are all in the same struggle for social justice, and that they should make a human chain, hand to hand, shoulder to shoulder.
Presiliano Aguilar Lujan is a farmworker from Selah. This is his fourth march, and he thinks people are starting to give up.
"Yo pienso que la gente se da por vencidos. Yo sufri mucho y ahora miro la gente que viene y no quiero que sufrir lo mismo que yo. Por eso vine a esta marcha para seguir apoyándolos y aqui estare con ellos hasta el fin."
Lujan says he remembers the emotional and physical suffering he experienced when he first immigrated to the U.S. from Mexico, and he doesn't want others to go through the same thing.
For that reason, he says he'll be here, supporting the march every year, despite turnout.
Copyright 2018 Northwest Public Broadcasting