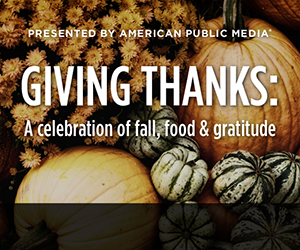 November: Special Occasions, Special Programs
Armistice Day: Music from the Trenches 
This program commemorates the 100th anniversary of Armistice Day, the end of World War I. You'll hear music from both sides of the Atlantic related to the historic period spanning the start of WWI through the signing of the armistice.
It includes pieces by Ravel, Holst, Butterworth, Farrar and Britten, with performances by Anna Netrebko and Bryn Terfel. Monday, November 12, 3 & 8 PM, NPR and Classical music service
Giving Thanks: New for 2018! John Birge presents a contemporary celebration of gratitude, with classical music and stories of Thanksgiving. This year's Giving Thanks also celebrates the Feast Day of St. Cecilia, the patron saint of music.
Special guests include John Rutter, with a world premiere of his latest choral work; conductor Nic McGegan; plus a remembrance of former guest and U.S. Poet Laureate Donald Hall. Thanksgiving Day, NPR and Classical music service 9-11 AM, 8-10 PM; NPR News service 7-8 PM
The Splendid Table's Turkey Confidential: The annual LIVE Thanksgiving call-in show! Francis Lam takes calls and comes to the rescue of cooks, kitchen helpers and dinner guests during the biggest cooking day of the year.
This year's special guests include former Splendid Table host Lynne Rossetto Kasper, Pati Jinich, Dorie Greenspan, and Netflix's newest TV chef and traveler, Samin Nosrat. Thanksgiving Day, NPR News service, 9-11 AM
Every Good Thing: Join classical music fans from around the country as they give thanks and celebrate one of life's most meaningful gifts, music.
Listeners nationwide share stories about their favorite classical music pieces. Thanksgiving Day, NPR and Classical music service, 3-4 PM