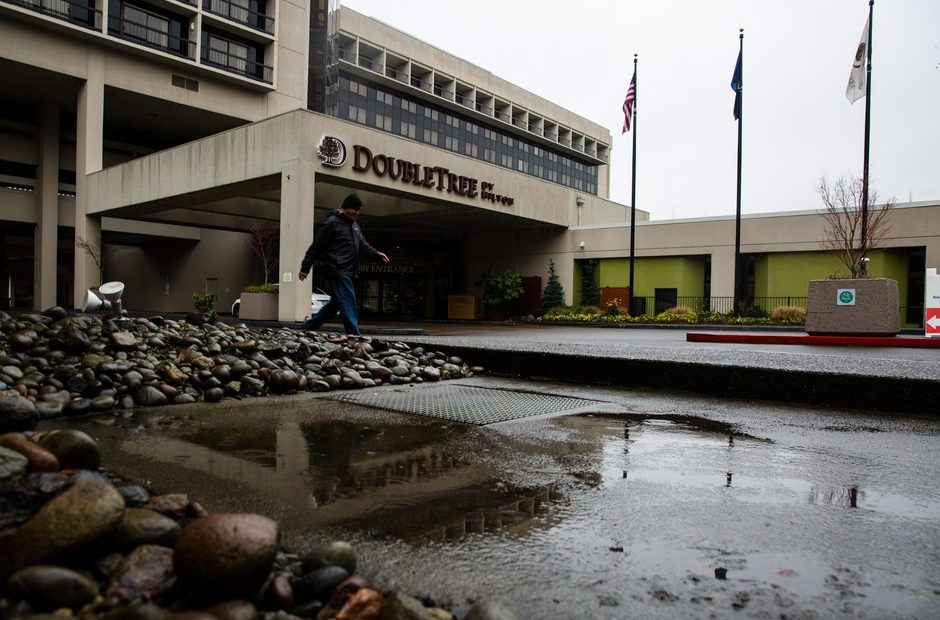 Portland DoubleTree Fires Two Employees Accused Of Racial Profiling In Kicking Out Guest
BY CONRAD WILSON, ERICA MORRISON & ERICKA CRUZ GUEVARRA / OPB
UPDATE, Dec. 29, 2018, 10:50 p.m. PT: 
The DoubleTree in Portland says it has fired two employees involved in kicking an African-American guest out of the hotel.
In a tweet Saturday morning, DoubleTree Portland announced the employees' termination, saying their actions were inconsistent with the hotel's values.
"We have terminated the employment of the two men involved in the mistreatment of Mr. Massey," the tweet read. "Their actions were inconsistent with our standards & values. We reiterate our sincere apology for what he endured & will work with diversity experts to ensure this never happens again."
Lawyers representing the guest, 34-year-old Jermaine Massey, said they intend to pursue legal action soon. The firings come just a day after the hotel announced it would place the two employees involved on leave and bring in an outside party to investigate the Dec. 22 incident, which has since received national media attention.
Attorney Gregory Kafoury of the law firm Kafoury & McDougal also said the firm is investigating "similar reports" from other Hilton hotels around the country. Hilton owns the DoubleTree chain.
ORIGINAL STORY, Dec. 29, 2018:
The DoubleTree Portland announced in a series of tweets Friday it plans to hire a third party to investigate a Dec. 22 incident that resulted in an African-American man being kicked out of his hotel room.
The hotel employees involved in the incident have been placed on leave, the hotel said.
"We are seeking the counsel of community leaders, and will engage a third-party to conduct a full investigation into the incident – reviewing our internal processes, protocols and trainings to ensure we are creating and maintaining a safe space for everyone," the DoubleTree Portland said on Twitter.
The incident took place around 11:23 p.m. on Saturday in the hotel lobby, where Jermaine Massey, 34, was talking on his phone when hotel security guard Earl Meyers, 71, asked him to prove he was a guest of the hotel or leave, according to a report by the Portland Police Bureau.
Massey, from Kent, Washington, accused Meyers of being racist, the police report states.
"Did you ask any of those people walking by what room they were staying in? No," Massey said addressing Meyers in a series of recorded videos documenting the incident that were uploaded to social media.
The hotel said Monday it had reached out to Massey. But on Thursday, Massey said through his attorneys that he's not interested in a closed-door discussion.
"The hotel has requested a private discussion, but Mr. Massey was publicly humiliated," attorneys Gregory and Jason Kafoury of the law firm Kafoury and McDougal wrote in a statement.
"Mr. Massey … he's just left a concert, gets to the hotel, goes to the quietest corner of the lobby to return a phone call and he's a few minutes into the phone call when the security guard comes up and asks him is he a guest," Gregory Kafoury said via phone. "All he was trying to do was talk to his mother about personal family matters back east and this is how they treated him."
Kafoury said it was a "disgrace" that DoubleTree's initial response after the video went viral was to comment that their priority was guest safety.
"As if somehow this guy was a threat to them," Kafoury said.
The hotel also tweeted an apology Friday.
We sincerely apologize to Mr. Massey for his treatment this past weekend, and deeply regret the experience he endured. It was unacceptable and contrary to our values, beliefs and how we seek to treat all people who visit our hotel. (1/4)

— DoubleTree Portland (@doubletreepdx) December 28, 2018
"We have a zero-tolerance stance on discrimination of any kind, and do not tolerate behavior of that nature," the hotel said on Twitter. "We sincerely apologize to Mr. Massey for his treatment this past weekend, and deeply regret the experience he endured. It was unacceptable and contrary to our values, beliefs and how we seek to treat all people who visit our hotel."
Portland Mayor Ted Wheeler also responded to the incident on Twitter:
"It is deeply troubling to hear about Mr. Massey's experience with discrimination," Wheeler wrote. "No one should be treated this way, and I hope this serves as a catalyst for necessary changes that address the systemic nature of discrimination of all forms."
Portland Commissioner-elect Jo Ann Hardesty issued a statement that criticized the Portland police, which Wheeler oversees.
"I was saddened by this whole experience. I am disappointed with both the Double Tree and our police response," Hardesty wrote. "The priority should be to make this customer whole and to retrain Double Tree and police staff to make sure such a situation never happens again."
The hotel didn't immediately respond to questions about who would be conducting the hotel's investigation or which community groups the hotel has contacted.
Copyright 2018 Oregon Public Broadcasting. To see more, visit opb.org