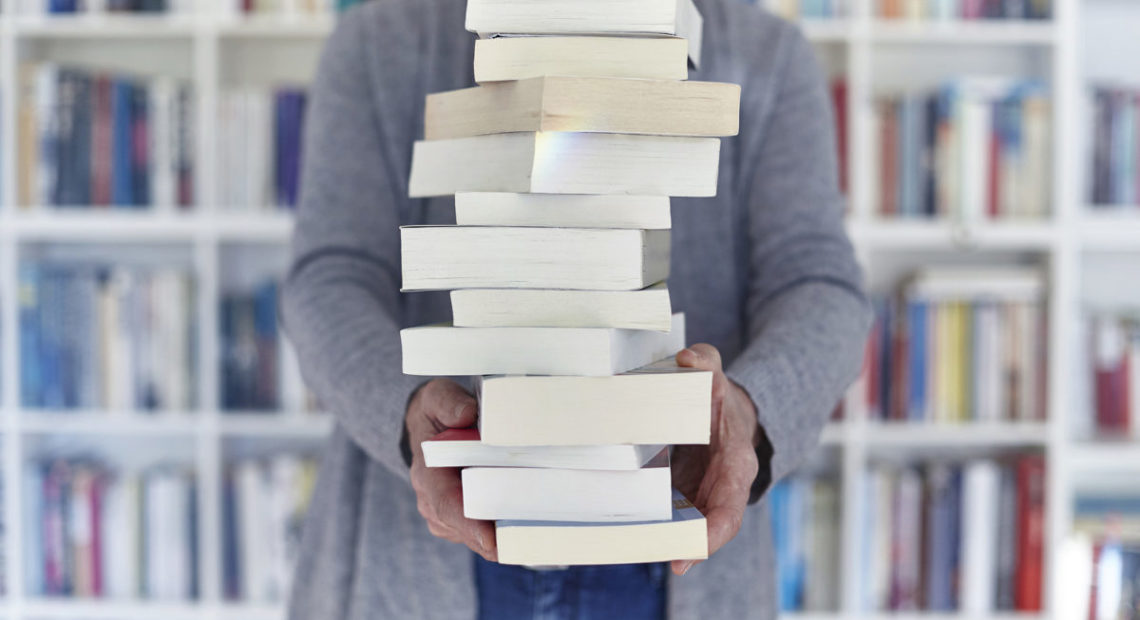 10 Great Books Of 2018 For Your 2019 Reading List
PHOTO: Author Ann Patchett and book critic Carlos Lozada outline their top books of 2018. CREDIT: Getty Images
BY ALEXANDRIA D'ELIA, PBS NewsHour
If you are looking to start off the new year by catching up on good books you may have missed in 2018, there are plenty to pick from. Last year, authors brought us stories of immigration, ideas about identity politics, creative takes on mythology and literary ambition.
According to Ann Patchett, author, novelist and bookstore owner, and Carlos Lozada, a Washington Post book critic, these were the best books of 2018.
Ann Patchett recommends:
A collection of short stories that build on each other throughout the book: A man travels back in time; a couple takes care of their under-fed nieces and nephews; a boy takes a road trip with his priest; and a rock star moves back home. "Every story is unique. There are no weak sisters in the book. Every single story is a winner," Patchett said. "I love this book. I hope it just takes the world by storm."
A giant novel about trees and the people who work to save them. Each narrator, summoned by the trees in different ways, are brought together in a final stand to save the continent's remaining acres of virgin forest. "You could really say every Richard Powers book is a masterpiece, but this one is really important," Patchett said.
"Circe"
 

by Madeline Miller

Author Madeline Miller revisits Homer to retell classic Greek mythology. Zeus bans Circe to a deserted island where she hones her power of witchcraft and takes on famous mythological figures, like Odysseus. "But that turns out to be just one tiny bit of her story," Patchett said. "She is all powerful and really grabs a hold of her own life. It's a fantastic book, educational, but also a ripping good read that will keep you up at night

A witty and brave novel about life, love, literary ambition and destructive urges. "It's about attractive, young graduate students who drink a lot, read a lot, have a lot of sex. And, somehow, it's just mesmerizing," Patchett said.

This book is made up of tiny vignettes about people both alive and dead, some famous, some not. Combining mourning and memory with intimacy and humor, the collective effect makes you see the joy and beauty of life. "It doesn't seem logical, but it is the most life-affirming little book."
Carlos Lozada recommends:
Cantú studied immigration in college, and wanted to see his subject up close. When he became a Border Patrol agent in the Southwest, his mother warned that the soul can buckle in a job like his — and his did. "The dilemmas that Cantú faces are the dilemmas that the country is facing right now, but told just through the very honest, empathetic story of one person," Lozada said.
New York magazine columnist Rebecca Traister tracks the history of female anger as political fuel from women's suffrage to the #MeToo movement; this timely book was published in the midst of the charged Brett Kavanaugh hearings. "One of the key things in this book is that Traister also turns the lens on herself and writes about how she used to suppress her own anger in her writing. She's not doing that anymore," said Lozada.
writing. She's not doing that anymore," said Lozada.
Lee McIntyre traces how we have arrived in this era where "alternative facts" replace actual facts. McIntyre "really tries to look at what we can do as individuals to fight back against this current," Lozada said.
Right after the 2016 election, Amy Sistkin, a former Wall Street executive and founder of The New Agenda, began compiling an online list of every norm-breaking move the Trump administration made. Her book is basically a compressed history of the Trump presidency. "You forget in every shock of the moment about the last shock of the moment…. So I hope she does volumes two, three and four…" said Lozada.
A tour through the history and philosophy of identity politics, Appiah challenges the reader's assumptions about how identity works. He argues that identities are created by conflict and rejects essentialism, the notion that we have some kind of overriding force that defines and groups us. "He thinks we are messier than that, and the fact that we're messy is actually what sets us free as individuals," Lozada said. "It's a nice counterpoint to a lot of the identity writing, but in a way that's not judgmental, and is actually quite enlightening."
Copyright 2018 PBS NewsHour. To see more, visit pbs.org/newshour