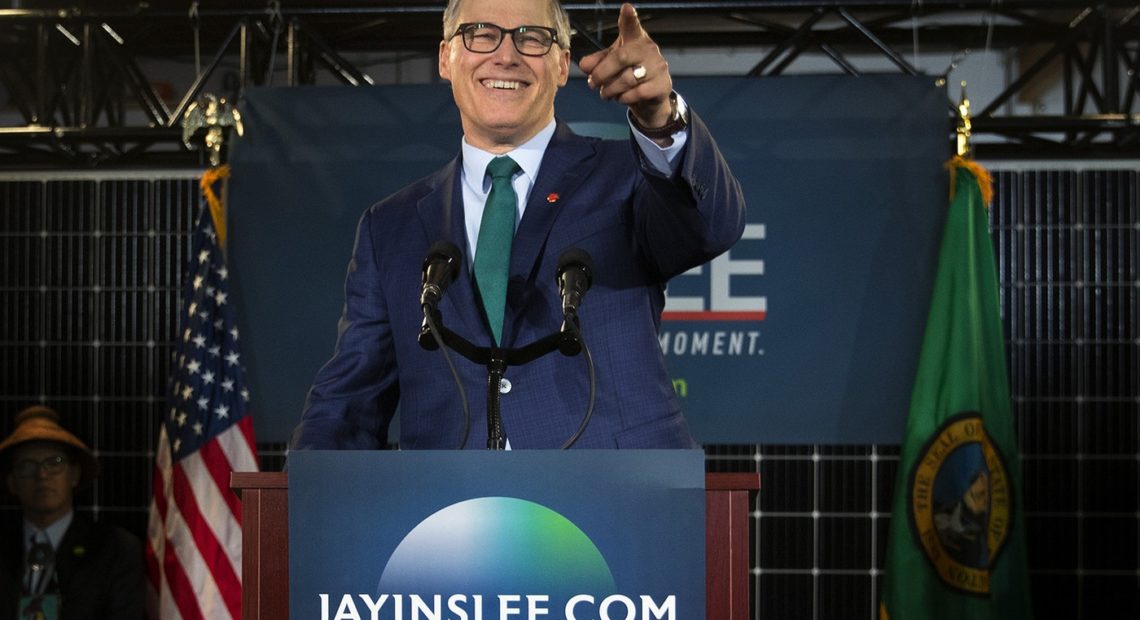 Jay Inslee Says He's The 2020 Climate Candidate. What Does His Record Say?
BY JOHN RYAN / KUOW
Washington Gov. Jay Inslee announced on Friday what political observers in his state have been expecting for months: He's running for president, and focusing his campaign on climate change.
But how strong is his record tackling, in his words, "the most urgent challenge of our time"?
Throughout his political career, in Congress and as governor, Inslee has emphasized climate change. He's even written a book about it.
Yet his passion as a "climate hawk" has failed to curb his state's use of climate-wrecking fossil fuels.
Many of his biggest climate-friendly initiatives as governor have gone down in carbon-belching flames, and Washington's greenhouse gas emissions have increased 6 percent since Inslee became governor in 2012, according to the state's inventory through 2015.
Washington state voters and legislators have rejected Inslee's calls to make harming the climate more expensive through carbon taxes or carbon fees.
Fossil-fuel companies convinced a judge to block Inslee's cap-and-trade system for limiting carbon emissions. The Washington State Supreme Court is scheduled to hear the Inslee administration's appeal on Mar. 19.
Other Inslee initiatives, in support of electric vehicles and clean-energy research, have had better luck.
Still, next year, Inslee's eighth as governor, the state's emissions are forecast to exceed their legal limit by about 3 percent, or 2 million tons of carbon dioxide.
The decade-old regulation that requires Washington to reduce its carbon emissions back to 1990 levels by next year is toothless: It has no penalties or repercussions for the state blowing past its pollution limits.
But the state's failure to tame its worsening carbon emissions under Inslee's watch could dent his credibility as he campaigns as a climate leader.
"Our country's next mission must be to rise up to the most urgent challenge of our time — defeating climate change,'' Inslee said in a video announcing his 2020 run. "This crisis isn't just a chart or graph anymore. The impacts are being felt everywhere.''
Inslee unveiled his latest climate proposal for the state in December with a $268 million package aimed at cleaning up the state's motor vehicles, power plants and buildings. The proposal aims to get the state back on track to its long-term pollution goals: cutting emissions 25 percent below 1990 levels by 2035 and halving them by 2050.
The state Senate passed the centerpiece of the plan – a requirement for all power sold in Washington to be carbon neutral by 2030 – on Friday.
The state House passed another component, a phaseout of the chemicals knowns as HFCs: superpollutants that, per molecule, can trap thousands of times more heat in the atmosphere than carbon dioxide does.
If the full package is approved by the Legislature and if it succeeds in its aims, Washington would still pollute more than allowed under the Paris climate treaty, endorsed by every nation on earth.
The Trump administration, among its many efforts to block climate action, is currently going through the process of withdrawing the United States from that treaty.
To keep the planet from heating a catastrophic 2 degrees Celsius (3.6 degrees Fahrenheit) or more, global carbon emissions need to be aggressively reduced this decade and eliminated by 2050, according to the latest Intergovernmental Panel on Climate Change report in October.
"So we're talking just another 30 or so years, which is very ambitious," said Cecelia Bitz, director of the University of Washington's Program on Climate Change.
The United Nations scientific panel said doing so "would require rapid, far-reaching and unprecedented changes in all aspects of society."
In a Washington Post op-ed in January, Inslee called for an end to carbon pollution by mid-century, but in the Washington that he actually leads, he only proposes to cut pollution in half by that time.
When Inslee introduced his legislative package of climate proposals in December, I asked if it aimed high enough to help fend off catastrophic climate change.
Inslee scoffed.
"It's like asking Neil Armstrong, why'd you only go to the moon, right? Why didn't you go to Mars?" Inslee said. "We're going to the moon this year with this package."
He also said it was what could pass the legislature in 2019.
"We consistently are failing to meet even the wrong targets," climate activist Emily Johnston with 350 Seattle said. "When scientists tell us that we're not using the right targets, our immediate response should be to change those targets."
Inslee said his package was only a first step and that we need to do more.
Yet other politicians and many businesses have set more ambitious climate targets with their current efforts:
• California aims to cut emissions 80 percent by 2050.