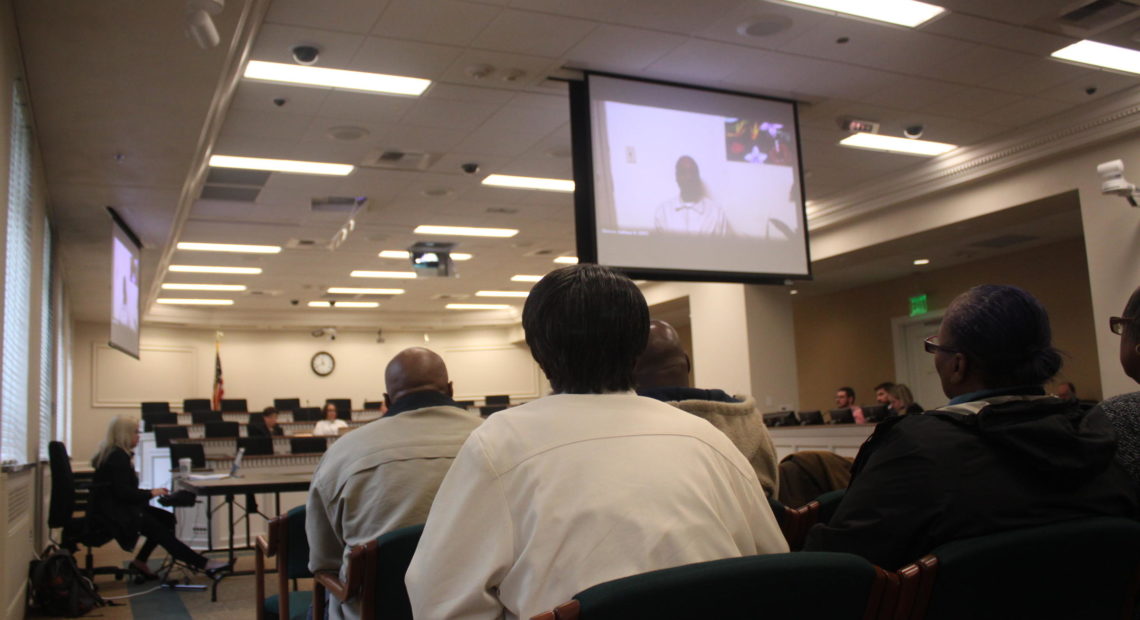 After Years In The Thick Of Trouble, Washington Inmate Finds Hope For A Second Chance
Prenters Broughton was always getting into trouble as a kid. So, his older sister came up with a nickname for him.
"He was just a little devil," Alana Ervin, a Tacoma resident, said of her brother. "So PB, just to shorten it up for peanut butter because he's always in the thick of things."
As Broughton got older, the trouble got thicker – first drugs, then some robberies, and finally prison where he's been for the past 19 years.
But Broughton says he's become a different man in prison. He's been sober for a decade, attends all sorts of job trainings, and has found faith as a devout Christian. In fact, he says his transformation has been so drastic that he recently took his case to the Washington State Clemency and Pardons Board to request early release.
For most long-term inmates, the state-appointed board is one of the only ways to have a sentence shortened or thrown out. The hearings take place four times a year in Olympia, and each one follows a predictable script: what was the original crime, how has the individual behaved in prison, and will the person stay away from crime upon release — given the likely societal shifts during the inmate's incarceration. The governor has final authority on all petitions.
Imagine taking someone's entire life story and compressing it into a span of a few hours to determine whether they've changed for the better. That's the clemency process in a nutshell. 
During his hearing, Broughton spoke through a video feed that was broadcasted from the Washington Corrections Center in Mason County, where he's currently incarcerated. Most of his friends and family watched, at times wiping away tears as Broughton spoke.
"I consider myself being in a repair shop," Broughton said, talking about his time in prison. "Everything that I think was wrong with me I've been trying to fix, and never before have I had the incentive to do so."
Broughton was sentenced to life without parole under the state's three-strikes law, which ramps up time behind bars for people with multiple convictions. He was involved in two nonviolent robberies. Later on, he stole $237 from an arts and crafts store after allegedly lifting his shirt to expose a gun in his waistband.
Spencer Gheen, Broughton's lawyer who is offering representation pro bono through the Seattle Clemency Project, argued that the scope of charges and Broughton's time served are grounds enough for release. In fact, many three-strikes cases resurface through the clemency process, especially in places such as King County, where the prosecutor's office often supports these petitioners.
Still, it wasn't until Broughton's 82-year-old mother took the stand that every board member was convinced. Jeanette Sorenson, who lives by herself in Tacoma, says she has an open bed for her son if he's petition is approved — but only if he stays straight.
"I'd be the first one to give him a drug test, and after I hit him upside the head I'd be the first one to call the police on him," Sorenson said.
The guarantee of housing — combined with job offers from Broughton's support network — was enough for Evelyn Yenson, who was appointed to the board in 2015.
"To be drug free for 10 years, even in prison, is probably a little extraordinary," Yenson said. "So based on that, I would move that we recommend to the governor that we grant you early release."
The motion carried — unanimously. After two hours of suspense, the room broke into hugs and tears with Broughton's petition being that much closer to approval.
Gov. Jay Inslee still has to weigh in on the case, which could take months, Broughton's lawyer says. But for the moment, PB's older sister Ervin was ecstatic.
"I couldn't help him. My mom couldn't help him. Nobody could help him. He had to learn it for himself and he did," Ervin said. "And amen to that."
This story has been edited to reflect Broughton's mother's name and the details surrounding one of his arrests, March 11 2019, 4:29 p.m. 
Copyright 2019 Northwest News Network