Don't Want To Buy New Skis Or Tent? REI Set To Expand Rentals And Used Gear Sales
Outdoor retailer REI is planning a major expansion of rentals and used gear sales this year to sustain growth. The Pacific Northwest-based co-op's vast membership may also get the opportunity to sell second-hand gear back to the company for REI credit as it seeks ways to maintain relevance and loyalty in an evolving retail marketplace.
REI's same-store sales, including its digital business, rose nearly 5 percent in 2018. Overall, the annual financial statement released Tuesday showed REI registered a record-high $2.78 billion in sales in 2018, compared to $2.62 billion in 2017.
That indicates the nation's largest consumer co-op is bucking the pressure felt by other retailers with large brick-and-mortar operations such as Dick's Sporting Goods, JCPenney and Macy's.
Interim CEO Eric Artz said to help keep customers coming back, REI plans to expand its current small sample of rental categories to the full gamut of backpacking, camping, climbing, cycling and snow sports.
"We really committed to rentals as a need our customers very much want us to lean into," Artz said in an interview. "So by the end of this year, you'll see rentals in a profound way in 115 of our stores."
Artz said the rental menu will include fully-equipped camping and backpacking kits to help people get outdoors simply and quickly.
Speaking from REI headquarters in Kent, Washington, Artz said REI is also working on how to help co-op members resell or recycle used outdoor gear, which could happen online and in-store. REI currently sells gently-used gear online with stock from items that customers returned for a refund.
REI director of new business development Peter Whitcomb said the retailer wants to expand into the gear trade-in niche to help customers clean out their closets and garages or unload gear that the kids outgrew.
"Currently we don't have a full set of options to sell all of your outdoor gear, but we are intently focused on solving that problem," Whitcomb said. "A lot of these customers are looking for sort of a trusted partner to unload used gear."
More generally, Whitcomb and Artz said REI is trying to keep up with evolving consumer behavior, especially among younger generations interested in alternatives to buying new gear. Helping co-op members rent, resell or recycle gear meets REI's sustainability goals too, the executives said.
In the used gear arena, REI faces competition from both brick-and-mortar and online specialty resellers. In one telling detail, an outlet of the national chain Play It Again Sports and a local outdoor business with a rental program, Feathered Friends, are strategically located just one block away from REI's flagship store in downtown Seattle.
"Our rental program focuses most heavily on Feathered Friends-brand down gear, so we're not concerned with losing business to REI's expanded rental program," said Juna Gates, brand manager at Feathered Friends. "If anything, we're happy to see more foot traffic in the neighborhood."
Artz said REI would continue on its steady pace of new store openings along with a smattering of relocations. REI opened four new stores in 2017, five in 2018, and has six on tap this year. In 2019, REI plans to open its first stores in Vermont, New Hampshire, Oklahoma and Alabama. REI currently has 154 stores in 35 states and the District of Columbia.
Eric Artz took over as interim CEO this winter after previous CEO Jerry Stritzke resigned suddenly in February after failing to properly disclose a "personal and consensual relationship" with the leader of another organization in the outdoor industry. Artz was previously REI's chief operating officer. Artz joined the co-op in 2012 as CFO.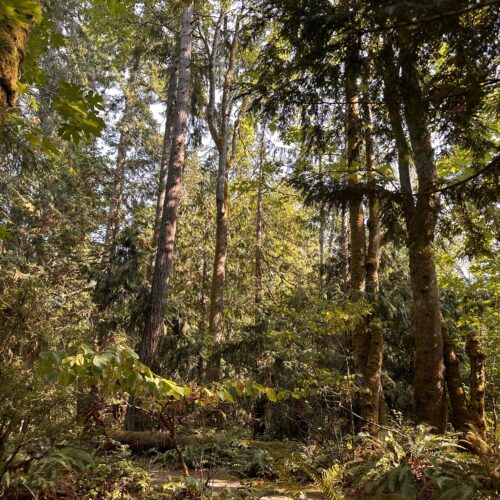 Moss drapes over trees in Olympic National Park like the table dressings of fairies and the blankets of sprites. This place inspires writers — from amateurs to poets to public radio reporters — and welcomes visitors each year into its majesty.
Our national parks tend to do that; be places of awe-inspiring beauty, great adventures through bushwhacking and overnights surrounded by stars, or casual days trips on paved roads for vehicle passengers to marvel at the great outdoors from the comfort of a sedan. Continue Reading Tales of the forests through which we tromp