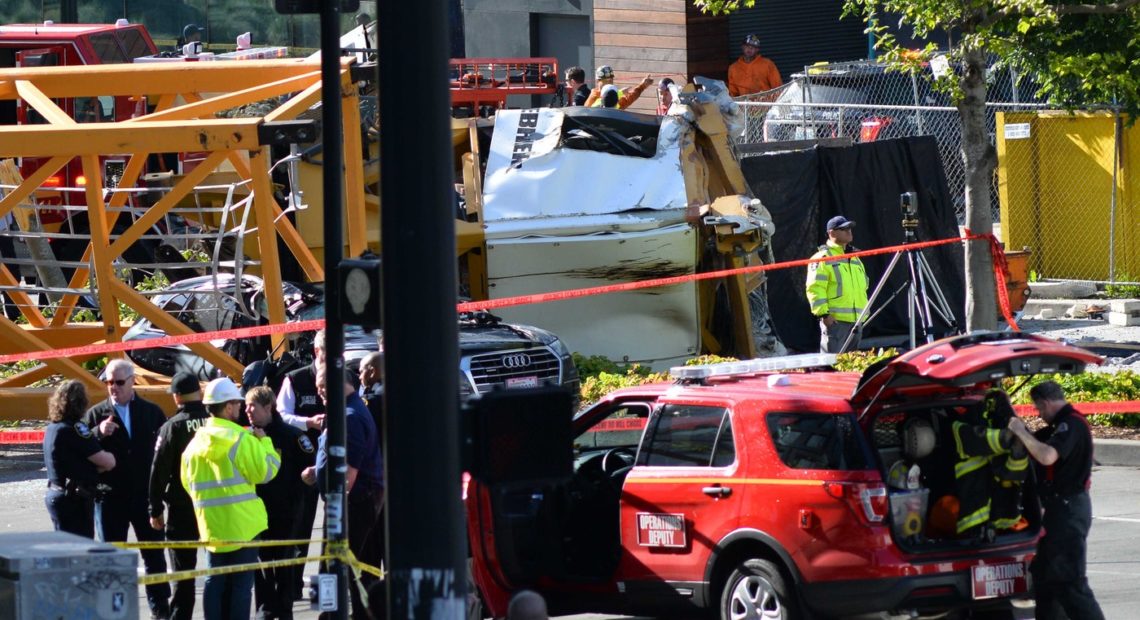 Crane Collapse Kills 4 In Seattle's South Lake Union Neighborhood
TOP PHOTO: The scene of a deadly crane collapse in Seattle's South Lake Union neighborhood on Saturday, April 27, 2019. CREDIT: GIL AEGERTER/KUOW
BY GIL AEGERTER & KATE WALTERS, KUOW / ASSOCIATED PRESS
Bruce Eric Cashmere is a middle-aged Australian, and on Saturday he was in Seattle staring up at a crane.
"I said to me son, 'This is going to fall,'" Cashmere said.
He has worked in heavy machinery his whole life, he said, and this didn't look right. The crane was being dismantled, and it did not look supported, he said. His son, Deyan Cashmere, 20, in Seattle for leukemia treatment, agreed.
"It's been on a lean," Deyan Cashmere said. "It wasn't level."
Bruce Eric Cashmere said that he "ate me lunch, and turned me phone off … and it did. It fell."
The first 911 call was at 3:28 p.m. The giant yellow-orange crane at the corner of Fairview Avenue North and Mercer Street had collapsed on six cars.
Four people died. Two were crane operators. The Cashmeres said they had noticed the operators still in the cab, even as it lilted. The two others died after the crane came down on their cars.
The three injured were in an Audi — a 25-year-old woman and her 4-month-old baby, both of whom appeared to be "doing OK," said Fire Chief Harold Scoggins, and a 28-year-old male. He was admitted to Harborview Medical Center. A fourth person injured was in a car crushed by the crane, but was not taken to the hospital.
The crane collapsed as workers were dismantling it, the Cashmeres said. They had noticed it earlier in the morning, when Deyan headed to the hospital for treatment. The Cashmeres videotaped it before it fell.
Bruce Eric Cashmere was in the family's hotel room when the crane fell, he said, then ran down to see if he could help at the scene.
He said he helped a man who appeared to have a broken hip get out of a crushed Audi SUV. The mother and baby also had been in the vehicle and survived.
Witnesses were stunned — and scared.
On Facebook, Linda Nguyen described the scene: "I saw it happen," she said. "I was right behind those cars. Craziest thing. Like being in an action movie but on slow motion while paralyzed and watching an event happening before your brain could even process what was happening."
Nguyen said she heard a "sudden loud whirl of wind," which struck her as odd, because it wasn't particularly windy, "then saw the crane crash against a building and flip onto the eastbound side of Mercer, just a couple cars from where I was."
She said she ducked into a nearby alley and called 911 and drove off, "afraid that building might come tumbling down with the crane … and also wanting to keep the alley free for emergency vehicles to arrive."
Robert Moles, of Mobile, Alabama, had just gotten into his hotel room and was sitting down on his hotel room couch to take off his boots when he felt the couch shake. He thought it was a little earthquake at first.
Moles then ran outside to the corner, where he had been driving just minutes before, and saw crane bits scattered about.
The crane collapsed at a project known as Block 25, which includes six stories of offices for Google and an apartment tower above. The building is part of a multi-block campus nearly twice the size of Google's Kirkland offices. It's being developed by Vulcan and built by GLY Construction.
Google's offices will occupy some of the most visible real estate in South Lake Union, being the first thing seen by many visitors arriving in the neighborhood via Mercer and Fairview or by visitors to Lake Union Park and the Museum of History and Industry.
The building appeared to have suffered substantial damage.
"Until we're able to do an inspection the building itself, we've deemed it unsafe to enter," Mayor Jenny Durkan said at a news conference. "We don't know what kind of structural damage may have been done by the crane itself to any of the other components of the building."
After the crane collapse, all lanes of Mercer Street were closed, and motorists were told to avoid the area. Fairview was also blocked off.
Assistant Police Chief of Patrol Operations Eric Greening said all lanes may be closed until Sunday night.
Greening said homicide and traffic collision investigators would be on the scene.
With Amazon and other tech companies increasing their hiring in Seattle, the city has dozens of construction cranes building office towers and apartment buildings. As of January, there were about 60 construction cranes in Seattle, more than any other American city.
Reporting from the Associated Press, Gil Aegerter, Kate Walters, and Joshua McNichols, of KUOW.