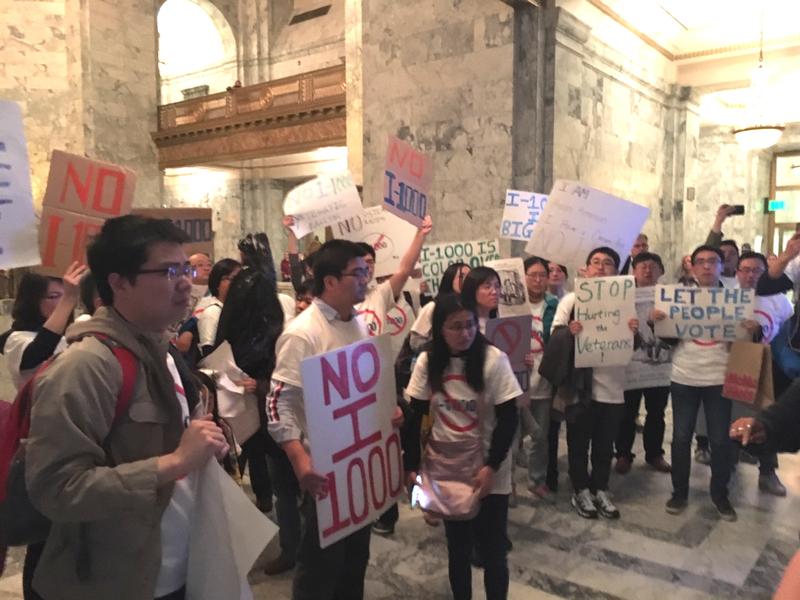 Affirmative Action Opponents File Referendum To Overturn Washington's I-1000
Opponents of affirmative action filed a referendum Monday morning to overturn Initiative 1000, which majority Democrats in the Washington Legislature passed Sunday evening in the waning hours of the 105-day legislative session. 
Backers of the repeal effort will  have until July 27 to collect 129,811 signatures to qualify for the November 2019 ballot. If they succeed, the implementation of I-1000, a measure designed to restore affirmative action in Washington, would be delayed pending the outcome of the November election. 
The proposed referendum measure was filed by Kan Qiu of Bellevue, a former Microsoft engineer and first-generation Chinese American, who is a member of the anti-affirmative action group Washington Asians for Equality.
As the Washington Senate was debating I-1000 on Sunday night, Qiu and other opponents — most wearing "No on I-1000" t-shirts — demonstrated outside the chamber shouting, "Let people vote! Vote them out!" 
Qiu returned to the Capitol at 7:30 Monday morning to launch the referendum process.
"We are very serious," Qiu said in an interview, after filing the paperwork. 
I-1000 seeks to reverse I-200, Washington's 20-year-old, voter-approved restriction on affirmative action.
It would once again allow the state to consider factors like race and gender in state hiring, contracting and education. However, it would not allow the use of quotas or preferential treatment. The measure would also create a new governor's commission on diversity, equity and inclusion.
Supporters say I-200, passed in 1998, has proved devastating for minority and women-owned businesses and that I-1000 is needed to remedy inequities.
"Tonight, we righted a wrong," said state Rep. Javier Valdez, chair of the House members of color caucus at a news conference shortly after the Legislature adjourned at midnight Sunday.  "In my opinion we have done the right thing, I think our communities are hurting and … hopefully this will be our path to a new way forward." 
However, opponents argue affirmative action is divisive and will send a message that race matters more than merit.
Linda Yang, who leads Washington Asians for Equality, said her group is concerned that Asian American students could suffer under affirmative action policies, especially when it comes to college admissions. 
"If you take education away from us, we'll have nothing," said Yang, who is also a first-generation Chinese American. 
Yang said she's confident her group can collect the signatures necessary to qualify the referendum and then rally enough public support to overturn I-1000 in November. 
But Ben Sung Henry of the group Asian Pacific Islander Americans for Civic Empowerment (APACE), which was founded in 1997 as part of the opposition to I-200, said Yang's group does not represent the views of most Asian Americans or Pacific Islanders in Washington. 
"We see passage of I-1000 as something to celebrate, as something that enhances the values of equity in our state," Henry said. 
The I-1000 campaign did not have an immediate response to the filing of the referendum. But in a statement, Democratic state Sen. Joe Nguyen, who is a key backer of the measure said, "People from all walks of life are ready for the next challenge — fighting a campaign of misinformation and fear. We're seeking opportunity for everyone." 
The I-1000 campaign also has the backing of Gov. Jay Inslee and all three living former governors. The campaign gathered a record number of signatures to qualify its initiative to the Legislature. But the campaign has also struggled to raise money and is still $1.3 million in debt from its signature-gathering effort.