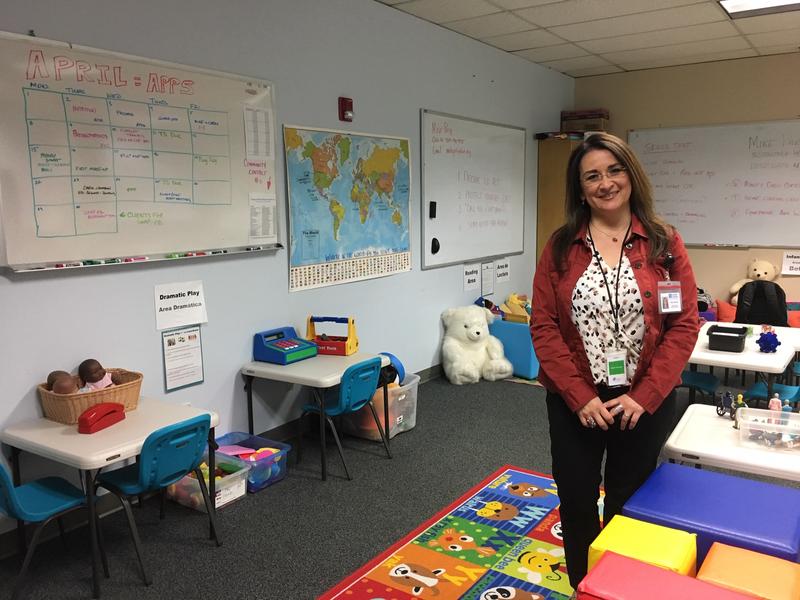 Free Play Space In Yakima Helps Families In Crisis Relax, Settle, Smile
The room looks like a child's paradise. 
There are action figures, fake insects and tubs of Play-Doh with animal molds. Nursery music competes with children singing their ABCs. A young boy knocks over a stack of foam blocks, while a 3-year-old girl taps a toy register to weigh an imaginary smoothie for her mom. 
The only thing unique about this twice-weekly child play space, buried deep in a state Department of Social and Health Services office in Yakima, are its customers: families in crisis. 
"When they come into this room and are here for a while you see the shoulders drop," Maria Vasquez said. "They relax. They settle. They smile."
Vasquez has overseen this room's transformation for the past two years — from a windowless DSHS office, into a free play space for families to catch their breathe while they wait to access state services such as housing assistance or food stamps.
When they're in the space, parents can connect with early education professionals about preschool and local play groups in their neighborhood. It's the type of service Vasquez says she wishes was around when she was a kid growing up with a mom on public assistance. 
One of those programs was Head Start — a federal program that helps poor families access early learning — which Vasquez credits with putting her on the path to become the first person in her family to graduate from college. 
Now, Vasquez says, she hopes to lift other families out of poverty by preparing their kids for kindergarten. The move comes as families in Washington, and across the country, struggle to keep up with the high costs of child care. 
Education professionals stress the importance of quality early learning since a majority of a child's brain development takes place in the first five years of life. But child care is out of the question for many poor families in Washington due to cost, which can exceed that of a mortgage or college tuition. 
About 75 percent of families in the state are left without access to licensed facilities, or the knowledge that the state provides aid for families who can't afford child care, according to data from Child Care Aware of Washington. 
Much of what Vasquez does in Yakima — and another location in Sunnyside — is help families learn about local play groups and early education resources. 
Thousands of families have entered the program since it started in 2017. More than 800 have been referred to ECEAP, a state program that provides nutrition, health care and child care assistance to poor families in Washington. 
"Our whole goal is to put a stop to intergenerational poverty," Vasquez said. "We want to give families a chance to change the pattern and start with the little kids so they know there is a different path to survival."
Not Just The Poor
In Washington, the issue of child care used to be debated in terms of family values. Those who opposed the service said it wasn't the government's place to tell parents how to raise their kids. 
Now early learning means many things to many people: a way to address the poverty cycle, a boon to rural areas, an expense forcing parents to question whether they can afford kids. 
Most people agree that cost is a major problem, regardless of their income.
A report from Child Care Aware of America found that, on average, it's more expensive to pay for child care than it is for college in Washington and 26 other states. Some people say parents are vanishing from the workplace because child care is so expensive.  
Washington state lawmakers are now rethinking their approach to early education, in part because they're the ones being affected. 
"As a mom of a 4 year-old and 6 year-old who pays $35,000 a year, it's frustrating to know that I pay more in child care for my two kids than I will probably pay for them when they go to college," Democratic Rep. Kristine Reeves said in an interview.
Reeves is leading efforts in Olympia to improve child care affordability. She and other lawmakers have agreed to pump more than a hundred million dollars into early learning programs, some of which will go toward pay raises for child care workers, reimbursement for providers who take subsidies and additional aid slots for low-income families.
That may sound like a drop in the bucket compared to the state's overall operating budget of $52.4 billion. But it's a major bump from what the state spends right now on early learning: less than a penny for every dollar.
A small percentage of the money also will go toward getting a plan together for Washington to cap child care costs at 7 percent of a family's income. U.S. Sen. Patty Murray is pushing a similar goal in Congress. And Elizabeth Warren has made universal child care a cornerstone of 2020 Democratic presidential candidacy bid.
Between state and federal efforts, Reeves says we're at a tipping point when it comes to what priority people place on child care. 
"This is no longer a mommy issue," Reeves said. "This is an economic issue. This is a workforce development issue."
What's Left
But some early education advocates say the budget increase doesn't go far enough when it comes to getting low-income families into child care.
Child care deserts – usually rural communities that don't have access to the service – are still widespread across the state. And early learning educators often make close to minimum wage, even with a college education.
Then there's about 182,000 families in the state who aren't serviced by licensed child care, says Ryan Pricco with Child Care Aware of Washington. 
That's where Vasquez comes in. 
Both of her play spaces are in Yakima County, which has one of the highest percentages of people under 18 in Washington, according to census data. 
Vasquez says she has at least three locations in mind that she is working to expand the program to in Eastern Washington. Other social service offices across the state are starting to pay attention to the model, as well. 
It's too early to tell whether the program is actually helping kids get an education – that could take at least a generation. For now, Vasquez says repeat visitors make her feel like she's headed in the right direction. 
"I was given an opportunity years ago," Vasquez said. "Somebody told me life could different, and I believed them. So here I am. I want to be that for someone else."