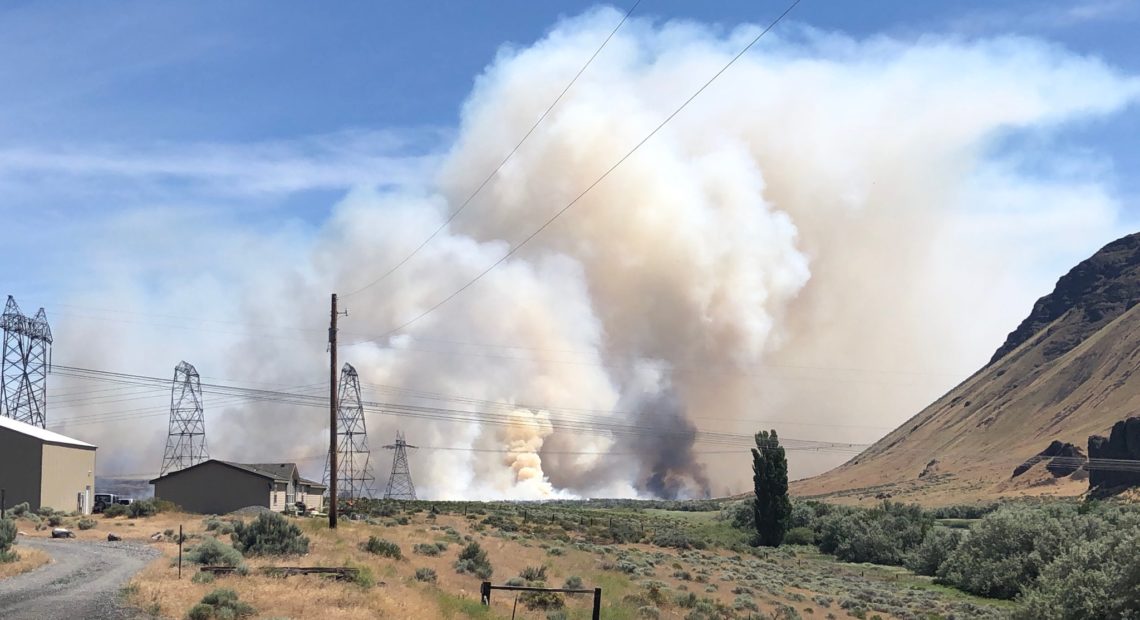 Firefighters Tackle Central Washington Fire Near Wanapum Dam, Expecting Growth Overnight
Fire crews in central Washington are battling the largest fire yet this year in the state.
The so-called 243 Fire in Grant County grew to an estimated 5,000 acres Tuesday after spreading overnight Monday. It's just outside of Royal City, east of Vantage and Wanapum Dam on the Columbia River.
A Type-3 state incident team was setting up Tuesday afternoon, and the fire was less than 10 percent contained by 2 p.m. Tuesday, when there were an estimated 400 firefighters on the incident along with two planes and two helicopters. There is one additional plane dropping retardant.
#243FIRE – Evacuation Shelter is set up at Royal City Intermediate School. Opens at 12 p.m. El Refugio de Evacuación está establecido en la Escuela Intermedia Royal City. abre a las 12:00 p. m. pic.twitter.com/pNW5TiN8ek

— Grant County Sheriff (@GrantCoSheriff) June 4, 2019
Winds Monday night were tough on the crews that worked the wildfire, burning largely in sagebrush and dry grasses surrounded by farmland. Fire managers are expecting those same gusty and unpredictable conditions overnight Tuesday.
The small community of Smyrna is evacuated, while other communities are on high alert. The fire is burning into steep canyons and draws that are hard to access with firefighting vehicles — and managers are hesitant to put hand crews in the way of the fire.
The Vasquez sisters, Mary, Eloise and Rosie, collected up their pets and medications and fled their home near Smyrna early Tuesday morning. Then they headed to their Catholic church to pray for the firefighters. Mary Vasquez said they've been evacuated several times before for fire, including last summer.
"We had to leave two of our dogs. But we found out that that from where our house is they have it pretty good," Mary Vasquez said. "They just gotta make sure the winds don't pick up any more. But that's the canyon, and it blows every night."
At risk are small communities sensitive habitat, farmland and rangeland. The firefighting base of operations is in Royal City, with an evacuation center at Royal City Intermediate School.
UPDATES: 
–Grant County Sheriff's Office/Facebook
–Washington Department of Natural Resources/Fire
Susan Nichols and Lori Davis of Schawana pull up camp chairs to watch the #243FIRE. Nichols just built her home last year. Luckily, right now wind is pushing the fire away right now. pic.twitter.com/vu9NusfefQ

— Anna King (@AnnaKingN3) June 4, 2019
Additional reporting by NWPB's Zach Garner and Scott Leadingham.