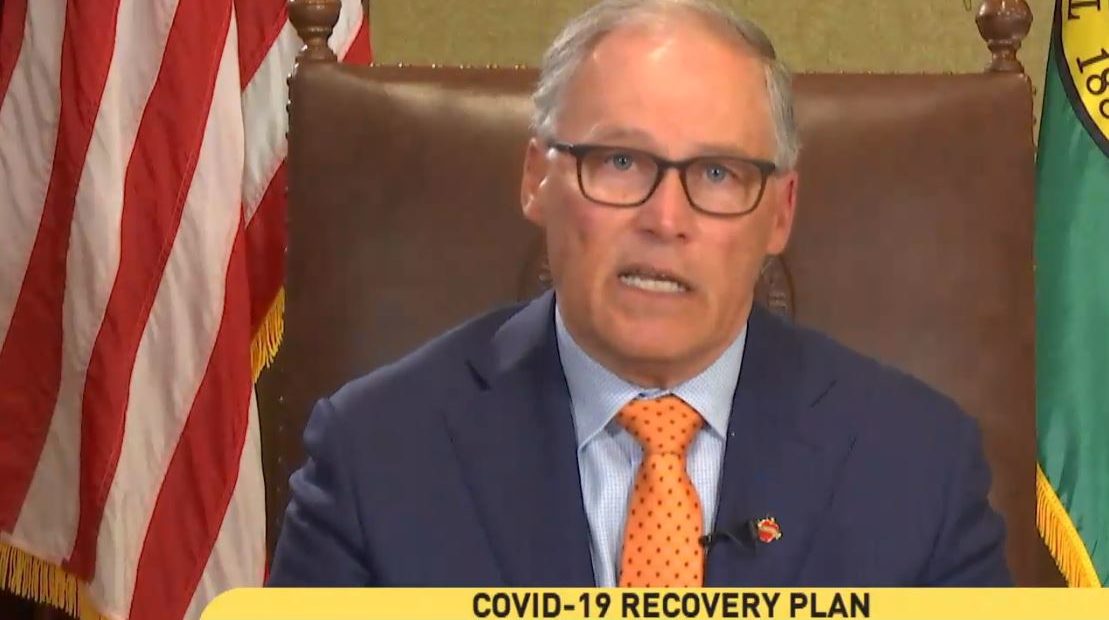 Jay Inslee Introduces Road To Recovery Plan, As Some In Washington Push Back Against Closures
Updated April 22, 2020, 4 p.m. PT
QUICK LINKS:
–Washington "Road to Recovery" Plan
–Washington Unemployment filing 
–"Stay Home, Stay Healthy" Order And Information
Washington Governor Jay Inslee says it appears COVID-19 cases are declining in the state. But in a televised address Tuesday night, he warned that a return to normal won't happen quickly.
"We are going to have to steel ourselves against this virus for quite some time. It is going to affect our daily lives in many ways for months. And we have to be aware that it could come at us in waves."
Washington's current "stay home, stay healthy" order is scheduled to sunset May 4. But Inslee said the state will likely not be able to lift many of the restrictions currently in place by then. But he said he does have an agreement to start reopening parts of the construction industry. And he emphasized the need for more testing capacity, contact tracing and quarantine measures to better identify cases and allow more economic activity.
The governor laid out the plan to make sure the state could quickly tamp down new outbreaks of COVID-19, the illness caused by the virus, reopen the economy in phases and help workers and businesses recover from the economic downturn. … Inslee described the 1,500 people being brought on to do contact tracing — a mix of state and local health workers, members of the National Guard and volunteers — as a "rapid response" team. They could start operating by the second week of May, he added.
He emphasized that decisions going forward will be based on science, not politics.
Politics And Protests 
In recent weeks, Inslee has repeatedly thanked Washington residents for complying with his emergency orders to shutter their businesses, avoid crowds and stay home unless absolutely necessary. He often praises Washingtonians as heroes who are saving lives in the face of a global pandemic.
But while most may be complying with his orders, not all are. In fact, there's evidence of growing restlessness with the shutdown of the economy, the skyrocketing job losses and the infringement on normal, daily activities. And in some places there are examples of outright opposition.
On Wednesday, in a notable break from weeks of bipartisan support among legislative leaders for Inslee's orders, House Republican Leader J.T. Wilcox took to Facebook to criticize the Democratic governor. Wilcox's social media post followed a Tuesday evening televised address by Inslee during which he outlined a plan to resume elective surgeries, outdoor recreation and private construction.
"Last night the Governor missed a critical opportunity to explain what metrics and forecasts he's using and to address the obvious unfair and ineffective parts of his orginial Stay Home order," Wilcox wrote. 
Inslee and state public health officers have said they are waiting to see clear evidence that COVID-19 cases, hospitalizations and deaths are declining. They also say the state needs to build up its testing and contact tracing capacity before many of the restrictions on daily life can start to be lifted.
"Nobody wants to keep these things in place one hour longer than it's absolutely necessary to do," said David Postman, Inslee's chief of staff, in a briefing with reporters Tuesday evening. 
Earlier Tuesday, the Franklin County Commission in Pasco declared Inslee's "Stay Home" order, which is set to expire May 4, unconstitutional and voted to immediately reopen the county to business. As of Tuesday, Franklin County had reported 207 COVID-19 cases and four deaths.
In response, Postman said local governments don't have the legal authority to overrule a governor's emergency order. On Wednesday the governor's office sent a letter to Franklin County demanding the commissioners "immediatel