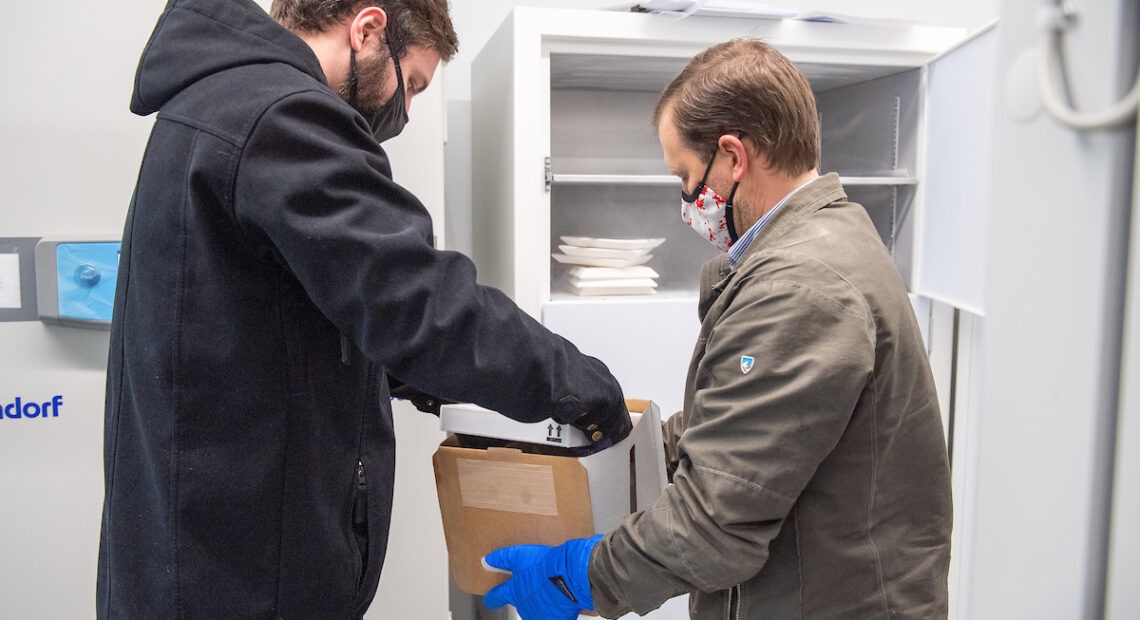 Moderna Vaccine On Its Way To Washington; WSU Helps With Cold Storage Of Pfizer Vaccine
BY DOUG NADVORNICK & SCOTT LEADINGHAM
The group of Western scientists that reviews COVID-19 vaccine decisions made by the Food and Drug Administration has approved the newly authorized Moderna vaccine.
Washington Gov. Jay Inslee announced Sunday the Western States Scientific Safety Review Workgroup has voted unanimously to put this second vaccine on the market.
Inslee's office says the governor expects the first doses of the Moderna vaccine to begin arriving in Olympia this week.
It is seen as a vaccine that will be easier to handle and ship because it can be stored at refrigerator temperatures, unlike the Pfizer vaccine. That has significant cold storage requirements.
Spokane Regional Health District officials they expect to receive nearly 17,000 doses by next week. They say the district will also receive almost four thousand Pfizer doses this week and four thousand next week.
Local hospitals began vaccinating their high-risk employees last week. That work will continue this week. Nursing students and faculty members are training to help with that effort.
College nursing students at WSU, Gonzaga and the Community Colleges of Spokane often practice their skills on high-tech, interactive manikins, but yearn to work with real patients. Now they're getting their chance. Dr. Wendy Williams-Gilbert from the WSU College of Nursing says her students are in demand.
"Sacred Heart here in town has been reaching out, as well as MultiCare, the Department of Health, Kaiser Permanente, to really get out there and help support the immunizations, whether it's our faculty or it's our students," she said.
Williams-Gilbert says both students and faculty have been attending virtual COVID-19 vaccine training sessions sponsored by federal health agencies. They're learning the specifics of the new vaccines, but she says the basics are the same as any other vaccination.
"The public gets a little bit scared because everything's new. But this is all standard practice. Anytime any new medication or anything comes out, we learn how to give it. We learn the side effects and then we learn how to monitor for side effects. So this isn't anything that they aren't already taught in the nursing program," she said.
She says nursing faculty members are just as excited as their students to help with the vaccination effort.
"I was just talking with a colleague who works at Harborview [Medical Center in Seattle]. They're getting ready to do the vaccination, so they asked for staff volunteers and over 700 people volunteered, so I think people are really excited about this in the health care arena," Williams-Gilbert said.
WSU Helping With Pfizer Vaccine
Last week, the previously-approved COVID-19 vaccine from drug company Pfizer was being distributed throughout the Northwest. But one hiccup is how to keep it at the required super cold temperature – particularly for hospitals and health departments in rural areas.
Washington State University is helping with that.
On Thursday, Dec. 17, WSU received a shipment of the vaccine to store in some of its scientific research labs at nearly negative 80 degrees Celsius.
Phil Weiler, WSU vice president for marketing and communications, says the school's five campuses around the state have a role to play in helping with storage.
"There aren't many of those ultra-cold freezers available. But, really, research universities are places that tend to have a lot of them depending on the kind of research that's being done," Weiler said. "So, as soon as we learned that there was going to be a need for this ultra-cold storage, Washington State University looked at its five physical campuses across the state and tried to inventory how many freezers we actually have available."
Weiler says this first round of Pfizer vaccine storage is at the Pullman campus specifically for distribution in Whitman County. But WSU is looking to make more space available for more counties and on other campuses.
On Monday, Whitman County Public Health said 450 people in county had received the Pfizer vaccine under the state's priority list for long-term care residents and health workers.
Doug Nadvornick is news and program director of Spokane Public Radio. Scott Leadingham is NWPB's news manager.