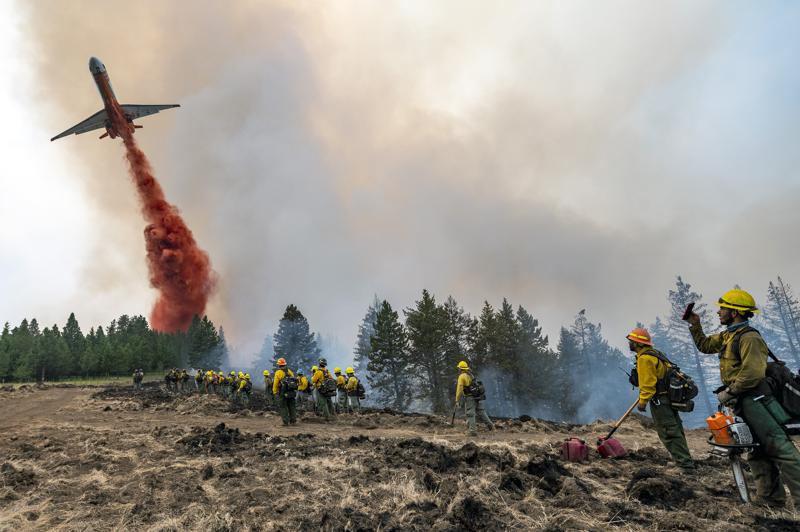 Echoes Of 2015 As Fires Burn Across Okanogan County, Force Evacuations In Nespelem
BY SCOTT LEADINGHAM / NWPB & AP STAFF
An army of firefighters is working in hot, dry and windy weather to contain blazes chewing through forests and grasslands and burning homes in drought-stricken states across the West.
A high-pressure system that created the second intense heat wave of the year was weakening Tuesday, but temperatures are forecast to remain above normal on the lines of more than 60 active large fires.
More than 14,000 firefighters and support personnel are attacking the flames.
In Washington, fires near Mazama have closed the North Cascades Highway on and off for the past three days.
Level 3 mandatory evacuations are in place for the town of Nespelem on the reservation of the Colville Tribes due to several lightning-sparked fires Monday night.
Nespelem evacuation, Colville reservation fire history
Residents in and around Nespelem had to flee their homes Monday night as several lightning-caused fires engulfed the area.
A shelter is set up at Lake Roosevelt High School in Coulee Dam.
The fires prompted evacuations for the entire town of Nespelem and nearby Colville Agency and the tribes' headquarters building. That building is fairly new – it was rebuilt after it burned in a single structure fire – not a wildfire – in 2013.
The land of the Colville Tribes is no stranger to fire. It's more than 1.4 million acres with lots of timber and grasslands. The tribes have their own wildland firefighting agency.
PHOTOS: Wildfire leaves trail of destruction through Nespelem https://t.co/E9U2cYQYdL

— Kris Crocker (@KrisCrockerKXLY) July 13, 2021
This year in north-central Washington has echoes of 2015, when the complex of fires across Okanogan County burned tens of thousands of acres on the reservation, closer to Omak, and shut down Highway 155 across the reservation for long stretches. What was true then is very possible now: The fires took out a lot of timber that the tribes harvest and use for revenue.
Last year, the Cold Springs Fire destroyed a former timber mill site in Omak that the Colville Tribes owned. That blaze and another on the eastern side of the reservation near Inchelium burned nearly 200,000 acres and 80 structures.
Fires threaten Mazama, close North Cascades Highway
Northwest of the Colville Reservation, more fires burning in Okanogan County timberland near the tourist town of Mazama have closed campgrounds and put residents on alert.
The cross-state North Cascades Highway 20 was closed much of Monday and Tuesday to assist with firefighting efforts.
The area on the dry side of the Cascade crest has seen plenty of fire before.
The North Cascades smokejumper base is nearby in Winthrop, often called the birthplace of smokejumping in the U.S.
This area of Okanogan County, the Methow Valley, has seen its share of firefighting tragedies. Last weekend marked 20 years since four firefighters died fighting the nearby Thirtymile Fire. Next month will mark six years since three firefighters were killed and one critically injured on a fire near Twisp. At that time, in 2015, Gov. Jay Inslee called the deaths and the massive fires that year "an unprecedented cataclysm in our state." Now, fire managers around the region are worried that this season could be very bad.
Complicated by jet fuel shortage
The situation in the West is complicated by a potential shortage of fuel for firefighting aircraft. Fire managers say they are monitoring jet fuel supplies after shortages have been reported at tanker bases in Oregon and Utah.
Hundreds of aircraft, including tankers and helicopters are used each year to fight wildfires .
Robin DeMario, with the Northwest Interagency Coordination Center, says so far, efforts to control wildfires in Washington haven't been impacted by fuel shortages. But if they do, resources can be moved around.
"Things move fast, and y'know, whether we need to reposition an air tanker due to a fire that is threatening a community or whatever, we always have plans in place," DeMario said Tuesday.
Right now, the largest and highest-priority blaze in the Northwest is the Bootleg Fire in south-central Oregon in the Fremont-Winema National Forest. The fire has burned about 316 square miles and threatens nearly 2,000 homes as of Tuesday.
Noel Gasca of Northwest News Network member station KUOW contributed reporting. Additional reporting from the Associated Press was used in this story.