In New Climate Order, Inslee Says Washington State Vehicles To Plug In
Washington's state vehicles soon will plug in instead of gas up.
Many of Washington's state vehicles will transition to electric over the next 19 years, according to an executive order issued by Gov. Jay Inslee during his time at the United Nations Climate Conference in Scotland.
"This is the kind of real nuts and bolts thing that is really going to get us to meet our climate emission targets globally by taking local action," Inslee said during a press conference in Glasgow.
The first vehicles to move to an all-electric fleet will be from the executive and small cabinet agencies, such as the Liquor and Cannabis Board, the Office of Equity, and the Traffic Safety Commission.
By 2035, light-duty vehicles must all be a zero-emission fleet. By 2040, mid- and heavy-duty vehicles must be a zero-emission fleet.
That makes up around 5,000 vehicles, according to Tara Lee, a spokesperson for the governor.
Transportation accounts for around 45% of Washington's carbon emissions, according to the state Department of Ecology.
Agencies will replace vehicles with battery-powered electric vehicles, as gas and diesel-powered vehicles age out. If an electric battery option isn't available for certain vehicles, agencies must buy the lowest emission, lowest cost vehicle, such as a plug-in hybrid or hydrogen fuel cell-powered vehicle.
Overtime, zero emissions vehicles pencil out to be cheaper than gas or diesel fueled vehicles, Lee said, which will save the state money. The governor's office is working with the state Legislature to help fund charging infrastructure, she said.
In addition, Inslee said, the federal infrastructure bill passed on Friday by the U.S. House will help Washington build more electric vehicle charging stations.
Funds from the federal bill will expand charging access beyond the network along Interstate-5, a part of the West Coast Electric Highway project, which stretches from Vancouver, Canada, through California.
Next, Inslee said, charging stations will need to be built in commercial areas and neighborhoods.
"We want them in our shopping districts, so they're available when you go shopping. We want them in our schools, so you can pull up and charge while you're at school," Inslee said.
It's also important to build charging capabilities at home, Inslee said, noting he plugs in his Chevy Volt in his basement.
That sort of setup is more difficult in places like apartments or condos, he said.
"So we need to develop that charging station and build it into our built environment," Inslee said.
Moreover, for the built environment, Washington, Oregon, California, and British Columbia will participate in a low-carbon construction task force.
The task force will work to lower carbon emissions from construction materials by considering the heat-trapping greenhouse gases that add up from producing, transporting and manufacturing raw materials, such as wood products. The task force also will factor in emissions released during construction.
By 2030, the task force wants building construction to have net zero emissions. Buildings make up 39% of heat trapping emissions globally, according to the task force. Of those emissions, 11% come from the raw materials and construction.
In a statement, Oregon Gov. Kate Brown said this effort will help tackle climate change and grow the region's economy.
"We've seen firsthand how using low-carbon materials can improve efficiency in local manufacturing and create cost savings for manufacturers," Brown said.
To generate fewer emissions, the governors need to increase logging because timber generates fewer emissions than steel or concrete, said Todd Myers, environmental director for the Washington Policy Center, a conservative think tank.
"Washington state has some of the best structural timber in the country, and yet, environmentalists are pushing to shutdown timber harvesting," Myers said.
The policies Inslee proposes are only meant to please voters, Myers said.
Further, there is no accountability legislators or for the governor when they don't meet climate targets, Myers said.
"The results have been very bad, and yet we keep doing the same thing over and over again – not merely expecting different results but bragging about the results we have had," Myers said.
However, Lee said delays are exactly why the governor needs to issue climate commitment orders.
"The lack of progress on the targets as laid out by the legislature is a large part of why the governor continues to push for substantial action on climate," Lee said in an email.
At the conference, Inslee organized a coalition of 68 regional, state and city governments from around the world. These local governments, he said, are taking more stringent actions to slow the effects of climate change than their larger national governments.
If combined, he said, the group would be the third largest country in the world, making up 20% of the world's gross domestic product.
Inslee called local efforts toward reducing heat-trapping emissions and slowing the effects of climate change a secret weapon.
"We can act faster. We can act farther. We can act with more flexibility in the effort to build a clean energy economy and defeat climate change," Inslee said.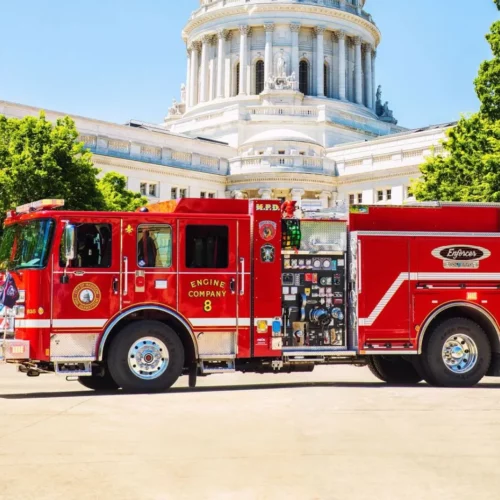 You probably no longer bat an eye when an electric car passes by on the road. More novel battery-powered vehicles are soon joining the parade to help operators achieve their sustainability goals. Electric ferries are coming to Puget Sound and hybrid electric airplanes are being tested in Washington. Now, several Pacific Northwest fire departments have ordered their first electric fire trucks. Continue Reading Electric fire trucks are coming to the Pacific Northwest