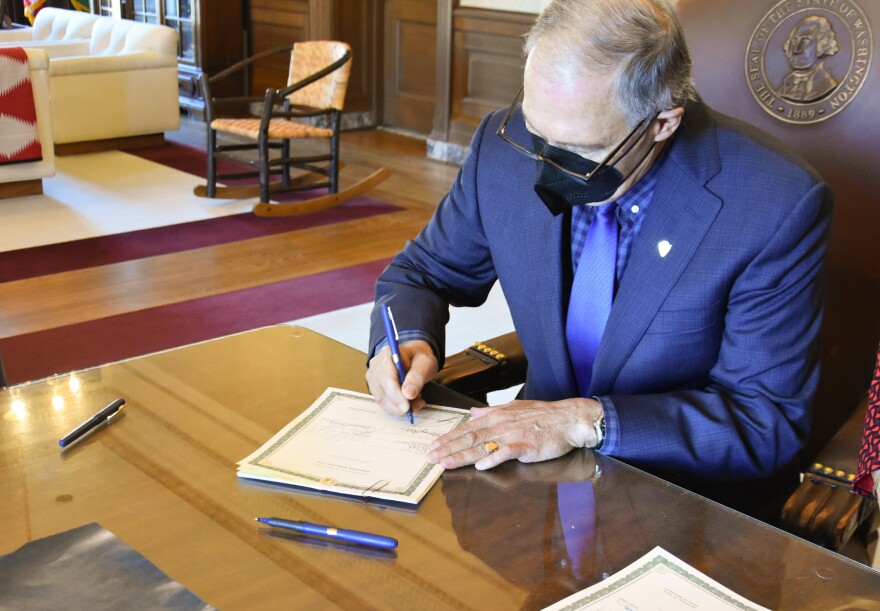 With His Signature, Inslee Pauses WA Cares Program For 18 Months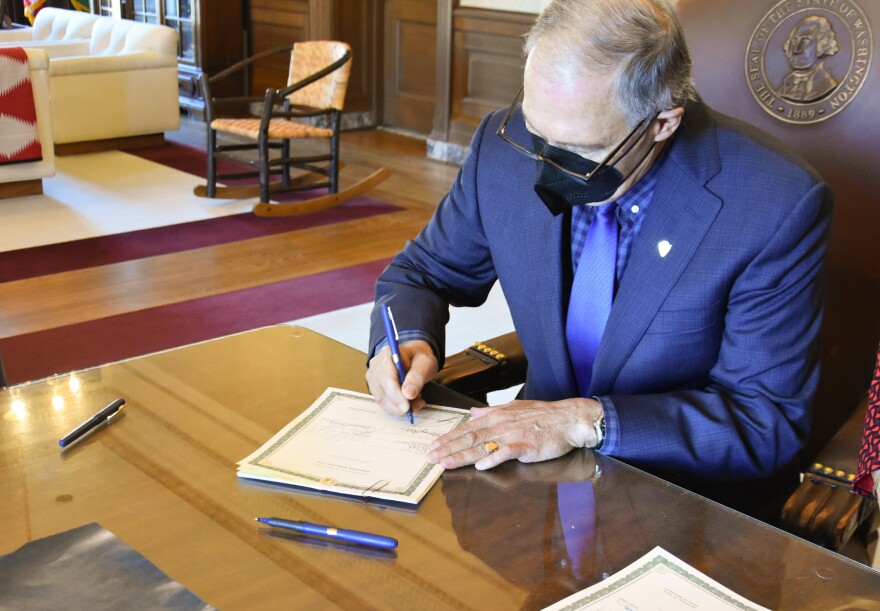 Washington Gov. Jay Inslee on Thursday signed into law a bill that delays the start of a controversial long-term care benefit program known as WA Cares for 18 months. A second measure signed by Inslee will allow certain workers to opt out of the first-in-the-nation program.
The state of Washington has officially hit the pause button on a controversial long-term care insurance program known as WA Cares.
Gov. Jay Inslee on Thursday signed into law a bill that delays the start of the program until July 2023, giving lawmakers 18 months to make revisions to the program and reassess its long-term solvency.
The new law, which goes into effect immediately, also provides refunds to any employees who saw their paycheck docked after the payroll tax to fund the program kicked-in on January 1.
Additionally, the measure changes the eligibility requirements for WA Cares to allow people born before January 1, 1968 to qualify for partial benefits. Previously, someone nearing retirement age wouldn't have enough working years left to become vested in the program.
Inslee, a Democrat, also signed a second measure Thursday that creates an opt-out opportunity for certain individuals who already have long-term care coverage, or those who likely wouldn't benefit from WA Cares because it's not portable out of state.
This includes people who work in Washington but live elsewhere, like Oregon. The opt out also applies to some disabled veterans, military spouses and non-immigrant temporary workers. That law takes effect in 90 days.
Majority Democrats in the Legislature fast-tracked the WA Cares bills — giving them hearings and quick floor votes — as soon as they convened earlier this month for a 60-day, election year session. Prior to the start of the session, Democrats had announced their intent to pause the program.
The WA Cares bills are the first to pass and be signed by Inslee this year.
The pause represents a setback for Democrats who created the first-in-the-nation, state-run long-term care insurance program in 2019. The original plan was to launch WA Cares this year with benefits starting in 2025.
But Democrats came to realize the program was not ready for primetime and posed a potential political liability as some workers would be required to pay into the program without qualifying for any benefits. Lawmakers also heard from constituents upset they had not been able to take advantage of a one-time opt-out opportunity that expired last November 1.
To qualify for that opt out, workers had to prove they had a private long-term care insurance policy. But insurers were quickly inundated and stopped selling policies even before the deadline passed.
Ultimately, according to state officials, about 470,000 workers representing about a third of the state's overall payroll did request to be excused from the program after securing private plans. That's nearly five-times more people than the state actuary's baseline assumption of how many people would drop out. The full actuarial implications of those opt outs for the long-term solvency of the program is not yet clear.
While Democrats say they remain committed to WA Cares — and insist it's needed to keep people from spending themselves into poverty to qualify for long-term care under Medicaid — minority Republicans have proposed to repeal the program.
As currently structured, Washington workers will pay a $0.58 payroll tax on every $100 earned to fund a WA Cares individual lifetime benefit of up to $36,500 for those who meet the eligibility requirements. That money can be used to pay for in-home care or nursing home-level care.
Under the newly adopted timeline, the payroll deduction will start in July 2023 with benefits beginning in July 2026.