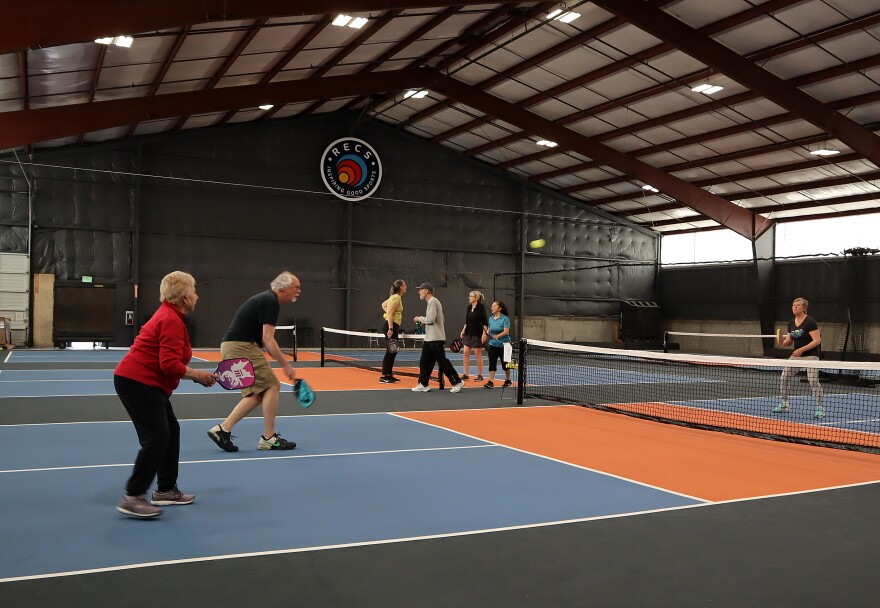 Pickleball Now The Official Sport Of Washington State
Tom Banse reports on pickle ball being named the official sport of Washington State / Runtime – :48
Pickleball enthusiasts gathered Monday on Bainbridge Island for a celebration on the court where the game was first played. They were there to watch Governor Jay Inslee sign a bill making pickleball the official state sport.
Pickleball's origin story dates to 1965 when three fathers invented a new racquet sport to occupy their (bored and restless) teenagers. They combined the gear they had on hand: a wiffleball, ping pong paddles and a lowered badminton net. Longtime player and coach Steve Paranto says it's only fitting that pickleball be the official sport of the state where it was invented.

"It is fastest growing sport probably in the world right now – they're saying in the U.S. for the last few years – but probably the world."

Paranto was inducted in the Pickleball Hall of Fame a few years ago for his contributions to the sport, which included helping develop the drop serve and the first paddle made of composite material. His dad brought surplus composites home to Eatonville from a job at Boeing in 1984. 
Washington becomes the 16th state with an official sport. Some of the other states that have gone before have obvious pairings such as Hawaii and surfing, Minnesota and ice hockey, Alaska and dog mushing. Then there's Colorado where the state sport is pack burro racing, or Maryland where it's jousting. Oregon and Idaho don't have an official state sport.