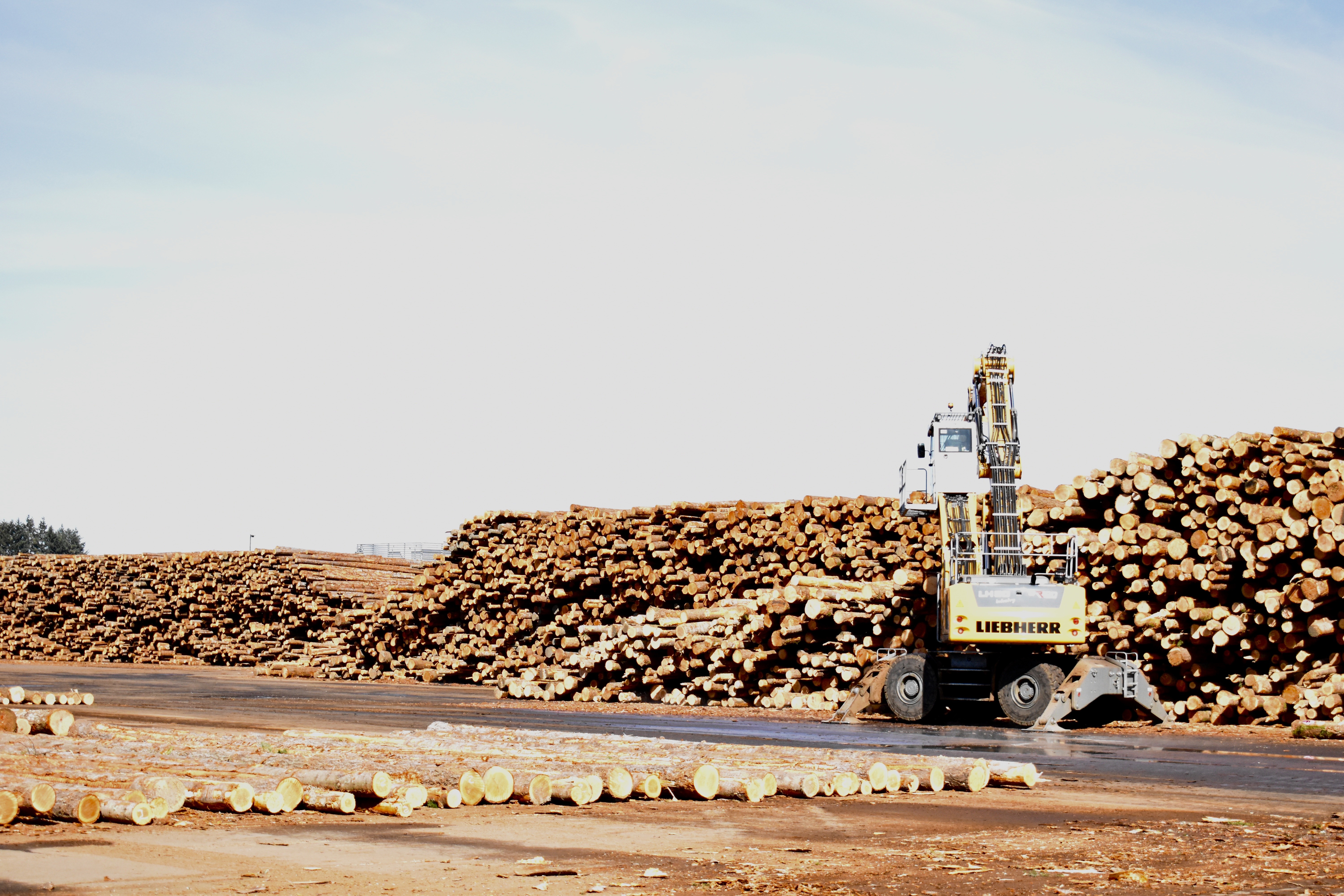 The Fight For Legacy Forests, Part Seven: Where Timber Goes, And The People Behind The Industry
Washington is the second largest producer of timber in the United States, according to the state department of commerce, and it is the third largest manufacturing industry in the state. In the seventh story of the Fight for Legacy Forests series, NWPB's Lauren Gallup visits a timber mill in Centralia to find out what people working in the timber industry think of harvesting changes in Washington.
At the end of a road on the outskirts of Centralia, sits the Sierra Pacific Industries saw mill. The entire place smells of cut wood and sawdust. 
Stacked lumber surrounds the mill buildings. It all looks like a giant Jenga game. 
"What you're walking through right now is our rough yard. All this lumber is green waiting to be dry."
That's Scott North, division manager of Sierra Pacific Industries. He explained that once the lumber is dry it will be packaged and sent off to retail stores for sale.
There's a demand for wood products — lumber for homes, paper and cardboard, even wood pulp for diapers. The folks in the timber industry say that because Western Washington naturally grows big and tall trees and the state already has strict environmental regulations, it is an ideal place for the timber industry to continue. 
Scott North says most of the wood coming to this mill is from southern Washington, and a small percentage is from the Capitol State Forest. Sierra Pacific harvests trees from land it owns, as well as other private and public land. 
The folks in the timber industry worry that harvesting changes on state land would mean less of a steady supply for them.
Nick Smith works for the American Forest Resource Council, which represents timber companies like Sierra Pacific. 
"Our members depend on timber from public lands to sustain their businesses, their ability to provide jobs to their workers," Smith says.
The council wants predictability in the log supply from public lands. Without that, they say they can't run a business. 
Smith says the forestry sector wants the same thing as environmental advocates — a healthy climate, clean air and water, protections for endangered species, wilderness, preservation of some lands — it's just they want to balance it out with a predictable supply of wood.
This report was produced with assistance from the Public Media Journalists Association Editor Corps funded by the Corporation for Public Broadcasting, a private corporation funded by the American people.