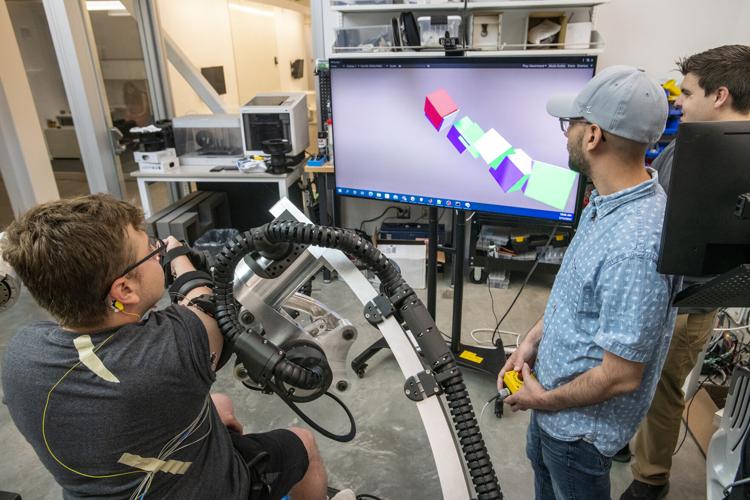 U of I Engineers Developing Device for Better Recovery Post-Stroke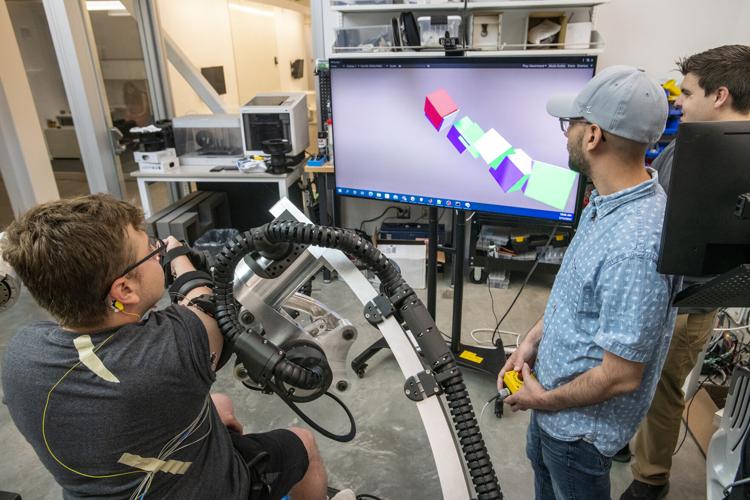 Sebastian Rueda is seated on a chair with a metal exoskeleton attached to his arm. He reaches toward brightly colored virtual blocks on a screen in front of him, and the machine follows, whirring softly. 
As his hand reaches the block, a robotic voice tells Rueda "WAIT." There's a brief pause, a beep, and the block disappears as another pops up. 
Fellow PhD student Chris Bitikofer monitors the data coming in on a nearby computer screen, fine-tuning controls that will make the giant metal arm feel nearly weightless.
It's almost like a video game. But unlike other games, when this technology is developed, it will help patients whose mobility has been limited by a stroke or other neurological impairment like cerebral palsy.
The device, dubbed "Blue Sabino," is the product of more than seven years worth of work from faculty and students at the U of I, and more recently collaborators at Whitworth University. 
Funded by a grant from the National Science Foundation, the device will gather a wide range of arm mobility measurements, and provide physical therapies that engage patients.
For U of I mechanical engineering professor Joel Perry, the work is personal.
"The thing that's always brought me into this field, and it motivates me, is wanting to make the quality of life better for people," he said. "I grew up with a sibling with a disability and so that really opened my eyes to that whole world."
Current mobility tests have limitations in what kinds of movements they measure, and how precisely. The team's device could provide better information, said Rene Maura, a PhD student at the U of I.
"(Normal assessments) sort of rely a lot on the therapist's expertise," he said. "This device, it helps them assess that just a little bit more, giving them more measurements to assess a stroke patient."
Blue Sabino gathers data on numerous metrics including arm position, speed and force, and sensors to capture brain and muscle activity. 
Those measurements could not only pick up small changes current tests miss, but help providers see what therapies are helping specific patients. Eventually, data from the device might allow for a database of patients with similar impairments, and quantitative analysis of how they responded to different therapies.
"What we really need to do is start building up a database that is shared globally," Perry said. "You get consistent comparisons between subjects that have certain markers, and a database that tracks what therapy they underwent, and how they recovered."
Doug Weeks, director of research for Providence St. Luke's Rehabilitation Medical Center, said having precise measurable progress is helpful for patients in recovery.
The engineering group is partnered with Providence to conduct testing. Providence is currently recruiting patients with impairments in the left arm to participate in trials. 
"The whole focus is we want the patient to have a sense that the practice that they're putting into recovery and arm use after a stroke is worth the effort," Weeks said. "And this device is able to measure that."
The interface also allows physical therapy exercises to be gamified, which can increase a patient's motivation, he said.
"It really is something that has a look and feel of a computer game — a very expensive, technologically advanced computer game that keeps patients engaged and wanting to practice," Weeks said.
With more development, the device will eventually allow both arms to be measured at the same time, so  a patient's impaired arm can be compared to the side with better mobility. Another work in progress for the device is creating a system to assist in specific movements. 
Blue Sabino offers better data that current mobility tests can miss, Bitikofer said, which is important for choosing therapies, and can also determine whether or not insurance will pay for them.
"We can see things that a physical therapist won't be able to measure with the current metrics," he said. "So if you've taken a Fugl-Meyer, it's like a couple points scale of whether you can do an action, or you cannot do it at all, or you can succeed at it completely.
While other motion capture systems exist, Perry says that potential is one of the things that make Blue Sabino unique.
"With this device, if someone doesn't have the ability to do a reach and grasp movement, we can help with gravity support and put them into an environment where they can do the activities," Perry said.
Though the engineers are still expecting years until their device is ready for FDA approval, Perry said he's excited to see how it could improve the quality of life for people with disabilities, whether it be from stroke or other impairment. He's also recruiting more students to work on the device.
"Just being able to contribute to technology that is going to help somebody is an exciting thing for me," he said. "I think all of our students that we attract here are also pretty motivated by that thought."
This report is made possible by the Lewis-Clark Valley Healthcare Foundation in partnership with Northwest Public Broadcasting, the Lewiston Tribune and the Moscow-Pullman Daily News.
Produced with assistance from the Public Media Journalists Association Editor Corps funded by the Corporation for Public Broadcasting, a private corporation funded by the American people.