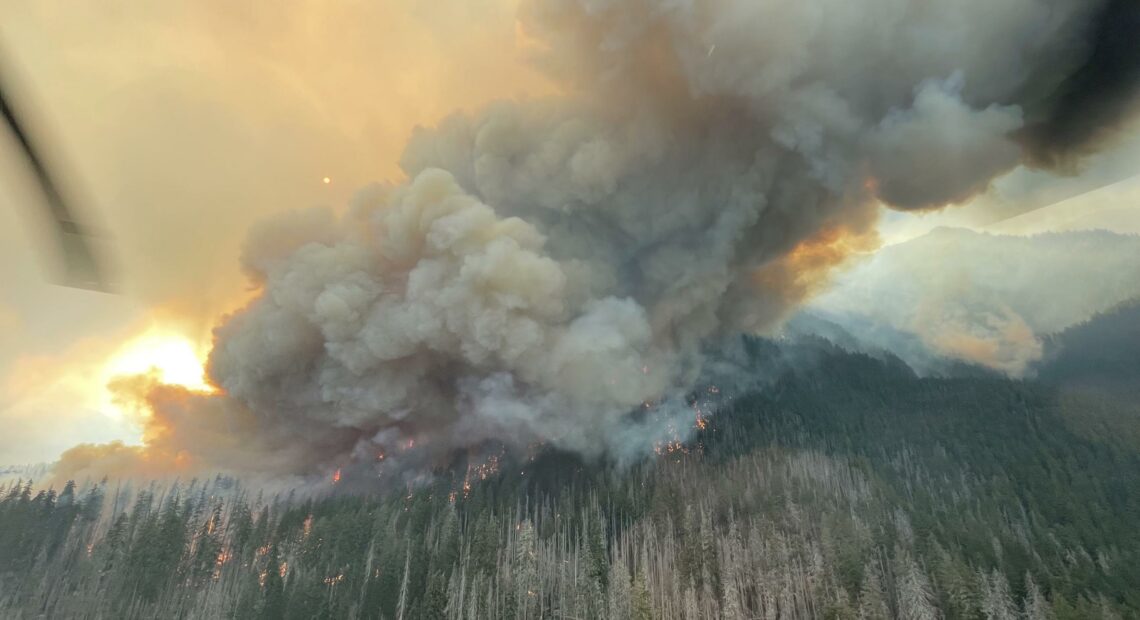 Seven fires burning in Olympic National Park; one evidence of what could come with climate change
Visible from the smoke they're emitting, seven fires are burning within the wilderness of Olympic National Park on the Olympic Peninsula. Lightning strikes ignited the fires Aug. 28, and all were burning relatively small until this past weekend, when the Delabarre fire took advantage of hot, dry conditions and took off like a bandit, growing to over 3,500 acres.
Folks familiar with this national park, known for having verdurous, dense wilderness and frequent precipitation may be surprised to learn that wildfires are eating up vegetation and growing to encompass sizable land here. 
"There was so much moisture, it was thought that it couldn't burn," said Rep. Steve Tharinger, who represents Washington's 24th legislative district, which includes most of the Olympic Peninsula.
But bigger blazes are becoming more common as climate change results in lower precipitation and those dense forests become ripe with dry fuels for the flame.
"The trend is kind of concerning," said Matthew Dehr, wildfire meteorologist for the Washington State Department of Natural Resources. In four of the past eight years, there have been fires that have grown to over 1,000 acres on the peninsula.
That's not the norm for the region. Historically, every 35 to 100 years there are small fires and between 150 to 300 years, there are larger fires that replace whole stands of trees, Dehr said.
"To me, it shows that the forests are ready to burn more often," Dehr said.
Why is that? Changing weather patterns. In the past, there was more precipitation later in the spring and summer, and earlier in the fall, so that when something like a lightning storm, natural ignition for fires, touched down in the forests, the fuels weren't so dry and easy to ignite.
"When our moisture levels drop below those critical thresholds, there's not a lot to stop a wildfire, once it gets going," Dehr said.
Dehr said it's time for concern when moisture levels drop below 15%. For the Gray and Oregon fires that burned in Spokane County in August, the timber fuels' moisture levels were below 10%. Around that same time, moisture levels in the Olympics were around 10%.
"That's so low for that area, and there's so much energy built up in those fuels that it would have just taken lightning at the wrong time a week prior, and you could have seen a big blow up in the Olympics," Dehr said.
Lower moisture is what allowed the Delabarre fire to grow over the weekend. Dehr said the moisture level was between 14 and 15%.
The other six fires encompass 494 acres collectively, in line with the smaller scale fires that historically burned here. There are multiple trail closures in the park, and updates on those can be found here. 
For crews battling these blazes, one of the seven in the complex, Hurricane, was priority for full suppression, given its proximity to people, said Jake Akerberg, commander for the Type 3 incident management organization on the Olympic Lightning Complex Fire. The four-acre fire is burning 2,000 feet below the Hurricane Ridge parking area and is now 95% contained, Akerberg said.
The strategy for the rest of the fires is to confine/contain, wherein crews use natural barriers to minimize fire growth, Akerberg explained.
With those fires being small, ignited by natural phenomena and burning in remote areas, hard for humans to reach, the "let them burn out" approach is in line with allowing fire to take its natural course.
That can be confusing to nearby residents. Sen. Kevin Van De Wege of the 24th district said when he was in Sequim over the weekend, folks he spoke with were concerned about the smoke and the possibility of the fires spreading. The Air Quality Index for the peninsula was in the "Good" zone Wednesday, meaning there is a low count of particulate matter that can cause health concerns in the air. 
But, in addition to the fires being dangerous to fight on the ground given their remote location — the crews are using helicopters to ensure the fires don't spread to areas they don't want, like trails and other park infrastructure — and that they are slow moving and have natural fire barriers surrounding them to break the flames, small fires like these can be good for the ecosystem.
Fire is a part of the Western ecosystem, that's why scientists can study historic fire cycles to see how often trees burn from natural causes. In addition, many Indigenous tribes of the region used fire as a land management tool to achieve a variety of goals, such as regeneration of certain plant species, improved soil health, and to reduce the risk of bigger, catastrophic fires. 
With the increase of white settlers to the area and the U.S. Forest Service policies of fire suppression, using fire as a tool became very rare and was even outlawed.
"When Western settlers came in and suppressed fires, that really changed how our ecosystems are functioning," said Katie Fields, forest and communities program manager at the Washington Conservation Action. "With the compounding impacts of climate change, that makes for more fire."
Land managers in Washington are working to bring fire back with intentional fires, called prescribed burns, because of the benefits fire can provide.
"Fire does a lot to really help ensure that there is kind of a balance in the ecosystem, and that there's not too much overgrowth of the underbrush fuels that then lead to more severe fires," Fields said. "Having more regular fires that are smaller and less severe can really be beneficial to the landscape in terms of keeping the forest healthy."
The National Parks Service does use prescribed burns within parks to manage vegetation and for other natural and cultural resource goals.
For the seven fires in the Olympic Lightning Fire Complex, it will take serious and significant rainfall to fully douse these flames. 
Until then, "This fire is going to be on the landscape," Akerberg said.