Book Reading: Skiing Uphill by Pat West Turner
October 5 @ 6:30 pm

-

8:00 pm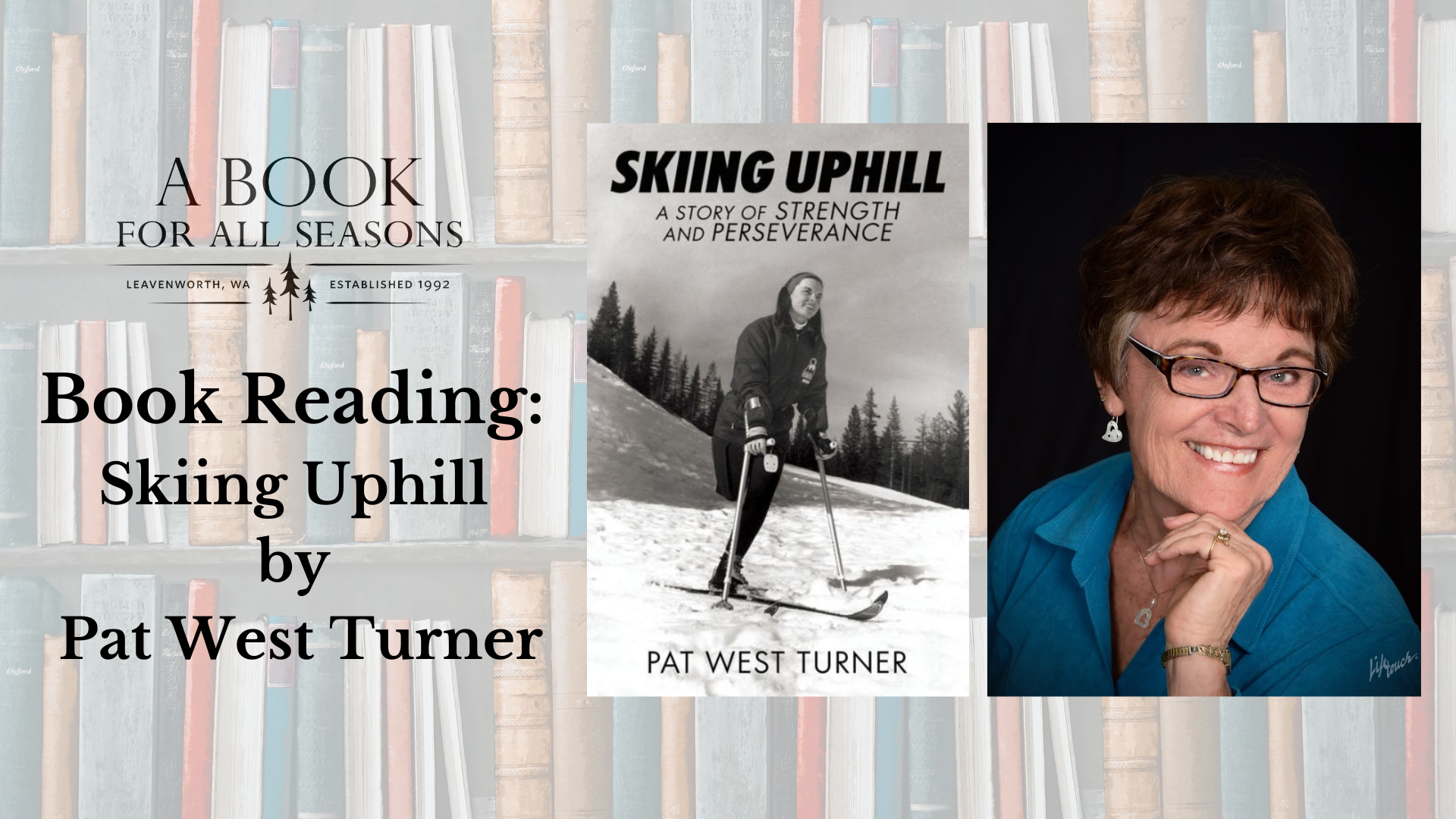 Join A Book for All Seasons at the Leavenworth Public Library for a book reading with local author, Pat West Turner.
Pat West Turner was raised seven and a half miles up the Entiat Valley. Now she lives in East Wenatchee, Washington with her husband, Joe. She attended Wenatchee Valley College, then received her B.A. in special education from Central Washington University, and Fifth Year from the University of California Sacramento with a double major in social sciences. Before her teaching career started, she was in a car accident when she was a senior in high school. She eventually lost her leg because of complications. Her memoir outlines an active life regardless of her challenges living on one leg. She had been active at her local ski area, Mission Ridge, learning to three-track ski in 1966 a year after her car wreck. After a couple of skiing accidents, she finished her time at the Ridge inside scheduling lessons. She continues to work out at WORX gym as well as taking up wheelchair bowling a couple of years ago. Her travels include New Zealand, Tahiti, Mexico, and Hawaii. Pat also enjoys painting kindness rocks and crocheting book worms.
In a review of her book, Skiing Uphill: A Story of Strength and Perseverance, Rufus Woods states, she shares "what she went through following the accident and the ways she continuously found ways to meet life with a sense of adventure and personal courage." Woods writes, "Turner went on to compete nationally and internationally, including a silver medal in New Zealand in 1978. She later became a ski instructor, and also taught school both in California, and in the Eastmont and Wenatchee school districts in Washington state. Her missing leg became a tool with which she engaged students." Turner says, "Life is hard, you will survive, and the more friends you have the better."
In every crossroad in her life, she focused on what she could do rather than what she was unable to do – a philosophy that any person can adopt, says Woods.
From 6:30-7pm will be a meet & greet with the author, followed by a book presentation starting at 7pm with a Q&A to wrap up the event. Join us at the Leavenworth Public Library!
Related Events