>> Many events and concerts have been cancelled due to COVID 19.   Check with the organization prior to attending to make sure the event is still happening.

All events for Pullman Depot Heritage Center open on Saturdays 1 – 4pm
November 2020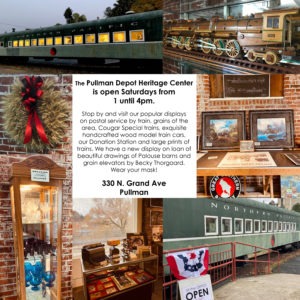 Stop by and visit our popular displays on postal service by train, grains of the area, Cougar Special trains, exquisite handcrafted wood model train cars, our Donation Station and large prints of trains. We have a new display on loan of beautiful drawings of Palouse barns and grain elevators by Becky Thorgaard. Wear your mask!
Find out more »