We are aware of an issue with times displaying incorrectly. We are working to resolve this.

Scarecrow Academy: The Art in Sci-Fi
March 5 @ 2:00 pm

-

3:00 pm

UTC-7

|

Recurring Event

(See all)

An event every week that begins at 2:00 pm on Saturday, repeating until May 7, 2022

Free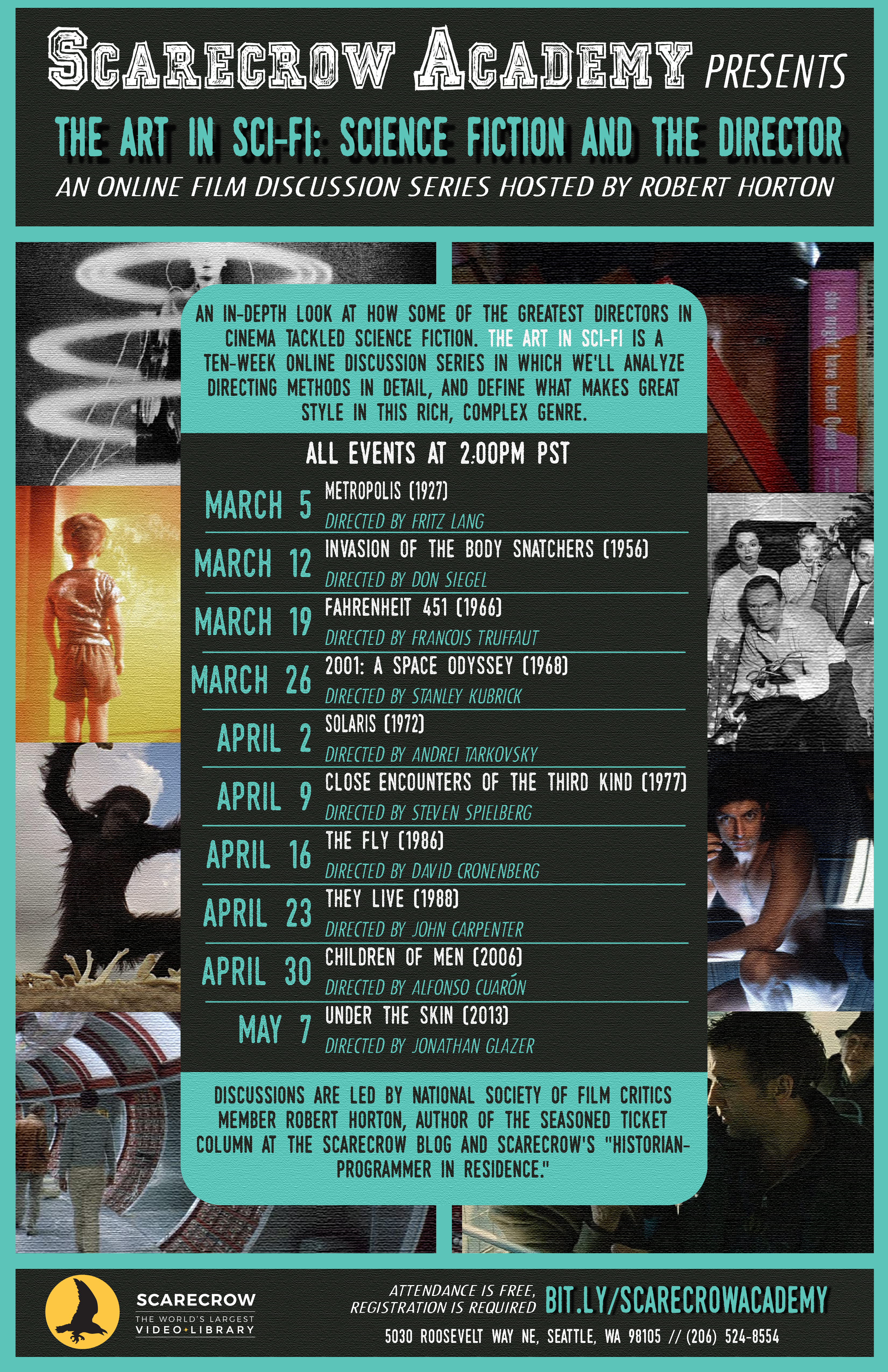 SCARECROW ONLINE VIDEO DISCUSSION SERIES, SCARECROW ACADEMY: THE ART IN SCI-FI, STARTS MARCH 5
Scarecrow Video continues our online programming with a brand-new semester of Scarecrow Academy—the popular film discussion series led by National Society of Film Critics member Robert Horton, author of the Seasoned Ticket column at the Scarecrow blog and Scarecrow's "Historian-Programmer in Residence." The ten-week series meets online on Saturdays at 2pm starting March 5, 2022.
This semester presents an in-depth look at how some of the greatest directors in cinema tackled science fiction. The Art in Sci-Fi: Science Fiction and the Director is a ten-week online discussion series in which we'll analyze directing methods in detail, and define what makes great style in this rich, complex genre
The Zoom sessions are free and open to all, but we ask participants to watch the films in advance of the events. Registration is required. To register and learn more about film viewing options, visit:
bit.ly/scarecrowacademy
Sessions are on Saturdays at 2:00 pm PST and include:
March 5
Metropolis (Fritz Lang, 1927). The cinema's first huge science fiction extravaganza is a wild futuristic parable about a society of haves and have-nots—plus a mad scientist and a robot. Lang brings his mighty directing powers to bear on this defining work.
March 12
Invasion of the Body Snatchers (Don Siegel, 1956). Humans in small-town America are being replaced by emotionless pods from space, a brilliant 1950s metaphor explored with Siegel's noirish intensity.
March 19
Fahrenheit 451 (Francois Truffaut, 1966). The classic Ray Bradbury novel about a society that burns books is re-imagined by one of the leading filmmakers of the French New Wave (it was Truffaut's only film in English).
March 26
2001: A Space Odyssey (Stanley Kubrick, 1968). Kubrick re-invents the way we watch movies with his majestic and mystifying "journey to the infinite," traveling from prehistoric monkeys to the cinema's most placidly murderous computer.
April 2
Solaris (Andrei Tarkovsky, 1972). One of film's great visionaries, Tarkovsky takes a Stanislaw Lem novel and turns its voyage to a troubled planet into a trippy examination of the human soul.
April 9
Close Encounters of the Third Kind (Steven Spielberg, 1977). Everyman Richard Dreyfuss finds himself "called" by otherworldly forces in Spielberg's exuberant lightshow.
April 16
The Fly (David Cronenberg, 1986). A messed-up experiment results in scientist Jeff Goldblum recombining with a housefly in Cronenberg's brainy, gory love story.
April 23
They Live (John Carpenter, 1988). Carpenter brings his B-movie energy to this satirical gem about a drifter (pro wrestler Roddy Piper) who discovers what's really going on beneath the veneer of existence.
April 30
Children of Men (Alfonso Cuarón, 2006). Mankind can no longer reproduce in a dystopian future, so the lone pregnant woman on Earth must be protected at all costs—a suspense scenario given thrilling life by Cuarón's stylish long-take approach.
May 7
Under the Skin (Jonathan Glazer, 2013). Scarlett Johansson plays an alien visitor who lures men to their doom, a terrifying enigma played out against ordinary locations in present-day Scotland.
About Robert Horton
Robert Horton is a member of the National Society of Film Critics and the longtime film critic for the Everett Herald and Seattle Weekly. He is a regular contributor to Film Comment magazine, and the author of Frankenstein (Columbia University Press) and Billy Wilder: Interviews (U. Press of Mississippi). He has been a Fulbright Specialist, an adjunct professor at Seattle University, the curator of the "Magic Lantern" film program at the Frye Art Museum in Seattle, and a speaker with Smithsonian Journeys. His work is linked at the website The Crop Duster.
About Scarecrow Video
As with literature, storytelling is at the heart of film's ability to inspire empathy. Over a hundred years ago, we began using film to tell our cultural stories. Scarecrow Video is devoted to gathering and sharing as many of these cinematic stories as possible. With its vast collection of 140,000+ titles, Scarecrow is the world's largest video library. Scarecrow Video became a non-profit in 2014 to continue the founding vision of uniting people through film. But, much like public radio and television, Scarecrow Video will not be able to continue without the support of its community. Find out how you can help: http://blog.scarecrow.com/donations/
Related Events
We are aware of an issue with times displaying incorrectly. We are working to resolve this.