We are aware of an issue with times displaying incorrectly. We are working to resolve this.

SCARECROW VIDEO DISCUSSION SERIES, FLYING SAUCER CINEMA, MEETING ONLINE SATURDAYS IN FEBRUARY
February 5 @ 2:00 pm

-

4:00 pm

UTC-7

|

Recurring Event

(See all)

An event every week that begins at 2:00 pm on Saturday, repeating until February 26, 2022

Free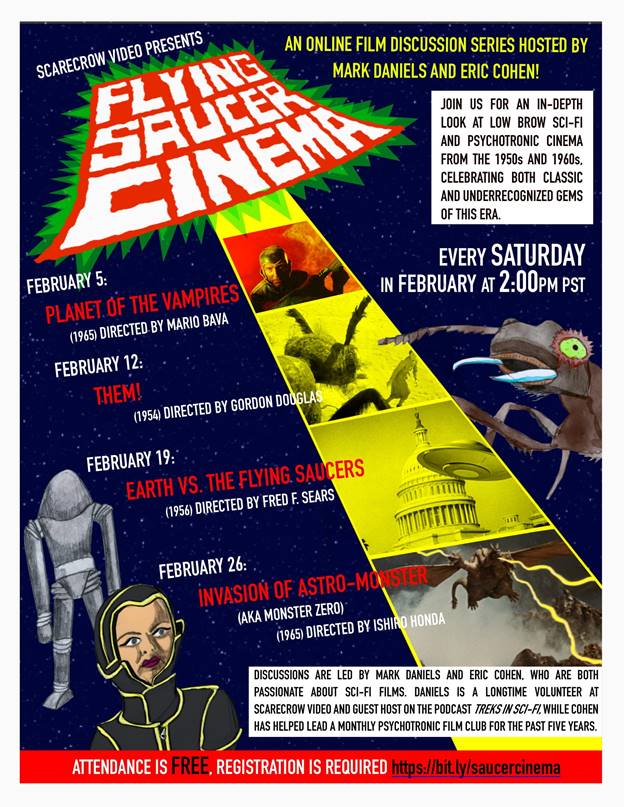 Scarecrow Video continues our online programming with a brand-new film discussion series. Flying Saucer Cinema presents an in-depth look at lowbrow sci-fi and psychotronic cinema from the 1950s and 1960s, celebrating both classic and underrecognized gems of the era.
Discussions are led by Mark Daniels and Eric Cohen who are both passionate about sci-fi films. Daniels is a longtime Scarecrow volunteer and guest host on the podcast "Treks in Sci-Fi," while Cohen has helped lead a monthly psychotronic film club for the past five years.
The Zoom sessions are free and open to all, but we ask participants to watch the films in advance of the events. Registration is required. To register and learn more about film viewing options, visit:
bit.ly/saucercinema
Events are on Saturdays at 2:00 pm PST and include:
FEBRUARY 12: THEM! (1954) – DIRECTED BY GORDON DOUGLAS
Two State Troopers find a little girl wandering in the desert unable to speak. The discovery of her dead family and multiple missing persons and mysterious deaths in quick succession leads Officer Ben Petersen and FBI Agent Bob Graham to team up to investigate the strange occurrences. With the help of Dr. Harold Medford and his daughter, they make a shocking – indeed, atomic – discovery of the cause of the strange incidents. It's a race against time – destroy them or be destroyed! Classic sci-fi that precipitated a slew of copycat radioactive monster movies in the same year that saw Godzilla ravage Tokyo for the first time.
FEBRUARY 19: EARTH VS. THE FLYING SAUCERS (1956) –DIRECTED BY FRED F. SEARS
Flying Saucers from a doomed star system invade Earth with plans of world conquest. Surrender is not an option, and Dr. Russell Marvin and his team race to develop a weapon to destroy the aliens before the earth is conquered. Quintessential classic sci-fi written by Curt Siodmak (The Wolf Man, Donovan's Brain), younger brother of noir director Robert Siodmak, and starring Hugh Marlowe (All About Eve, The Day the Earth Stood Still) with noteworthy special effects by Ray Harryhausen (Mighty Joe Young, The Beast from 20,000 Fathoms).
FEBRUARY 26: INVASION OF ASTRO-MONSTER (AKA MONSTER ZERO) (1965) – DIRECTED BY ISHIRO HONDA
Astronauts Glenn and Fuji are on a mission to the newly discovered Planet X. They are greeted by aliens called "Xiliens," who make an irresistible offer to the people of Earth: let them borrow Godzilla and Rodan to help defeat Monster Zero ("The one you call 'King Ghidorah'"), and in return they will provide a cure for all known human disease. But the aliens' duplicity is soon revealed as they deploy all three monsters in their quest to conquer Earth. Another blockbuster giant monster movie from famed director Ishiro Honda (Godzilla, Destroy All Monsters), this sci-fi coproduction of UPA and Toho Studios has everything a fan of Kaiju movies could want!
Related Events
We are aware of an issue with times displaying incorrectly. We are working to resolve this.