We are aware of an issue with times displaying incorrectly. We are working to resolve this.

SCARECROW VIDEO TO CELEBRATE PHYSICAL MEDIA DURING All-DAY LIVESTREAM TELETHON
May 14 @ 12:00 pm

-

8:00 pm

PDT

Free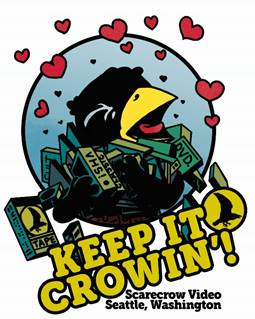 Scarecrow Video, the world's largest video library and a non-profit connecting people with film through community outreach, will once again broadcast live on May 14, 2022 from 12-8PM PT to celebrate physical media while rallying support for the Scarecrow collection's preservation.
Hosted by Scarecrow's own Emalie Soderback and Kevin Clarke (of VIVA PHYSICAL MEDIA fame), the livestream will feature:
An exclusive interview with action superstar and groundbreaking female lead Cynthia Rothrock (YES, MADAM; CHINA O'BRIEN)
A rare interview with acclaimed director and cult favorite John Paizs (CRIME WAVE)
Music sets from Soft Boiled, Austin Dean, and Dean Johnson
An all-new video collage from Collide-O-Scope
Scarecrow staff trivia challenge
Short films, surprise guests, and much more!
** Note that our interview with John Paizs will not be archived…tuning in live is the ONLY way to catch it!**
New guests are events are being added daily. Follow Scarecrow Video on YouTube or check our site and social media channels for updates.
For over 30 years, Scarecrow Video has evolved from a video store into the world's largest publicly available archive of film and television. With nearly 145,000 titles and counting, the collection represents over 150 years of our cultural history and grants access to over three times the offerings of all major streaming services combined.
In 2014, Scarecrow Video formed a non-profit to steward and grow this singular collection and that shift gave us the power to use it for meaningful community outreach programs that connect people with film, including Silver Screeners events for older adults in senior and community centers, a free weekly Children's Hour, and community events like our annual outdoor movie series.
Much like public radio and television, Scarecrow Video will not be able to continue without the help of our community. May 14th's Livestream is a part of Scarecrow's Spring Fundraising Campaign to raise $75,000 in operating support.
We look forward to connecting with the community through this unique live event and sharing our mission to connect more people in more places with film!
Contact [email protected] for further inquiries and details!
Related Events
We are aware of an issue with times displaying incorrectly. We are working to resolve this.