>> Many events and concerts have been cancelled due to COVID 19.   Check with the organization prior to attending to make sure the event is still happening.

All events for Tacoma Arts Month
October 2021
Price varies per event; see website for details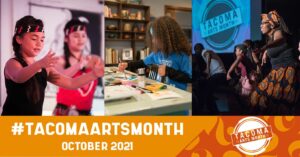 October is Tacoma Arts Month! Enjoy a variety of community-hosted arts and culture events, exhibits, and workshops all month long, many of which are free and family-friendly. From music to dance, theater to visual art, literary readings to cultural events, we have you covered. View the full calendar at www.TacomaArtsMonth.org. Experience Tacoma!
Find out more »