>> Many events and concerts have been cancelled due to COVID 19.   Check with the organization prior to attending to make sure the event is still happening.

Watercolor & Mixed Media Abstracts Workshop with Chris and Suzi
October 5, 2019 @ 10:00 am

-

October 6, 2019 @ 4:00 pm

$195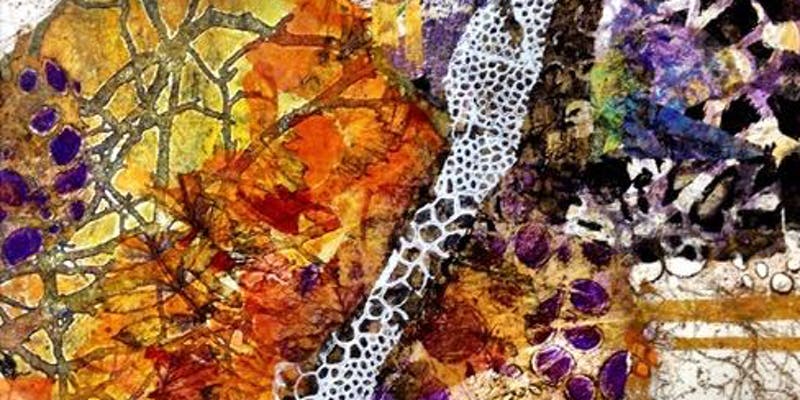 In this weekend workshop, we will be exploring it all. Taught by two art instructors Chris Blevins and Suzi Vitulli, we've teamed up again to show you the incredible techniques we've learned on our travels to workshops around the country. As well as some super cool things we've learned through our own experimentation and professional artist journey.
You will have two amazing (grin) teachers to help you at each step to explore your own creative process. We will help you put it down on paper, and you'll have a classroom environment with other watercolor enthusiasts that encourage your creative energies. It's a fabulous way to soak in this fun style of watercolor.
Day 1 — We will explore:
Abstracts designs, concepts, and composition
Lots of textural elements
Layering of design in watercolor
The wonderful world of collage in watercolor
Day 2 — We will help you with:
Designing your projects
Incorporating the elements you planned
Understanding when your painting is done
We're offering two types of tickets for this workshop:
Pay in full up front – $195
Pay $90 upfront, and $100 more in CASH at the event. Savings of $5 for you. This is a cash only discount
Some specialty supplies will be provided. See below for student supply list. Please also be aware we do have a cancellation policy which you can see here.
Be sure to scroll down for examples of other watercolor/mixed media abstract paintings.
SUPPLY LIST
Paper. Must Have:
140 lb. cold pressed Arches or other artist quality brand paper (~16×20 for large project, plus lots of practice pieces)
Brushes. Must Haves:
Assorted Rounds, small to large
Assorted Mops, medium to large
Brushes. Nice to Haves:
1/4 inch acrylic paint brush for softening edges. (Art on the Columbia has Kalish brushes that work pretty well, as do the Jack Richeson 9000 series)
Rigger or Liner
Large Very Soft Wash Brush – 2 inch Flat
Misc. Must Haves:
Paint palette
Fine spray mister
Paper towels
Pipette or hair color water bottle
Pencil (2H Preferred)
Gum eraser
Boards to paint on, a couple inches larger the the size of your paper
Two water containers
Misc Nice to Haves:
Compass to draw circles
Something to take notes on
Scrap watercolor paper to practice or test color on, etc.
Masking tape
Ruler
Masking fluid and applicator for fine lines
Scissors
Paints. Must Haves: (Artist/Professional Grade Tube Watercolors. We like Holbein and Daniel Smith)
Red, yellow, and blue
Paints. Nice to Have:
An assortment of artist/professional grade colors
Related Events