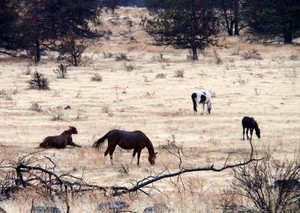 Wild Horses Could Drag You Away – To The Bank. The Government Will Pay You $1,000 To Adopt One
BY AMANDA PEACHER / BSPR
The Bureau of Land Management is offering people $1,000 if they'll adopt a wild horse.
The agency says more than 80,000 wild horses and burros are on rangelands across the West right now. The animals can damage rangeland and when their populations are high some of them starve.
The BLM captures the animals and keeps them in corrals, but some of the less feral ones get adopted out. 
Debbie Collins is a wild horse and burro national outreach specialist with BLM. She says the animals' numbers are up, but adoptions are down. Most corrals are at capacity of about 6,000.
"So what's happened is our numbers on the range have increased even more, so we're at nearly 82,000 animals on our public lands," says Collins. 
That's far too many, she says. The $1,000 incentive aims at getting more people to adopt so the BLM will be able to capture and corral more from the landscape. 
On average, each corralled horse costs the BLM about $2,000 in food, veterinary care and other stabling costs every year. 
Copyright 2019 Boise State Public Radio
This story was produced by the Mountain West News Bureau, a collaboration between Wyoming Public Media, Boise State Public Radio in Idaho,  KUER in Salt Lake City and KRCC and KUNC in Colorado.