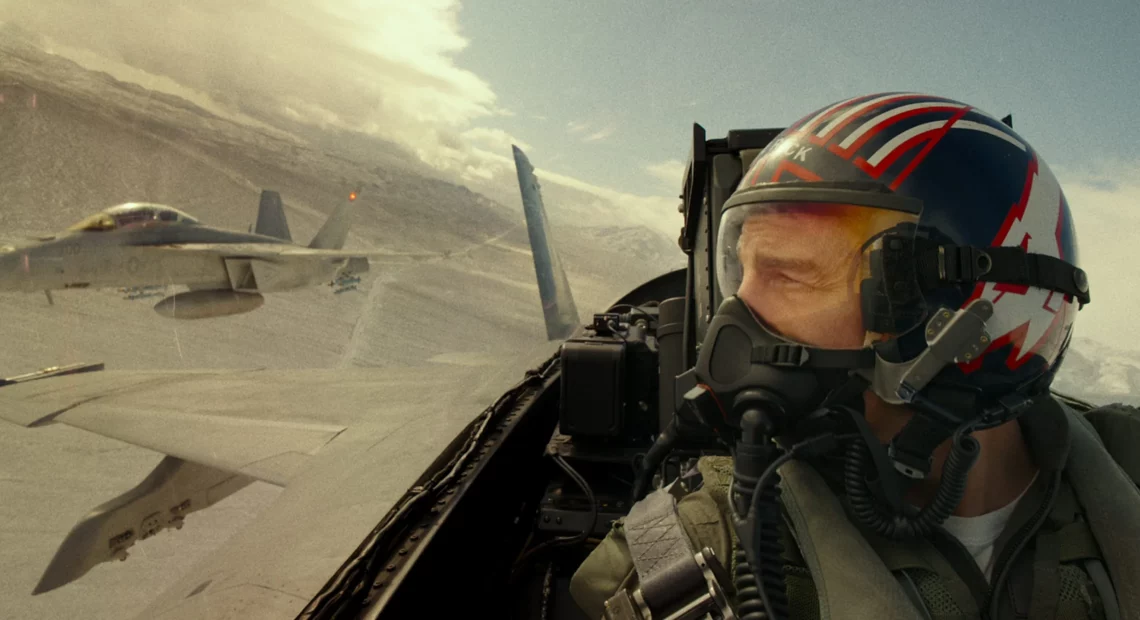 Reeder's Movie Reviews: Top Gun: Maverick
For the longest time, it just wouldn't fly. A sequel to Top Gun (1986), one of the highest-grossing movies of its decade. The movie that made the charismatic Tom Cruise box office gold. Even when the sequel finally came to fruition, the pandemic delayed its release by two years.
Well, Top Gun: Maverick has arrived, borne aloft on a wave of hype and nostalgia. Much like the original, the scenes on terra firma are fine, if not exactly subtle or surprising. However, when the characters take wing, the movie really soars.
Cruise returns as Pete "Maverick" Mitchell, a gifted and courageous pilot whose career has stalled at the rank of Captain because of his enduring disinterest in respecting U.S. Navy protocol. His latest flight of stubbornness finds him taking an aging aircraft all the way to Mach 10 in order to keep a test program, if not his career, alive. Fortunately, he enjoys the intercession of one of his training buddies from the first film, Tom "Iceman" Kazansky (Val Kilmer), now an Admiral and Commander of the U.S. Pacific Fleet.
That brings the story back to TOPGUN, the Navy's Fighter Weapons School for elite young pilots in Southern California. Mitchell has become an instructor, despite the serious misgivings of his commanding officer, Admiral Beau "Cyclone" Simpson (Jon Hamm). Neither really appreciates the arrangement, but you just know that "Maverick" will chart his own course again.
Enter the fresh group of hotshot aviators, replete with their own monikers: Lt. Jake "Hangman" Seresin (an arrogant Glen Powell), Lt. Natasha "Phoenix" Trace (Monica Barbaro), Lt. Robert "Bob" Floyd (Lewis Pullman), Lt. Reuben "Payback" Fitch (Jay Ellis) and most importantly, Lt. Bradley "Rooster" Bradshaw (a brooding Miles Teller). His late father "Goose," played in the original by Anthony Edwards, had been Mitchell's Radar Intercept Officer and best friend, only to die in a training accident. Cue the unresolved issues with the son and surrogate father.
Setting aside the absurd climactic twists, the producing team, led by Cruise, co-screenwriter Christopher McQuarrie and Jerry Bruckheimer (who also produced the first movie) have largely grounded the story in reality, as well as nostalgia. It gets under way on an aircraft carrier with a virtual shot-for-shot re-creation of the 1986 picture's beginning. Other iconic scenes such as the motorcycle ride across the runway, the singalong in the bar and the beach volleyball team bonding session all return, along with Kenny Loggins' earworm of a song, Danger Zone. With astrophysicist-instructor Kelly McGillis not reprising her role, Mitchell has a new (and age-appropriate) love interest in Academy Award-winner Jennifer Connelly, who also rose to prominence as an actor in the 1980s. She plays Penny Benjamin, a bar owner with whom "Maverick" has a romantic history. Ironically, Cruise has co-opted McGillis' role this time.
Especially if you've seen the original, you can imagine much of what happens on the ground in Top Gun: Maverick. The acting is uniformly professional, yet the situations are almost entirely predictable. As Mitchell tells TOPGUN commander, Rear Admiral Chester "Hammer" Cain (Ed Harris), he basically has a single expression: "It's the only one I've got." All the same, Cruise holds the movie together. He still has serious star power, and at age 56/57 (at the time of the pre-COVID filming) still has remarkably youthful features.
He also has a commercial pilot's license and a flair for the spectacular when it comes to stunts. (Mission: Impossible 7 will arrive in theatres this fall.) As a result, the airborne scenes in Top Gun: Maverick are nothing short of sensational. All of the pilot actors underwent rigorous in-flight training. With no green screen and (not very much) CGI as a backdrop, their scenes in the aircraft are authentic, right down to their facial expressions and body language. Director Joseph Kosinki, who previously made TRON: Legacy and Only the Brave (which co-starred Miles Teller) has crafted some truly thrilling moments of flight and combat, giving audiences a visceral sense of speed, space and altitude befitting a group of fighter pilots who love to vaunt their skills and court danger at every turn. 
Certain details of the script remain vague, as in the specific nature of the aviators' mission abroad and the backstory to the Pete-Penny romance at home. But this jet-fueled narrative, like its predecessor of more than three decades ago, lives to get off the ground. When it does get emotional, one scene clearly stands out: the meeting of "Maverick" and his former rival-turned-wingman-turned-intercessor, "Iceman." Val Kilmer, now 62 and a throat cancer survivor, taps most of his part of the conversation onto a computer screen, then utters one memorable line to Mitchell as he prepares to leave. Rank aside, respect defines this exchange.
The original Top Gun captured the zeitgeist of the 1980s: the patriotism, the machismo, the music. Maverick has arrived at a very different time, made even more so by the pandemic. As a study in old-school storytelling mixed a dash of heart and humor and above all, the dazzling, authentic action scenes, it seems poised to captivate several generations of moviegoers on its own terms.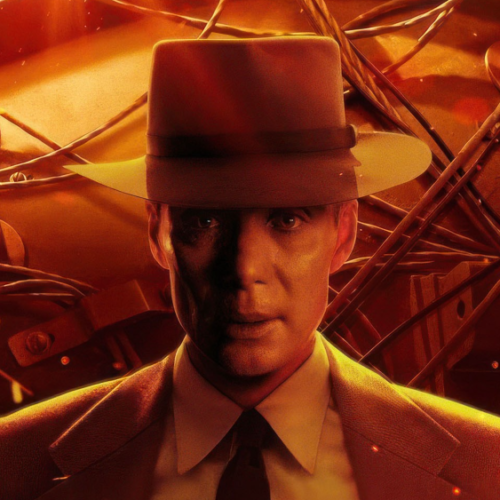 Biopics are notoriously fraught with difficulty. They have to achieve an emotional and intellectual resonance, as well as a period look and feel. The script has to reflect and enhance the inherent drama in the lives of its characters, and the main one really has to matter. In Oppenheimer, the British-American writer-director Christopher Nolan embraces the challenge of telling the story of the "most important person who ever lived," as he puts it. Continue Reading Reeder's Movie Reviews: Oppenheimer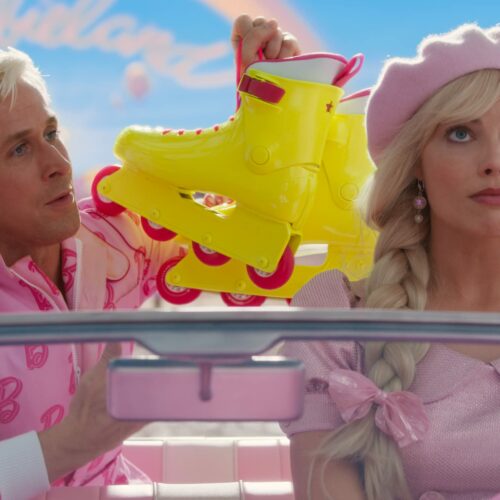 You might not have imagined a connection between the new Barbie and the acclaimed 2001: A Space Odyssey. True enough, Barbie the toy character does have pilot and astronaut on her résumé. In this case, however, she makes her big screen appearance to the accompaniment of Also sprach Zarathustra by Richard Strauss, enhanced by the droll narration of Dame Helen Mirren. 2001's director, Stanley Kubrick, would not have seen that coming. Continue Reading Reeder's Movie Reviews: Barbie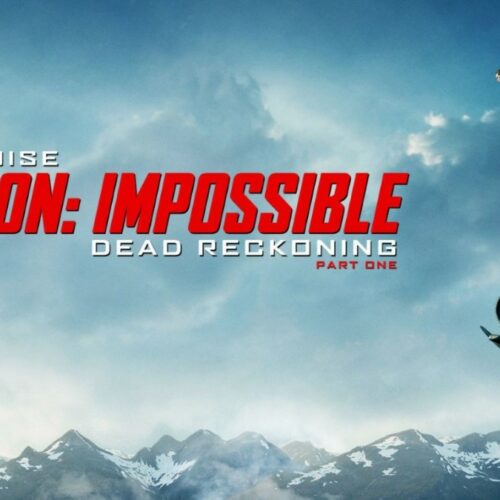 When Benji Dunn (Simon Pegg) laments to Ethan Hunt (Tom Cruise) that "you're playing four-sided chess with an algorithm," his character couldn't possibly have appreciated the irony of his words. The seventh and latest installment in the Mission: Impossible franchise has burst onto theatrical screens just as the actor-members of SAG-AFTRA have gone on strike. The existential threat to their craft–and their jobs–posed by AI has emerged as one of the major issues in the negotiations between the union and the major film production and streaming companies. Continue Reading Reeder's Movie Reviews: Mission: Impossible – Dead Reckoning Part One