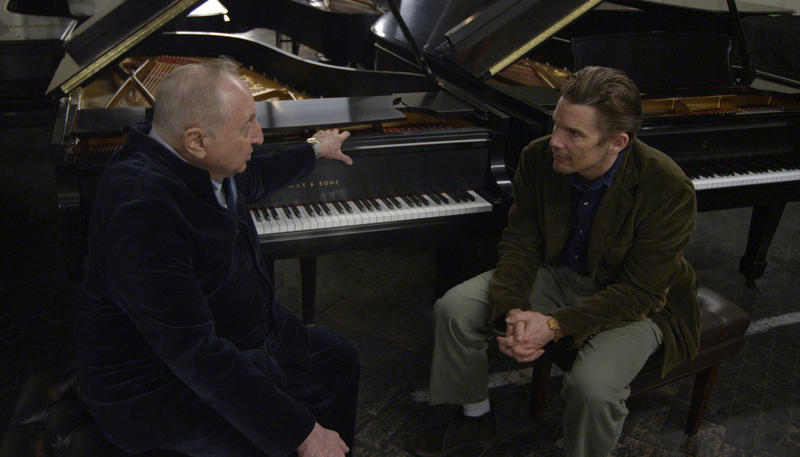 Seymour Bernstein: Music Makes You Able to Listen to Other People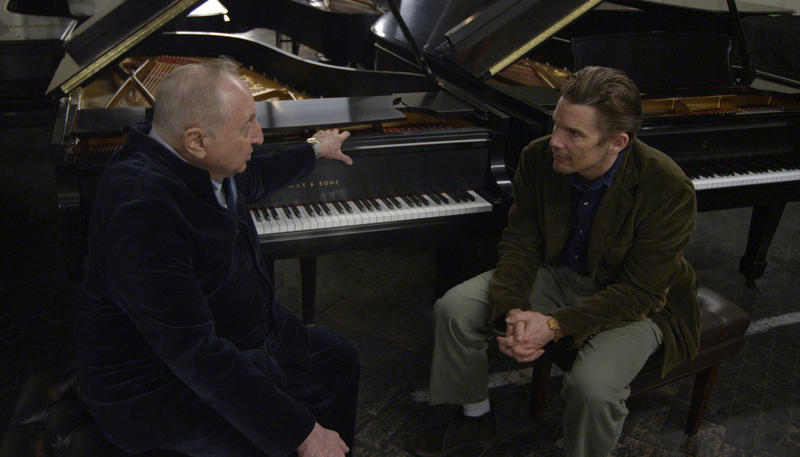 When actor-director Ethan Hawke (star of Boyhood) found himself seated next to a classical pianist named Seymour Bernstein at a dinner party, stage fright was what they found they had in common. Bernstein had handled his decades ago, by walking away from the glitter and fame of a concert career in favor of a teaching career and a solitary life. Hawke, in his directorial debut, profiles his new friend in a labor of love, the tender documentary film Seymour: An Introduction.
Northwest Public Radio classical music hosts Steve Reeder and Gigi Yellen share some thoughts about the film.
Steve: One of the keys to a successful documentary is the choice of a strong or fascinating protagonist, and Hawke has certainly found his in Bernstein.
Gigi: The film establishes without question the brilliant beginnings of Bernstein's career—glowing reviews, fawning fans.  But he says, "I like to be like amateur musicians," and "If I'm going to be that terrified walking across the stage, how am I going to feel–how am I going to handle the vicissitudes of life?" You watch Ethan Hawke relax when Bernstein cracks, "A great many artists are not nervous enough!"
Steve: This remarkably sharp and articulate octogenarian studied for many years with Alexander Brailowsky, Nadia Boulanger, and Georges Enescu, plus his time with Sir Clifford Curzon, a "kindred spirit." For my part, I think the movie does a wonderful job of showcasing this talented, dedicated man/artist in his splendid isolation.  The scene of him making the sleeper sofa-bed is poignant in its own right.
Gigi: Have we really progressed so far? As a US Army soldier in Korea, Bernstein and a couple of others offered chamber music performances on the base. He recalls the officer in charge saying, "Classical music? Are you kidding? Nobody's gonna listen to classical music." And then, as Bernstein tells it, so many guys cried, they wouldn't let the musicians off the stage. Crying comes up a lot in Bernstein's reminiscences. He cried all day, reading his Korea diary 25 years later. He's a sensitive soul, whose father used to say, "I have three daughters and a pianist." Alas.
Steve: Bernstein placed no prior limits on content, nor made any demands regarding the final cut.  (He loves the finished product.) Over a two-year period, Hawke accumulated footage, following Bernstein as he coached students in recital and at home, allowed himself to be interviewed by former students.
Gigi: "The most important thing a teacher can give a student is a feeling for life." That kind of wisdom makes this a meaningful movie not just for musicians. Patient. Kind. Isn't that what a teacher is, at best? Someone who says, as Seymour Bernstein does, "Learn to listen! Music makes you able to listen to other people."
One final poignant touch about this movie is Steinway Hall. Hawke takes us down to the legendary new-piano basement, where Bernstein coaches students and selects the perfect instrument, and up to the historic and elegant rotunda, where Bernstein, at last, performs. It's a beautiful recital for a tiny audience. Just a man at a piano in front of a showroom window, facing a busy sidewalk and street, in a building that's been sold, to be turned into a glittering new high-rise. Check out the trailer below: