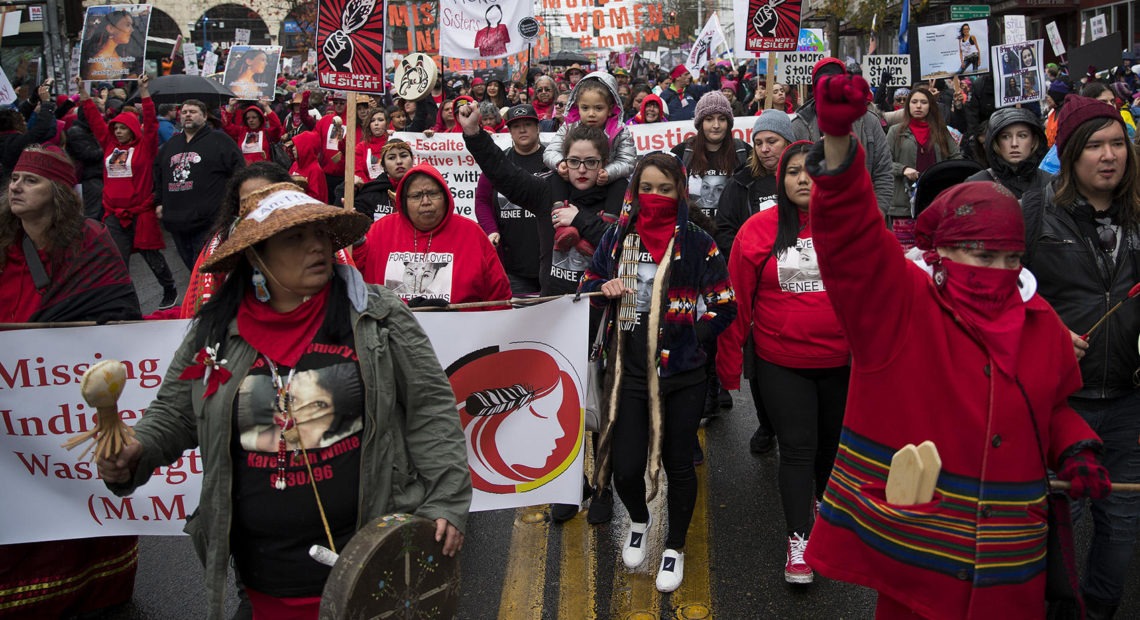 Northwest Cities See Big Women's March Crowds As #MeToo Looms Large
Across the Northwest, thousands of people attended Women's March events over the weekend. It marked one year since the inaugural event in Washington D.C. and across the country prompted by the similar inaugural event of President Donald Trump.
As in 2017, the 2018 events included marches in streets and plenty of signs representing numerous issues. A bigger theme this year: fallout and reaction to the #MeToo movement and the continued response to treatment of women (and men) in the workplace and society with the backdrop of sexual misconduct.
Marches happened in the Northwest's biggest cities and much smaller towns and college campuses. Read highlights below from several in the region.
(You can send pictures or more information on marches you attended to [email protected]. Subject: Women's March – Location Name)
EUGENE, OREGON:
Thousands of people joined the second Women's March in Eugene on Saturday.
People rallied at the Eugene federal building holding signs, some wearing pink "pussy hats" that had been popularized at the 2017 march. Oregon Democratic Congressman Peter DeFazio addressed the crowd over the phone since he's stuck in Washington due to the government shutdown. 
"A year ago, we marched in solidarity in the pouring rain because we were worried about the looming threat of a Trump presidency. Some of our worst nightmares have become reality," DeFazio said.
Audrey Garrett was at the women's march in Washington D.C. last year. On Saturday she attended with her kids. 
"I want them to know that in order to be part of a democracy and a democratic country, you have to participate," Garrett said. "It's not something that just happens. Democracy doesn't just happen. I worked in China, and democracy does not just happen." 
Garret is concerned that the Trump administration is attacking women's rights.
-Reporting by Rachael McDonald, KLCC
SEATTLE:
 Tens of thousands of people took to Seattle streets Saturday for the Women's March.
Last year an estimated 100,000 to 120,000 people marched through the city after President Donald Trump's inauguration. This year's march took on new meaning in the wake of the #MeToo movement.
Mary Jessen was in awe of the amount of people who showed up.
"I'm so proud of so many people here today. I can't wait to hear the number of people out here protesting," Jessen said.
Advocates for a range of causes joined the march in support of women's rights, immigrant rights, civil rights, and many other social-justice issues. The first group to speak at the rally was the Missing and Murdered Indigenous Women group, which also led Saturday's march.
The rally started at Cal Anderson Park in Capitol Hill at 10 a.m. Participants marched from the park to Seattle Center. The march was accompanied by a heavy police presence.
Some marchers dusted off their pink "pussy hats" that were a trade mark of last year's march. This year, marchers also donned ones made from black wool.
People carried signs that reflect events in the past year, such as, "#MeToo" and "I know I run like a girl. #TryToKeepUp."
Lydia Denning said she plans to go to every Women's March that takes place in the future.
"I used to protest when I was younger. Then I had kids; I became compliant. Then Trump happened," she said.
Trump's election in 2016 was a wakeup call for her, she said.
"It ignited my passion for protesting, let me tell ya."
Wendy Farrell said she came out because she's dissatisfied with the direction the federal government has taken.
"I'm here to stand up with other like-minded individuals to show the federal government that the citizens are not going to take what they're doing to our democracy and our country lying down," she said. 
Farrell said she has felt since she was a child that women are treated as second best. She said that's not how it should be and that's part of the reason she's marching. 
Local organizers also want to spur activism beyond the rally. On Sunday, a city-wide day of action was planned, called Womxn Act on Seattle. It was intended to be a day of learning, acting and