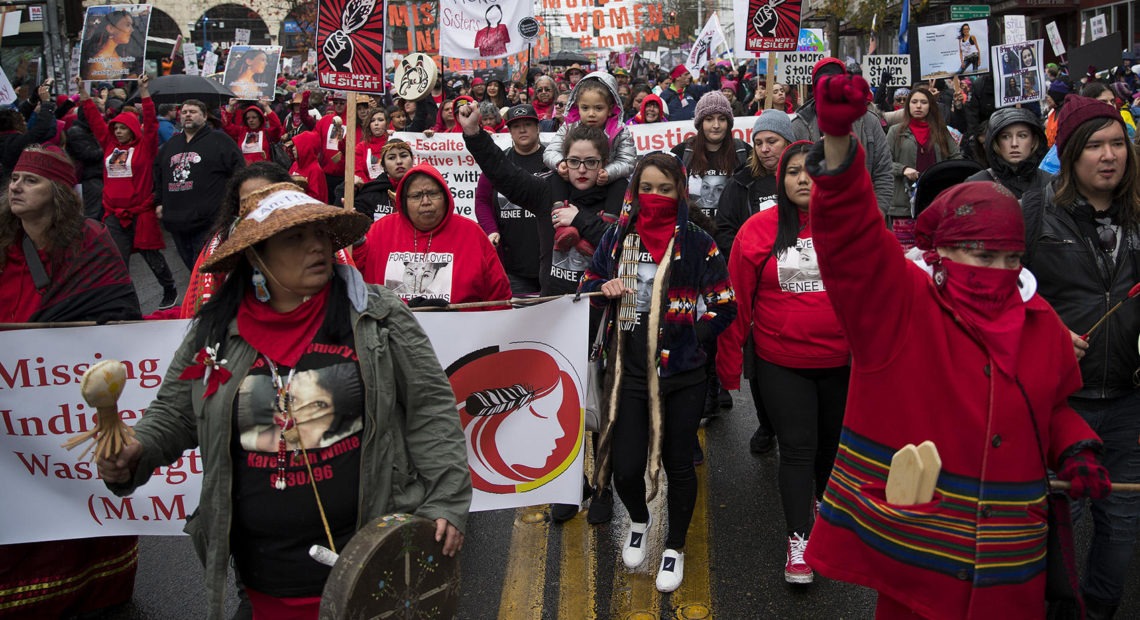 Northwest Cities See Big Women's March Crowds As #MeToo Looms Large
Across the Northwest, thousands of people attended Women's March events over the weekend. It marked one year since the inaugural event in Washington D.C. and across the country prompted by the similar inaugural event of President Donald Trump.
As in 2017, the 2018 events included marches in streets and plenty of signs representing numerous issues. A bigger theme this year: fallout and reaction to the #MeToo movement and the continued response to treatment of women (and men) in the workplace and society with the backdrop of sexual misconduct.
Marches happened in the Northwest's biggest cities and much smaller towns and college campuses. Read highlights below from several in the region.
(You can send pictures or more information on marches you attended to [email protected]. Subject: Women's March – Location Name)
EUGENE, OREGON:
Thousands of people joined the second Women's March in Eugene on Saturday.
People rallied at the Eugene federal building holding signs, some wearing pink "pussy hats" that had been popularized at the 2017 march. Oregon Democratic Congressman Peter DeFazio addressed the crowd over the phone since he's stuck in Washington due to the government shutdown.
"A year ago, we marched in solidarity in the pouring rain because we were worried about the looming threat of a Trump presidency. Some of our worst nightmares have become reality," DeFazio said.
Audrey Garrett was at the women's march in Washington D.C. last year. On Saturday she attended with her kids.
"I want them to know that in order to be part of a democracy and a democratic country, you have to participate," Garrett said. "It's not something that just happens. Democracy doesn't just happen. I worked in China, and democracy does not just happen."
Garret is concerned that the Trump administration is attacking women's rights.
-Reporting by Rachael McDonald, KLCC
SEATTLE:
 Tens of thousands of people took to Seattle streets Saturday for the Women's March.
Last year an estimated 100,000 to 120,000 people marched through the city after President Donald Trump's inauguration. This year's march took on new meaning in the wake of the #MeToo movement.
Mary Jessen was in awe of the amount of people who showed up.
"I'm so proud of so many people here today. I can't wait to hear the number of people out here protesting," Jessen said.
Advocates for a range of causes joined the march in support of women's rights, immigrant rights, civil rights, and many other social-justice issues. The first group to speak at the rally was the Missing and Murdered Indigenous Women group, which also led Saturday's march.
The rally started at Cal Anderson Park in Capitol Hill at 10 a.m. Participants marched from the park to Seattle Center. The march was accompanied by a heavy police presence.
Some marchers dusted off their pink "pussy hats" that were a trade mark of last year's march. This year, marchers also donned ones made from black wool.
People carried signs that reflect events in the past year, such as, "#MeToo" and "I know I run like a girl. #TryToKeepUp."
Lydia Denning said she plans to go to every Women's March that takes place in the future.
"I used to protest when I was younger. Then I had kids; I became compliant. Then Trump happened," she said.
Trump's election in 2016 was a wakeup call for her, she said.
"It ignited my passion for protesting, let me tell ya."
Wendy Farrell said she came out because she's dissatisfied with the direction the federal government has taken.
"I'm here to stand up with other like-minded individuals to show the federal government that the citizens are not going to take what they're doing to our democracy and our country lying down," she said.
Farrell said she has felt since she was a child that women are treated as second best. She said that's not how it should be and that's part of the reason she's marching.
Local organizers also want to spur activism beyond the rally. On Sunday, a city-wide day of action was planned, called Womxn Act on Seattle. It was intended to be a day of learning, acting and sharing, according to organizers.
The day included panel discussions and voter registration events.
-Reporting and photography by Megan Farmer, Marcie Sillman and Caroline Chamberlin, KUOW. Read more and see additional pictures here from KUOW.
PORTLAND:
 On the anniversary weekend of President Trump's inauguration, a handful of marches and rallies in downtown Portland tackled issues that ranged from immigration to the #MeToo movement.
Lilu Ray, 9, held up a sign that read "SAVE MY FUTURE IMPEACH!"
Normally, Lilu's mom, Michele, wouldn't bring her children to a march. When Michele attended the Women's March last year, she left her kids at home with their dad, Jason. When Jason attended the March for Science, it was Michele's turn to stay home.
"They're involved now," Michele said of her two kids who are 9 and 7. "I've tried to kind of protect their innocence, and I see now that we're going to have to start exposing them to what's really going on in the world, partly because this fight is only starting, and they're going to have to be the ones to finish it."
To mark Trump's first year in office, marchers spilled out of Terry Schrunk Plaza and onto the streets of downtown Portland, following a map that made 12 stops. "Welcome to the tour!" the map read. "Here is your guide to decolonizing Portland."
Marchers carried signs that formed a year in review: "Support DACA" (the Obama-era program that gave temporary protection to thousands of undocumented immigrants brought to the U.S. illegally as kids) one sign read. "Women's rights are human rights," read another.
"Science matters."
"Facts matter."
"Descendant of immigrants from a 'shithole' country (And I vote)" Linda Boyd wore a sweater from the Women's March in Washington, D.C., last year, a protest that drew thousands of women in pink "pussy hats" immediately following Trump's inauguration. This year, she was in Portland, where she's lived since 1970.
"I thought I'd wear it in honor of a year ago," Boyd said. "This is quite encouraging, really, that we're keeping up the fight and that people are still expressing and are able to express, at least in the city of Portland, dissatisfaction and hoping we can make a better government."
Boyd says that while the march wasn't focused on one issue like the Women's March in Washington, D.C., the sentiment and the concerns are the same, "if not higher," she added. At Pioneer Courthouse Square, women took to a mic to share their stories about sexual assault.
"The most powerful thing that I heard from those in my classroom when I disclosed to them for the first time was 'me too,'" one woman told the crowd. "Your stories matter." Back at the march, one end chanted "Black lives matter!" while the other yelled "This is what democracy looks like!"
A band played; people danced; a young girl asked a woman if she could pet her dog; shoppers walked, shopping bags in hand, in the opposite direction of tides of people.
-Reporting by Erika Cruz Guvara, Oregon Public Broadcasting. Read more and see additional pictures from OPB.
 SPOKANE:
On Sunday, thousands marched through downtown Spokane, echoing themes and chants heard throughout the Northwest and nationwide.
"No Justice, No Peace. Know Justice, Know Peace" crowds chanted, with many familiar signs seen at other rallies.
The march was at one time in danger of being cancelled, as internal disputes with organizers nearly dealt a death knell. Local Democratic party activist Cynthia Hamilton helped make it happen with her own money, as reported by The Inlander.
Just as notable as the crowds that attended was perhaps who wasn't there. Republican Congresswoman Cathy McMorris Rodgers, who represents Spokane and Washington's largely rural 5th District, stayed in Washington, D.C. as the government shutdown loomed large on the national agenda. She had recorded a video message to be played in her absence, but march organizers declined to play messages from anyone not attending in person. (The Inlander shared the would-be video on YouTube.)
McMorris Rodgers, the third-highest-ranking Republican in the House, is in a tight race against Democrat Lisa Brown. Though the 5th District has long been a dependable Republican seat – since 1994 when incumbent Speaker of the House Tom Foley lost in the Republican revolution that saw the party regain control of the House under Newt Gingrich's "Contract With America" – it is considered competitive this year by the national parties.
Lisa Brown attended the Spokane march on Sunday, as a number of supporters carried signs supporting her and their hope to "Flip The 5th" in November's midterm election.
-Reporting by Scott A. Leadingham