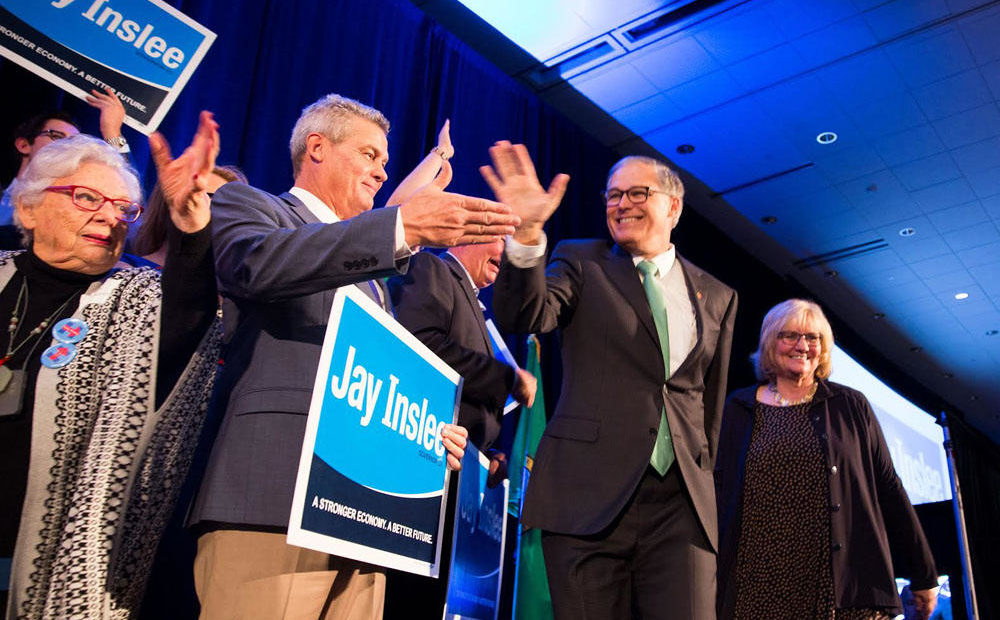 He's In. Washington Governor Jay Inslee Is Officially Running For President
Following months of speculation, Washington Gov. Jay Inslee on Friday formally launched a campaign for president that he said would seek to mobilize the country around an ambitious plan to combat climate change. 
"I'm running for president because I am the only candidate who will make defeating climate change our nation's number one priority," Inslee said in a video announcement released early Friday morning.
The video, titled "Our Moment," features images of Puget Sound and forest fire devastation, as well as archival TV footage of Inslee, a two-term Democrat, talking about climate change going back to his days in Congress. 
"We have an opportunity to transform our economy, run on 100 percent clean energy that will bring millions of good-paying jobs to every community across America, and create a most just future for everyone," Inslee says in the video.
Inslee is calling his effort "America's Climate Mission."
In announcing his bid, Inslee, 68, became the first governor to join a growing Democratic field dominated by U.S. senators. He also became the first serious candidate for president from Washington in more than four decades. The last was Sen. Henry "Scoop" Jackson, who ran unsuccessfully in 1972 and again in 1976.
In addition to the video, Inslee is scheduled to hold a 10 a.m. announcement of his campaign at A&R Solar, a solar installation company in south Seattle.
Inslee has been positioning himself for a run for president for months. In October, the governor quietly registered a federal political action committee called Vision PAC, which has so far raised $242,680. In January, he visited New Hampshire, which holds the nation's first presidential primary election. Inslee has also been a frequent guest on cable news programs and been the subject of profiles and coverage in The Atlantic, The Washington Post and other publications.
In a statement Thursday, prior to the announcement, Caleb Heimlich, the chair of the Washington State Republican Party called Inslee's candidacy a "vanity run for the White House" and called on him to resign as governor.
"Gov. Inslee has said that 'Senators orate and governors govern,' which is ironic given that Inslee prefers pontificating to governing," Heimlich said in his statement.
Now that he's officially a candidate, Inslee plans to immediately hit the campaign trail to visit early primary and caucus states. A campaign spokesman said Inslee is scheduled to travel to Iowa, Nevada and California in the coming days.
Inslee, the 13th Democrat to enter the race, begins his campaign as a seemingly longshot candidate up against much higher profile Democratic candidates including Sens. Bernie Sanders, Elizabeth Warren and Kamala Harris. However, Jennifer Duffy of The Cook Political Report characterizes the Democratic nomination as a "pretty open race." While Inslee may not have name recognition, Duffy said the fact he's a sitting governor gives him an advantage other candidates don't have.
"His time in the governor's mansion is a big plus and there aren't really other governors in this race yet, so that I think is a big asset to him," said Duffy in an interview last month.
One of the initial tests of Inslee's appeal will be his ability to raise money. The first days of his candidacy will be an important gauge of his grassroots support and ability to bring in small dollar contributions from individuals.
Last year, Inslee served as chair of the Democratic Governors Association (DGA), a position that raised his national profile and put him in contact with national Democratic donors. The Atlantic reported that Inslee also has access to a list of 200,000 "climate advocates" that he assembled while at the DGA. Nevertheless, that still pales in comparison to the millions of donors a candidate like Sanders, who raised $10 million in one week, can tap.
Now that he's announced, Inslee will have the backing of a Super PAC called Act Now on Climate. It was formed by Corey Platt, a former political director for the DGA.
"Climate change is the most pressing issue of our time and the most critical issue the next president will have to address," Platt said in a press release last week announcing Act Now. Unlike candidates, super PACs can accept unlimited contributions.
Inslee has already started building a national campaign staff. According to Politico.com, he's hired four "experienced Democratic operatives," including former Oregon legislator Ben Unger and Sky Gallegos, a veteran of Bill Clinton's 1996 re-election campaign. Most recently, both Unger and Gallegos have worked for billionaire climate activist Tom Steyer's NextGen America group.
Politico also reported that Inslee has hired digital strategist John Brougher, a former chief technology officer at NARAL Pro-Choice America and Jared Leopold who until recently was the DGA's communications director.
The four new hires bring national experience to Inslee's fledgling team made up of veterans of his state campaigns. It was not immediately clear who would serve as Inslee's presidential campaign manager.
Challenges abound for Inslee in the months ahead. So far he's barely registering on polls, if at all. He's also geographically disadvantaged, coming from the Northwest corner of the country, and will have ongoing gubernatorial duties. The Washington Legislature is currently in the midst of a 105-day budget writing session.
Inslee's best chance at making a name for himself may come this June when the Democratic National Committee (DNC) begins holding primary debates. But first Inslee will have to qualify for a position on the stage.
The DNC has said the first two debates will be limited to 20 candidates. To qualify, Inslee would need to earn at least 1 percent of the vote on a series of key polls or take in donations from 65,000 donors in 20 or more states.
Even as he embarks on a presidential campaign, Inslee has not ruled out running for a third term as governor.