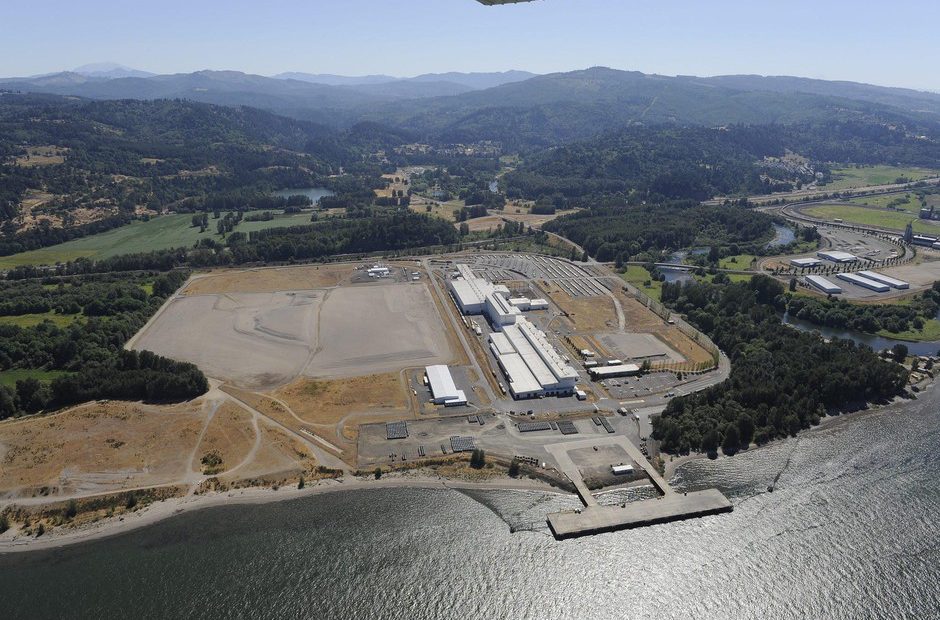 Controversial Southwest Washington Methanol Plant May Be Misleading Public, Regulators
Nearly four years ago, Washington Gov. Jay Inslee touted a new company that was coming to Kalama to revolutionize the methanol market.
On that sunny August day on the banks of the Columbia River, Inslee spoke alongside city and county leaders, business people and executives from NW Innovation Works (NWIW), a Chinese-backed company looking to build three massive natural gas to methanol plants in southwest Washington.
"I think this bodes well for Washington's future," Inslee told the crowd.
The governor praised the creation of hundreds of family-wage jobs, millions of dollars in local tax revenue, and the plant's biggest selling point: the methanol it created from natural gas could help clean up China's plastics industry.
The project has been pitched by its developers and the governor as one way to combat climate change. They say making methanol from natural gas in plants that use renewable power could eventually displace many of China's dirtier coal-based plants.
"This is a fantastic step forward, because the carbon savings will be equivalent to taking millions, perhaps 6 million cars, off the road," Inslee said in a promotional video at the time.
But the climate change-crusading governor currently running for president may not have known that NWIW was selling a different story to investors — one less focused on producing cleaner methanol for plastics and more on an opportunity to buy into a new methanol supply chain to fill China's insatiable appetite for fuel.
Documents obtained by OPB show that NWIW is saying one thing to state regulators while eyeing China's fuels market. As recently as January 2019, PowerPoint presentations shown to potential investors in the Kalama facility detailed the company's apparent intent to burn their methanol for fuel in China.
This directly contradicts what the company has been publicly emphasizing for years, that its end product would only be used for olefins, the building blocks of plastic.
Washington has increasingly resisted the fossil fuel industry that has descended upon the state in recent years. Environmentalists have especially scrutinized energy projects looking to export fuel.
If a project like the one in Kalama were to go down that path, it could call into question the project's current environmental impact analysis, and might even qualify for a more stringent regulatory path such as the state's Energy Facility Site Evaluation Council, or EFSEC, a one stop siting process for major energy facilities in Washington. Fierce local opposition already shuttered plans for NWIW to open a Tacoma methanol plant, and plans for another in Port Westward, Oregon, are on hold.
In a March 2018 PowerPoint presentation shown to Satori Partners Inc., a U.S.-based investment group with experience doing business in Asia, NWIW lays out a proposal with a very different product. More than a dozen pages discuss burning methanol as "clean fuels for industries and transportation."
One slide features a ship carrying "liquid sunshine" and refers to the methanol produced in Kalama as "clean crude" and "convenient LNG."
In the 26-page presentation, only one slide is devoted to methanol-to-olefin production or plastic materials. That narrative flies in the face of everything developers have told the public — and state regulators in the middle of determining whether the project moves forward.
"Obviously the reason that they're not telling people, or going out of their way to say it's not for fuel, is because that makes the greenhouse gas analysis less favorable to them," said Dan Serres, conservation director of environmental group Columbia Riverkeeper, referring to the company's most recent environmental review that is supposed to take into account the cradle-to-grave emissions of the project and its end product.
"This changes the analysis quite significantly if this isn't going into the plastics manufacturing industry," Serres added.
Riverkeeper has challenged earlier permits issued to the company and have been vocal opponents of the Kalama methanol plant, along with other fossil fuel industries that have eyed the Northwest for potential sites.
The documents were shared with OPB by Columbia Riverkeeper and Satori co-partner Steven Taracevicz, who says he and his Shenzhen, China-based partner were approached by NWIW to invest in the Kalama project in late 2018.
Taracevicz said his company was approached by NWIW leadership, including current CEO Simon Zhang and the company's former CFO Edward Sappin, who authored the leaked presentation.