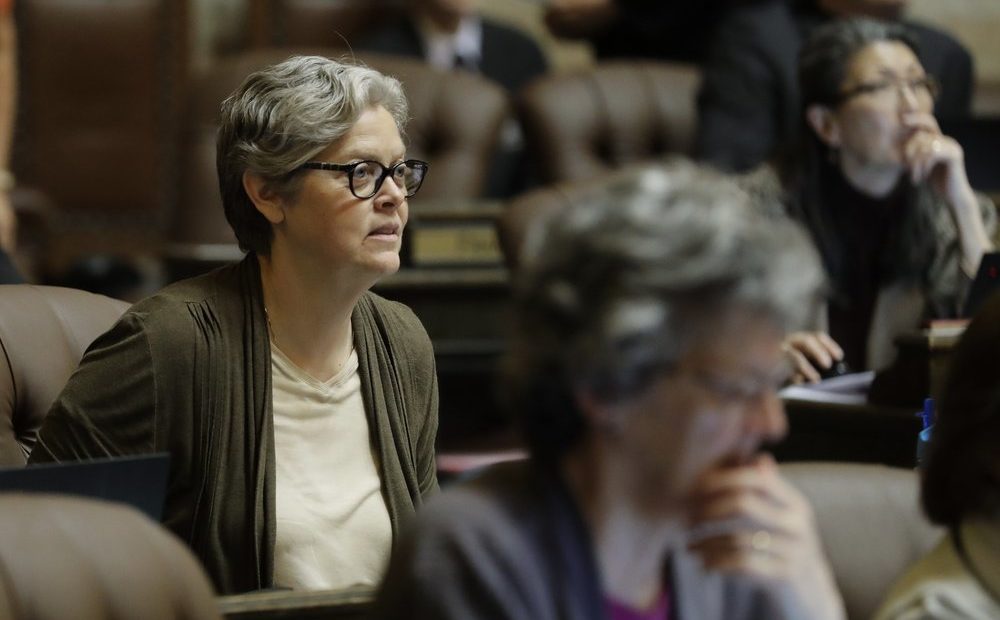 Rep. Laurie Jinkins Selected As First Woman House Speaker In Washington History
Washington House Democrats have selected Rep. Laurie Jinkins to serve as the state's first woman speaker of the House. 
The historic vote today in SeaTac ushers in a new era in Washington politics following a 20-year reign by Frank Chopp of Seattle, who was the state's longest serving speaker of the House. Chopp stepped down as speaker at the end of the 2019 legislative session.
Jinkins, who also is openly gay, won the election in a four-way, all-women race that also featured Democratic state Reps. Gael Tarleton of Seattle, Monica Stonier of Vancouver, and June Robinson of Everett.  
"I'm really proud to be the first woman, the first out lesbian serving in this position," Jinkins said at a news conference after the election. "I'm excited to serve all people, but to also have representation that helps a lot of people who've never seen themselves in these roles before be able to start seeing themselves in these roles."
In a statement, House Republican Leader J.T. Wilcox congratulated Jinkins on her election.
"Leading a caucus is difficult and demanding; leading a chamber is even harder," he said. "However, I have every confidence Representative Jinkins will do an excellent job as Speaker. She and I came into the Legislature together in 2011, and we've been friends ever since. And while the Speaker must always have a statewide perspective, I'm pleased a representative of Pierce County is taking the gavel." 
Gov. Jay Inslee also offered his praise following the decision. 
"I've appreciated Laurie's ongoing partnership in behavioral health and health care, her passionate work on behalf of hard-working families and children, and her commitment to advancing civil rights for all Washingtonians," Inslee said in a statement. "Laurie will be instrumental in shaping the next chapters of Washington's history." 
Jinkins will serve as speaker-designate until January, when the full House membership will vote to confirm the selection. In the meantime, Speaker Pro Tem John Lovick will serve as acting speaker.
While Jinkins is poised to become the state's first female speaker, Washington has previously had women Senate majority leaders, beginning with Republican Sen. Jeannette Hayner in 1981. 
Currently, seven states have women speakers, including Oregon, Colorado, Iowa and Maine, according to the Center for American Women and Politics (CAWP) at Rutgers University. 
"We still have quite a ways to go, but it really shows that Washington state's in the vanguard in terms of advancing women's leadership politically," said Jean Sinzdak, the associate director of CAWP.
Jinkins also becomes the second openly gay speaker of the House in a state Legislature. Oregon Speaker Tina Kotek was the first in 2013.  
Jinkins, who currently chairs the House Civil Rights and Judiciary Committee, was first elected in 2010 and is a member of the Legislature's LGBTQ caucus. A former child welfare attorney in the Attorney General's Office, Jinkins now works for the Tacoma-Pierce County Health Department as director of organizational initiatives. She is a graduate of the University of Wisconsin and the University of Puget Sound School of Law. 
Among her goals as speaker, Jinkins said during Wednesday's news conference, will be to listen well and bring an "equity lens" to policymaking. 
"Mostly I want to have an open door, I want to have engagement with people, I want to make sure that people feel like they can push back on ideas and stuff because I think those are the things that make our policies better," Jinkins said.