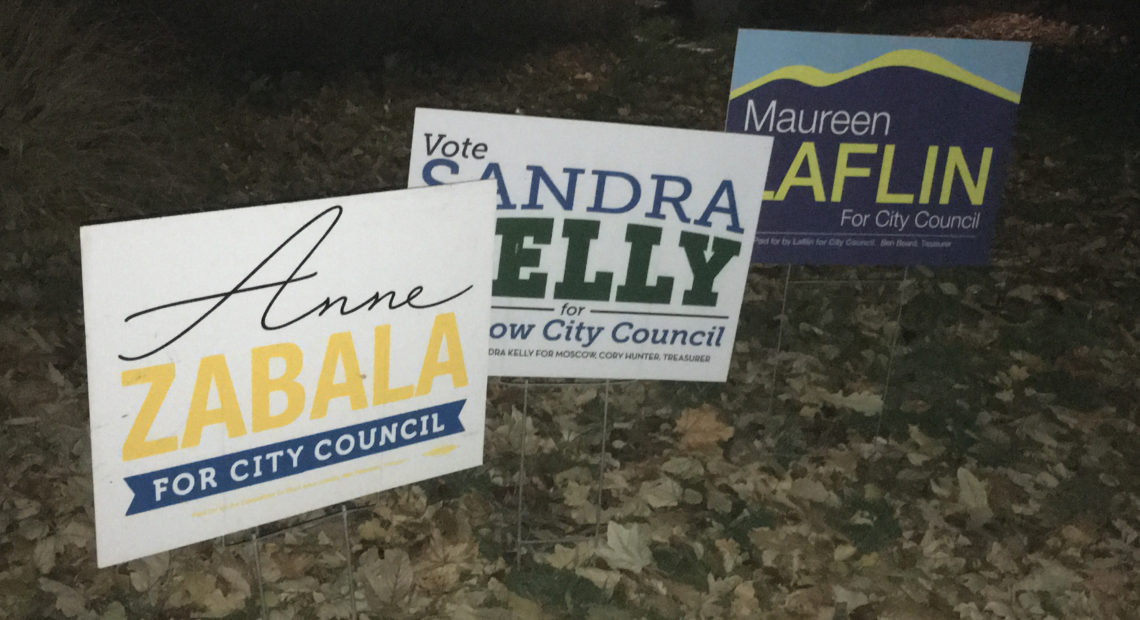 Update: Progressive-Leaning Moscow, Idaho City Council Candidates Pick Up Decisive Win
LISTEN
Updated Nov. 6, 2019, 4:10 p.m.
In the race for Moscow, Idaho, city council, the three progressive-leaning candidates — Anne Zabala, Maureen Laflin and Sandra Kelly — are claiming victory.
Results in Latah County are not yet official, but each led the other three candidates in the race by nearly 3,000 votes late Tuesday night, with all precincts reporting.
In Moscow, the three candidates receiving the most votes get seats on the council in the city-wide race. Kelsey Berends, James Urquidez, and Brandon Mitchell had run together as a block of three conservative-leaning candidates that stood in contrast to Kelly, Zabala and Laflin.
Sandra Kelly says she is looking forward to representing all residents in Moscow, not just those who voted for her.
"I think we live in an amazing area. Really, the whole Palouse area is fabulous," Kelly told NWPB Wednesday. "And really I feel like I get along with just about everybody. And I'm hoping that will shine through when I'm a city council member."
The election highlighted the differences in perspective not just on topics like property taxes and downtown parking, but social issues like religion and LGBTQ protections. Kelly said that issue was among her top priorities.
Original Story, Nov. 5, 2019:
Moscow, Idaho's city council and the town in general tend to lean progressive – at least compared to other towns in the region. But this year's council race highlights a split in the city's political leanings.
There are numerous reasons for Moscow's progressive tinge – not the least of which is the presence of the University of Idaho.
But in this year's city council race being decided Tuesday, Nov. 5, there's a distinct split between candidates viewed as more progressive and those seen as more conservative – both socially and fiscally.
Those candidates are: Kelsey Berends, Brandon Mitchell, and James Urquidez, who are generally seen as more conservative.
Sandra Kelly, Maureen Laflin and Anne Zabala (the only incumbent who is running) are generally seen as more progressive.
The city's council seats are all at-large, meaning there are no districts or wards like Pullman, just across the border in Washington. The six candidates running for three open seats are appealing to the entire city.
Moscow-Pullman Daily News reporter Garrett Cabeza joined NWPB's Uniquely Northwest News program after a recent candidate forum to discuss the candidates and how Moscow fits in with the wider Palouse region.
"I think just the word 'passion' really comes to mind when talking about Moscow residents — and the candidates," Cabeza said.
(Watch the full episode above.)
While the issues discussed in candidate forums have been fairly traditional for city politics – property taxes, downtown parking, the water supply from an acquirer – more charged political issues have come up.
Those issues, like LGBTQ protections and feelings on religion in city government, helped define the candidates' ideologies. In a forum on Oct. 23 sponsored by the League of Women Voters, candidates answered questions that highlighted those progressive versus conservative outlooks.
For example, one question asked from the audience dealt with whether they were concerned about Moscow becoming a "theocracy" with the influence of religions groups on the council and in downtown businesses. That was balanced in the second part of the question about whether there was perceived hostility toward conservative viewpoints.
How the candidates answered highlighted those ideological leanings.
With election day here, the candidates and their supporters will await the final tallies to see how the city council reflects the mood of voters this year and going forward.
HOW TO VOTE
In Latah County, polls are open 8 a.m. to 8 p.m. Tuesday. Residents can register to vote same-day on site at a polling place or the county clerk's office.