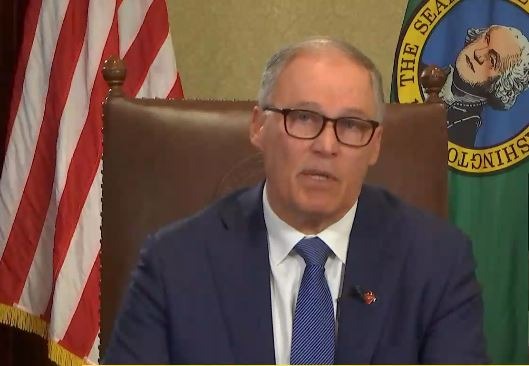 Washington Gov. Jay Inslee Announces Statewide 'Stay-At-Home' Order To Address Coronavirus
BY AUSTIN JENKINS & TOM BANSE
-Stay-At-Home Order Lasts Until: midnight, April 6
-Business Closure Order Lasts Until: midnight, April 8
(Midnight marks the day that is ending, not the day that is beginning.)
Following the lead of California and several other states and local communities, Washington Gov. Jay Inslee on Monday evening announced an immediate statewide "stay-at-home" order that will last for at least two weeks and require all residents of Washington to remain at home unless they're conducting essential business or just grabbing a walk for fresh air.
Inslee's announcement followed a similar move by Oregon Gov. Kate Brown earlier in the day to reduce person-to-person transmission of the new coronavirus.
"This is a very difficult choice and I make this difficult choice knowing it will add to the economic and family hardship many in our state are already feeling as we try to slow and turn back this pandemic," Inslee said in a televised address from Olympia. "The fastest way to get back to normal is to hit this hard. That is what we're doing."
The sweeping new restrictions on daily life represent the most dramatic step yet in Inslee's use of his emergency powers to try to enforce social distancing and slow the spread of coronavirus.
You can still go outside. Take a walk. Ride a bike. Garden.

But you must remain six feet away from everyone at all times.

— Governor Jay Inslee (@GovInslee) March 24, 2020
Previously, Inslee limited crowd sizes, shuttered schools for six weeks and ordered bars, restaurants and other entertainment venues to close. But in recent days, there were growing calls for Inslee to take the next step and mandate that people remain home.
To date, the virus has claimed 110 lives in the state and 2,221 people have tested positive with 31 of 39 counties reporting at least one case. Until recently, Washington led the nation with the most confirmed cases and the most deaths. Now New York, with more than 20,000 cases and 157 deaths as of Monday, has that distinction, according to NPR.
"The rapid growth in the number of cases has really put our state in a race against time," Inslee said. "The more of us who stay home, the fewer of us who will be infected by COVID-19 and the more lives that will be saved."
Inslee announced his "Stay Home, Stay Healthy" order during a rare televised speech from his desk, a setup which resembled a presidential address from the Oval Office. The governor's decision to restrict individual activity followed a sunny, early spring weekend during which images were widely shared on social media of crowds of people recreating outdoors and not practicing social-distancing.
Last Friday, Inslee warned that more emergency measures might be necessary if the public didn't heed calls to voluntarily limit their activities.
"The governor has been very clear on the need for Washingtonians to stay home, and while most Washingtonians are doing their part, some are still not grasping the seriousness of this pandemic," his office said Monday.
In addition to requiring people to remain at home, Inslee's new proclamation also orders all non-essential businesses in the state to shutter within 48 hours unless their workforces can operate from home.
Grocery stores