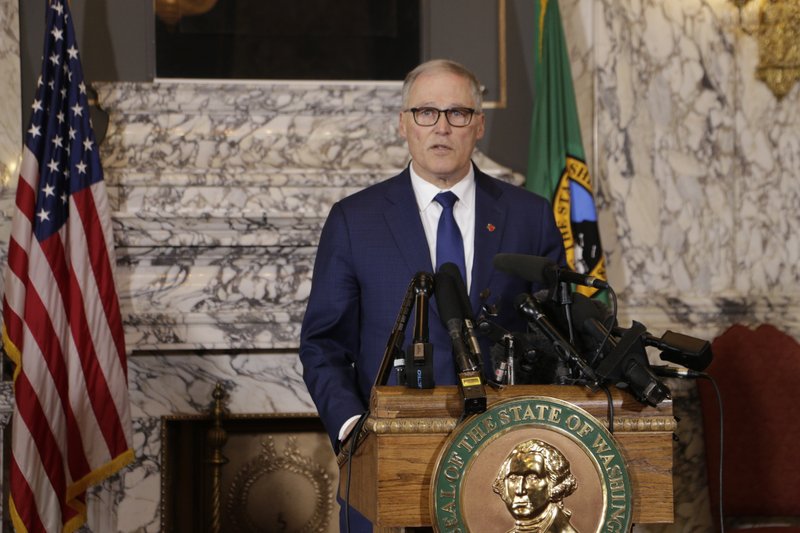 Washington's Stay-Home Order Will Be Extended Past May 4, Details Coming Later This Week
BY LIZ BRAZILE / KUOW
Gov. Jay Inslee on Wednesday confirmed that his statewide stay-at-home order would be extended beyond its current May 4 end date.
He is expected to detail plans for an extension and step steps later this week.
Inslee also said the state had new guidelines for health care providers to resume some non-urgent surgical procedures.
"A week ago, I said that I did not expect that the entirety of our 'Stay Home, Stay Healthy' measure could be lifted on May 4," Inslee said during a Wednesday afternoon press conference. "And today I'm confirming that based on the data and science, that that is the case."
Inslee had announced on Monday that restrictions on fishing, hunting, hiking, and golfing to prevent the spread of the coronavirus will be loosened starting May 5. Additionally, the governor last week eased restrictions on residential and public construction projects.
But Inslee said state officials are not ready to do away with social distancing mandates altogether, come May 5.
"The fundamental principle we're following is, let's just do this once and get it over with," he said.
Asked by @OlympiaJoe what he wants the numbers to be at to lift restrictions, Inslee says single digits — new cases, deaths, new hospitalizations. Currently still seeing about 200 new #COVID19 cases a day in WA

— Austin Jenkins N3 (@AustinJenkinsN3) April 29, 2020
"I think one way to look at it — it's much better to do something 100% at one time than have the sacrifice of 90% twice. And that guides our decision-making in this very difficult challenge that we have."
Inslee also outlined metrics in five key areas, which will guide any social distancing rollbacks: Disease activity, diagnostic testing availability, contact tracing, risks to vulnerable populations, and the status of the health care system.
State officials are reviewing COVID-19 outbreak data from multiple sources daily, including the Institute for Disease Modeling and the Institute for Health Metrics.
"We see numbers, but each one of these numbers is a person — it's a son lost their mother or brother lost their sister," Inslee said. "And this is a serious slide to look at because it means if we stop our efforts today, we're going to see a lot more people die in the state of Washington in [the] not too distant future."
Copyright 2020 KUOW. To see more, visit kuow.org