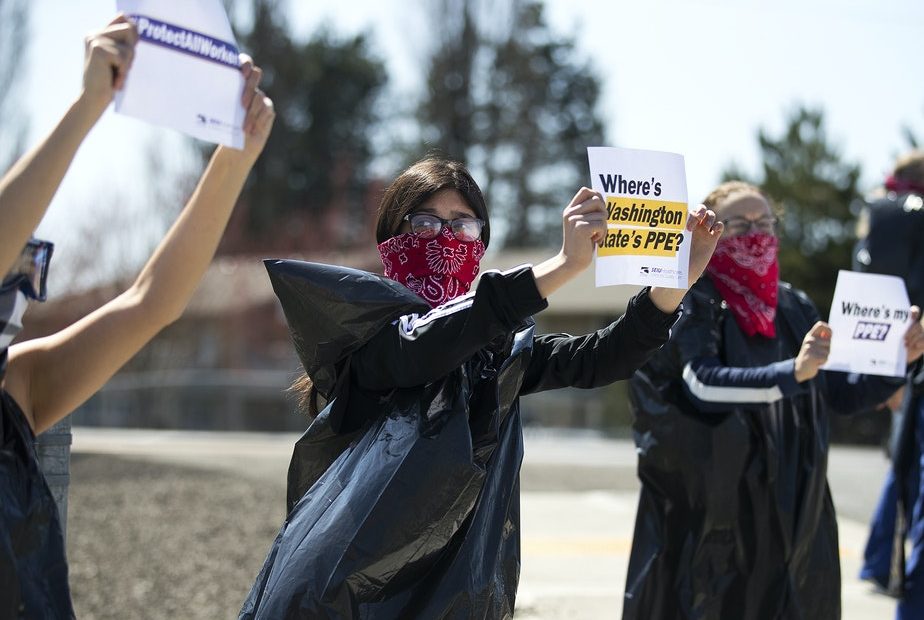 Washington State Hustles For Masks, Gowns, Gloves, But Is Millions Short Of What It Wants
BY ANNA BOIKO-WEYRAUCH / KUOW
Boeing test pilot Troy Larson is an amateur mask purveyor.
On a sunny day earlier this month, Larson had 250 pounds of medical supplies in the back of a Cessna 182 bound for rural hospitals in eastern Washington. Once he gets cruising, he turns on '80s music: Iron Maiden, Def Leppard, maybe some U2.
Larson volunteers for the Washington State Hospital Association, which has started importing masks for healthcare facilities across the state.
But this is a stopgap measure. Getting adequate supplies of personal protective equipment remains a problem in Washington state. The goods are important to protect healthcare workers – and an indication of whether the state can reopen.
And so, the state is accepting large donations and contracting with importers and manufacturers retooling their operations. But so far, that hasn't been enough.
As of April 27, the state was still waiting on deliveries of 95% of the protective equipment it has ordered from businesses, or 270 million items, according to state data.
Instead a tiny fraction of goods in the pipeline – just under 4% – have actually made it to the frontlines. Facilities have received close to 11 million items through state acquisition and distribution, including millions of goods that came in through donations and the federal stockpile. That's compared to more than 288 million items the state was awaiting or had received from March 16 to April 27.
As for the much-needed N95 respirators, an even smaller percentage have been delivered: 2% of respirators awaiting delivery or received, or around 1.6 million masks.
Hence, a Boeing test pilot delivering surgical masks across the mountains.
"We're kind of winging it, literally," said Cassie Sauer, CEO of the Washington State Hospital Association, speaking from the Renton Municipal Airport.
"We are hoping that the state supply will catch up, and that we can provide this as kind of temporary relief to our hospitals, and that we'll get a regular supply chain going through the state."
In Spokane, across the state, Jose Hernandez, an emergency department assistant at Sacred Heart Hospital in Spokane, bought his own N95 mask from the hardware store because he wanted more protection to filter out tiny airborne particles that could carry the virus. His hospital had enough surgical masks but not enough N95 respirators.
"Either I use my own and take the risk to clean it myself and have more protection, or I just use their surgical mask that doesn't really protect you," he said.
He stored it in a paper bag in his cubby, and reused it for about a month, Hernandez said, following instructions from YouTube on how to clean it with peroxide.
"We just drench ours and let it dry," he said.
Recently N95s have become more available in his department, and he got a mask from work, but some coworkers are still using their own, he said.
Given the persistent lack of protective gear, Hernandez doesn't believe it's time yet for hospitals to fully reopen, he said.
The supply of personal protective equipment, known as PPE, is one part of an interconnected web of factors health officials and the governor are evaluating to see how the state could reopen.
"Whenever we start moving towards what this new normal would be, we know it puts people at risk for getting infected again or for the virus to start transmitting again," said Dr. Raquel Bono, who is leading Washington's Covid-19 response.
So, the state is looking at how well hospitals could deal with a potential influx of patients and how well their PPE supply could keep up to protect healthcare workers caring for not only Covid-positive patients, but all the other patients too, Bono said.
The goods are also vital for testing and to stop the infection from spreading through confined living environments, like shelters, long-term care facilities, and prisons.
Department of Enterprise Services, which is leading the effort, says that it is making progress establishing a reliable supply, such as contracting for the entire production capacity of some local manufacturers who have converted their factories.
"We're still working hard to acquire needed PPE and rapidly distribute it to where it's needed, and demand still does outpace supply, but we are having some successes," spokesperson Linda Kent said.
Other supplies have to travel here from around the country and world, which the department says takes time, from days to weeks.
Copyright 2020 KUOW. To see more, visit kuow.org