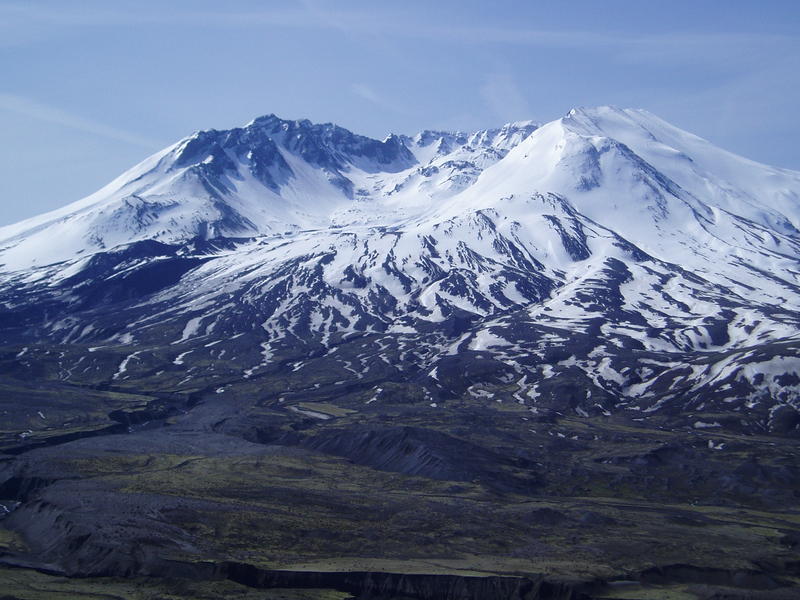 Eruption Anniversary Plans Blown Up And Reborn, Sort Of Like The Honoree: Mount St. Helens
There were once big plans for many public events to mark the 40th anniversary of the catastrophic 1980 eruption of Mount St. Helens. The coronavirus pandemic blew up those plans, but many are resurfacing online this week and next.
There will be no public observances at the volcano on Monday, the exact anniversary day. The main highway into the national volcanic monument is closed. The state, federal and Weyerhaeuser visitor centers are closed. Museums that organized special exhibits for the milestone anniversary are, you guessed it, closed because of the coronavirus pandemic.
"We've been thrown for quite a loop here," said Washington State Parks interpretive specialist Alysa Adams in an interview Wednesday.
Since last year, Adams has been planning an immersive eruption anniversary exhibition at the Mount St. Helens Visitor Center in Seaquest State Park near Castle Rock, Washington. She and several co-workers collected mementos and artifacts along with dozens of oral histories.
"That first impact was simply to pause and cancel and figure out a new game plan," Adams said. "We're still very eager and excited to commemorate this special day in history."
Similar to the assassination of President John F. Kennedy or the Apollo moon landing, many long-time Pacific Northwesterners can tell you exactly what they were doing when the volcano blew on May 18, 1980. The special exhibit at the state park is postponed, but not canceled as it is now planned to become part of a revamped visitor center experience.
"Please stay tuned for next year because I think we're going to take all of this energy and passion and turn it into something productive for the 41st anniversary," Adams quipped.
In the meantime, State Parks and at least half a dozen other agencies and nonprofits have pivoted to virtual experiences, online science talks and story circles from now through Tuesday.
The Oregon Museum of Science and Industry, Pacific Northwest Seismic Network and Washington State Parks scheduled separate 40th anniversary livestream presentations in the same time slot on Monday night, May 18. OMSI is hosting a virtual science pub about volcanic processes and crisis response. PNSN will feature a panel of geologists, while Washington State Parks focuses more on the personal impact with a "virtual story hour" featuring some of the contributors to its oral history project.
Adams said the overlapping events created an initial shock until the hosts realized they were catering to different audiences and that viewers could always watch the replay of something they missed later.
Eruptiversary interrupted
Back-to-back "Eruptiversary" live shows in Portland and Seattle featuring television host Bill Nye the Science Guy to benefit the Mount St. Helens Institute were converted into a single online event, which will stream live on Facebook and YouTube at 6 p.m. on Saturday, May 16. The institute said on its website that it had to cut the work hours of its staff because of the decline in revenue caused by the cancellation of many spring events and in-person programs.
The Mount St. Helens Institute has a full listing on its website of all the eruption anniversary events it knows of, which also include a virtual ranger talk hosted by the U.S. Forest Service and a volcanic eruption preparedness Q&A with Washington Emergency Management.
Some anniversary events did not lend themselves to conversion into online events. Cowlitz County Tourism Coordinator Dawn Smith said her bureau was involved in planning a commemorative breakfast on May 18 with local officials and relatives of folks who died in the eruption. The canceled event would have included a moment of silence at 8:32 a.m., the exact moment the volcano blew its top, and the rededication of a memorial.
The Weyerhaeuser timber company, which operates a seasonal visitor center (the