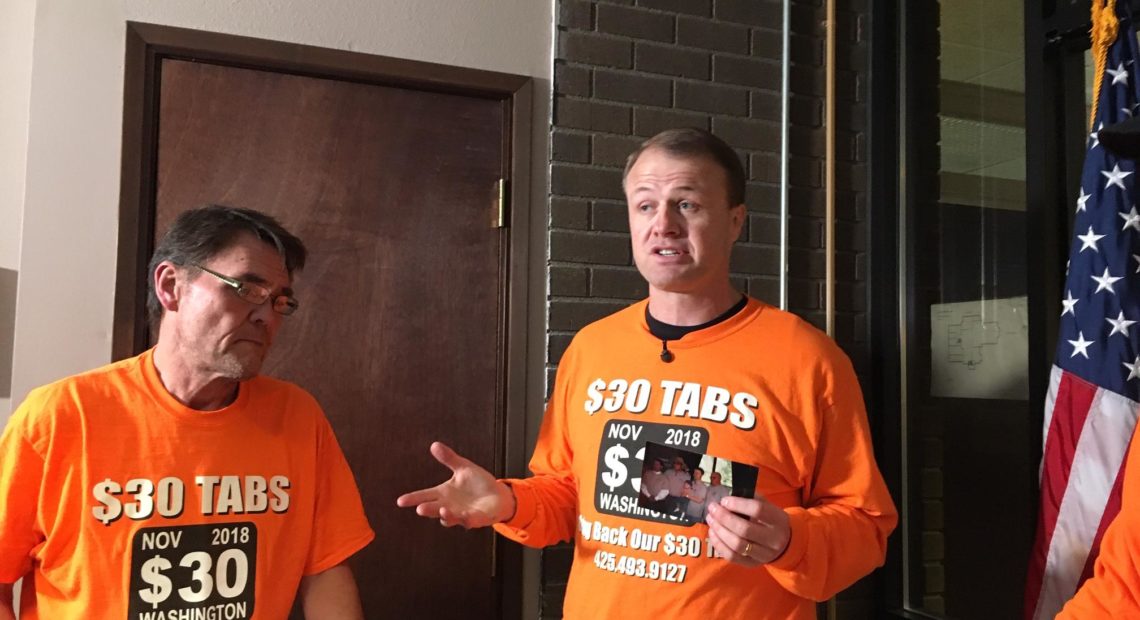 A Presidential Year Without A Statewide Ballot Initiative: A First Since 1928 In Washington
For the first time since Herbert Hoover won the presidency nearly a century ago, the state of Washington won't have a statewide initiative to the people on the November ballot in a presidential election year.
At the Secretary of State's office, the 5 p.m. Thursday deadline to submit 259,622 valid voter signatures to qualify an initiative came and went quietly. No campaigns made an appointment to drop off petitions, according to a spokesperson.
A review of Washington's initiative history reveals that not since 1928 has the November ballot been bereft of an initiative to the people in a year when voters were electing a president. 
While not quite as dramatic, Oregon voters may see the fewest ballot measures in half a century with just two statewide initiatives and two measures referred by the Legislature, according to Oregon Public Broadcasting. Already, a measure to make Oregon the first state to decriminalize small amounts of drugs like heroin and cocaine and fund drug treatment has qualified. A separate measure to allow the therapuetic use of psilocybin mushrooms in clinical settings could also qualify for the ballot. A third measure to create a new redistricting committee was not expected to muster enough signatures by Thursday's deadline.
Washington and Oregon are among 14 states that allow direct initiatives to the people without first going to the Legislature, according to the National Conference of State Legislatures. Two additional states, Alaska and Wyoming, allow direct initiatives, but only after the Legislature has adjourned for the year. 
In Washington, the last non-presidential, even-election year without a statewide initiative to the people was 1986 and 2017 was the last odd-year election year without one.
This year it wasn't for lack of ideas. More than 120 initiatives were filed with the Secretary of State's office in 2020. In many cases, the same sponsor filed multiple versions of the same initiative and dozens were later withdrawn leaving 46 proposed initiatives in the end. Their topics ranged from property tax relief to gun rights to a mandate that public schools teach art.
Qualifying an initiative to the people is no easy feat and typically requires a small army of paid signature gatherers. That means campaigns have to be well funded. Yet, fundraising totals posted to the state's Public Disclosure Commission website reveal that no statewide initiative to the people raised substantial sums this year. 
Adding to the challenge this year was the coronavirus pandemic, which presented a unique challenge to in-person signature gathering. Gone were signature-rich large gatherings, like sporting events and festivals, that signature gatherers depend upon to fill their petition sheets.
The situation has prompted some discussion of whether the Secretary of State's office should allow electronic signatures to qualify. A spokesperson, Kylee Zabel, said Thursday the office had not taken a position on the practice, but continues to advise campaigns to obtain handwritten signatures. As for whether electronically-submitted signatures would be accepted, Zabel said: "We cannot speculate until actual petitions are submitted and reviewed." 
Historically, the initiative process in Washington has been used by citizens, wealthy individuals and special interests to bring about major changes that the Legislature was either unwilling or not ready to address.
In recent years, Washington voters have approved ballot measures that beefed up gun laws, banned local soda taxes and boosted enforcement of wildlife trafficking.
Initiatives to the people have also brought about sweeping changes, including Washington's Death with Dignity Act in 2008, privatized liquor sales in 2011 and hikes in the minimum wage in 2016. The state's 2012 vote to legalize recreational marij