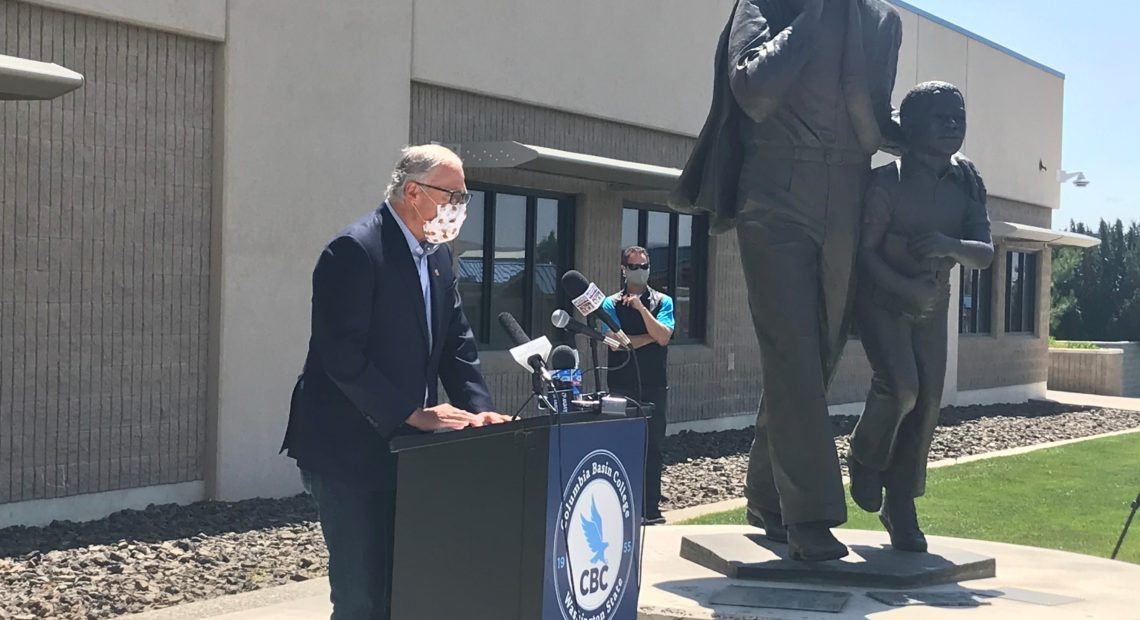 'Hogwash': Jay Inslee Responds To President Trump On Pressure To Reopen Schools For Fall Term
Washington Gov. Jay Inslee is responding to President Donald Trump's threat to penalize states that don't reopen schools this fall. At a news conference Thursday, Inslee pushed back hard on the president and said the state won't be bullied.
Inslee often uses his national TV appearances to slam the president. But it's unusual for him to devote much of his weekly news conference to Trump. This week was different.
 "Well, I just want to say this about his threats: they are hogwash," Inslee said.
Inslee is a Democrat running for a third term, and in the past year was running for the party's 2020 nomination for president. On Thursday, he chastised Trump repeatedly during his hour-long press conference.
Regarding the reopening of schools, Inslee said that's a state decision, not a federal one.
"I want schools to open in a manner that maximizes learning while simultaneously is safe for our students and the wider community," he said.
Inslee says he's looking into whether the state can help finance some of the retrofits schools will need to make for in-person learning this fall. He also said a one-size-fits-all plan won't work and that he expects school districts will offer families a menu of options for learning.
Young Leaders Need To Step Up
In the same press briefing, Inslee urged young adults to adhere to social distancing guidelines. He said much of the recent spread of COVID-19 is in younger people.
"It's really vital that some of the young leaders step up to the plate and remind their friends that socializing in a group of five or six or eight or 10 or even three, not wearing masks, shoulder to shoulder even on a sunny day having a soda pop or a brew, that's just too dangerous right now," he said.
He also said the state is close to announcing a COVID relief fund for undocumented workers and said he's exploring whether the state can help school districts finance retrofits to make it safer to resume in-person classes this fall.
For now, Inslee says he doesn't plan to impose quarantine or testing restrictions on people traveling to Washington. But he also said that could change anytime.