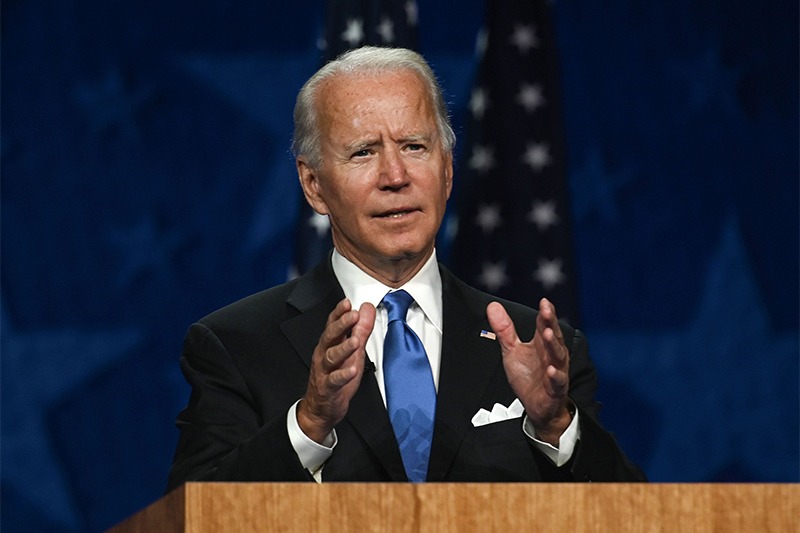 WATCH: Joe Biden Formally Accepts Democratic Nomination For President
BY DEIRDRE WALSH
Joe Biden officially accepted the Democratic party's presidential nomination more than three decades after his first failed White House campaign.
"This is a life-changing election that is going to determine what America is going to look like for a long time," Biden said.
He outlined what he called four historic challenges facing the country — a pandemic, an economic crisis, a challenge to address racial injustice and the threats from climate change.
Instead of standing in an arena in Milwaukee as planned, the 77-year-old former vice president appeared in a nearly empty hall in Wilmington, Del., addressing roughly two dozen reporters and standing in front of 16 American flags. The coronavirus pandemic has forced him to spend the bulk of the 2020 campaign in his home state of Delaware, instead of barnstorming across critical battleground states.
Biden's speech, the capstone to a four-day virtual and largely low-key convention, hit on many of the same themes stressed by speakers throughout the week.
He also pivoted to contrast his agenda with President Trump's lack of plans to address the major economic and public health challenges.
Biden said if Trump was reelected, "He'll wake up every day believing the job is all about him – not you."
Few surprises or controversies about internal party tensions were on display over the course of the week. Some progressives in the party complained the lineup was too light on the newer more liberal members of the party. But the message convention organizers came back to over and over again was the focus on Biden's character, not his policy plans for his presidency.
WATCH: Joe Biden Officially Accepts The Democratic Nomination For President
Biden appeared sporadically throughout the four-day program – to congratulate his wife Jill on her speech that touted his character and to congratulate his running mate Kamala Harris on Wednesday night.
President Trump is expected to speak each night during next week's four-day Republican national convention.
Copyright 2020 NPR. To see more, visit npr.org