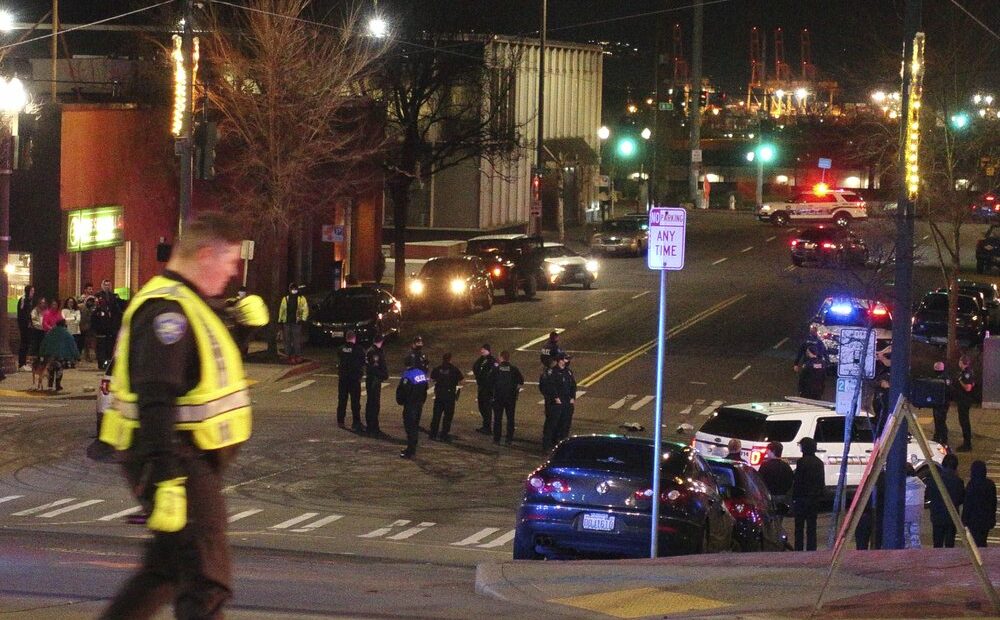 Investigation Reveals Nearly 200 Washington Police Officers With Credibility Issues Are Still Working
BY MELISSA SANTOS / CROSSCUT
By the time police arrived, the street fight had dispersed. A man emerged from his house, clearly intoxicated, shouting for the cops to come fight him.
Without saying a word, Officer Casey Gillette entered the man's yard and punched him in the head.
Gillette then wrestled the man to the ground and, with the help of another officer, placed him in handcuffs.
An internal police investigation found that Gillette, a Yakima police officer, used excessive force during the 2013 incident and lacked probable cause to detain the man. According to a superior, Gillette first tried to arrest the man for a crime that didn't exist in city code, then arrested him for a different offense — also not supported by the facts — in an apparent attempt "to justify [the] prior use of force."
Yet Gillette continues to work as a cop, as do at least 183 officers in Washington state whose dishonesty, lapses in judgment, bias or sloppy police work have landed them on a list of officers with credibility issues. (Read more about how we reported this story.)
Gillette received a written reprimand for the punching incident. He also was placed on a list of witnesses commonly called the "Brady list," after the 1963 court case Brady v. Maryland.
The list is essentially a collection of cops who come with a warning label. When these officers are called upon to testify, letters are sent from the prosecutor's office to alert defense attorneys of their past misbehavior — incidents that could be used to question the officers' testimony, or impeach their credibility in court.
Officers end up on the Brady list for a variety of reasons, but the most common is dishonesty. About half the officers Crosscut identified as still working in law enforcement were flagged by prosecutors because they appear to have lied or were somehow deceptive.
Others were placed on the Brady list because of incidents of bias, such as posting racist remarks on social media or making discriminatory comments toward suspects.
A few, like Gillette, are there because of their excessive or questionable use of force. The Yakima police chief agreed that Gillette's use of force was improper, but disagreed with the investigator's conclusion that Gillette fabricated a reason for the arrest.
Crosscut began compiling a statewide database of officers placed on county Brady lists more than nine months ago, shortly after George Floyd was killed by Minneapolis police.
Prosecuting attorneys say being on the list doesn't mean a cop is dirty (although, prosecutors have occasionally been known to call their Brady list their "bad cop" file, for short). Officers on the list are regularly called upon to testify in court, with their testimony serving as evidence against defendants in criminal cases.
"There are instances where the officer involved may have had something relatively minor as to what the misconduct was," said Dan Clark, who leads the criminal division in the King County Prosecuting Attorney's Office. "We still have an obligation to turn that [information] over."
Defense attorneys, however, question why any cops who have been known to lie, abuse force or stretch ethical limits continue to work as police officers, when a police officer's word can be enough to convict someone of a crime or put them in jail.
"I really think we should not need a Brady list, because there should be no such thing as a police agency that keeps cops with histories of lying, or false arrests, or brutality, or fabricating reports, or other misconduct," said Anita Khandelwal, director of the King County Department of Public Defense.
Khandelwal's office recently joined with several other groups to ask King County to stop prosecuting cases that rely on evidence collected by cops on the Brady list.
"Black, Indigenous, and other people of color are disproportionally ensnared in the criminal punishment system. They should not be forced to confront claims or purported evidence found by officers who have been disciplined for being dishonest or racist," the Department of Public Defense wrote in August 2020.
The King County Prosecuting Attorney's Office has yet to formally respond to that letter.
Eight months later, a deadly shooting
In addition to deciding whether a criminal defendant ends up in jail or facing charges, a police officer's honesty can also be crucial in determining whether families of police shooting victims get justice.
Eight months after Gillette punched a man in the head in Yakima, he shot and killed an unarmed man in a parked car at a Yakima car wash.
The Yakima County Prosecuting Attorney's Office ruled the 2014 shooting of Rocendo Arias was justified, based largely on Gillette's statement that Arias lunged at him while pointing what turned out to be an Airsoft pellet gun.
But a retired police captain who reviewed the case on behalf of Arias' family said the evidence contradicted Gillette's story. The blood spatter pattern, along with the position of Arias' body — slumped forward, with his hands in his lap — suggested he was actually sleeping at the time, not lunging, as Gillette had claimed, wrote former Yakima Police Capt. Rodney Light.
The Arias family brought a wrongful death lawsuit, and the city ended up paying $500,000 to settle the case without admitting any wrongdoing on the part of Gillette.
William Pickett, the family's attorney, called the sequence of events "absolutely disgraceful."
"He should have been discharged. Instead, he was promoted," said Pickett, referring to how Gillette moved from patrol to the SWAT team after the shooting, and later became a detective.
Gillette didn't respond to multiple requests to be interviewed for this story.
The current Yakima police chief, Matthew Murray, wasn't around when the incidents involving Gillette took place, but said he saw no indication in his records that Gillette had lied. He called Gillette "a star" detective who investigates sex crimes against children.
"I don't think there's any indication he was acting in bad faith," Murray said of Gillette.
How officers end up on the Brady list
Most incidents that land cops on the Brady list are of much lower stakes than fatal shootings — things like submitting inaccurate reports about traffic stops or lying about why they missed a court date.
But Pickett, a former president of the Washington State Bar Association, said any deception in a cop's record "is always relevant, because it addresses the character of the witness."
"These folks, when they swear the oath to serve and protect, they are given an enormous amount of control over our lives, if they choose to exercise that," Pickett said. "And they have to be of the utmost trustworthiness — they just have to be."
The Brady lists from Washington's 39 counties aren't a complete accounting of every cop who has ever crossed a line. But they shed light on the kind of behavior that police officers can be credibly accused of while still being allowed to keep their jobs.
In most cases, police officers end up on these lists if their departments have conducted an investigation and determined that they have been less than truthful or have committed some other form of misconduct.
In other cases, prosecutors have added officers to the list if they have been observed giving conflicting statements, or a judge has determined they disregarded the truth in some way.
After filing more than 100 public records requests, Crosscut has identified at least 183 cops across Washington state who have been placed on prosecutors' Brady lists, yet continue to work as police officers.
That number is likely an undercount, as it doesn't include every officer who may have been added to these lists in recent months, or some officers on lists that may be held by city instead of county attorneys.
These folks, when they swear the oath to serve and protect … they have to be of the utmost trustworthiness — they just have to be.
About half of the working cops that Crosscut identified as being on Brady lists ended up there because of some form of deception — such as lying to co-workers, submitting false reports or affidavits, or lying during internal investigations. That's 89 officers.
A dozen others were placed on the lists because their official reports were deemed to be inaccurate, but it wasn't clear that they were intentionally trying to deceive.
Other reasons officers were placed on their county's Brady lists included past criminal convictions, failing to properly handle evidence, or other forms of sloppy police work.
Crosscut identified 20 working officers who are on Brady lists for excessive force or bias. That number doesn't capture every officer who has exhibited those behaviors around the state. A few officers are on Brady lists for multiple reasons, according to prosecutors' notes.
For 26 officers, Crosscut was unable to determine why they were placed on prosecutors' Brady lists.
Fired for lying, but still on the force
Sometimes, officers are fired for lying. But the discipline doesn't always stick.
That's what happened with Shelton Police Officer Hector Diaz.
An internal investigation in 2019 found that Diaz made inappropriate sexual comments to dispatchers, members of the public and other police employees. During the investigation, Diaz "displayed a lack of integrity and truthfulness," his police chief wrote at the time.
In another incident, Diaz lied to his then-girlfriend by telling her a restraining order was in effect against her — part of a ploy to keep her from talking to a barista she suspected Diaz was also dating.
In a statement to police, Diaz's former girlfriend said she feared she "would go to jail" for violating the nonexistent restraining order, causing her to drive out of her way to avoid passing the coffee stand where the barista worked.
She also reported receiving threatening texts from Diaz, and told police she terminated a pregnancy because she didn't think she could keep the baby safe from him.
"I know for a fact that my life, along with the baby's, would be in danger," she wrote of her decision to get an abortion.
"… This is not something I would have ever done if I felt safe."
Darrin Moody, a former police chief of Shelton, decided to fire Diaz in September 2019, citing "a pattern of dishonesty" that included lying in court.
"… You admitted to 'lying' several times in order to get the desired results in your personal relationships, and you did this while using your position as a police officer to further the deception," Moody wrote in his letter firing Diaz.
But Diaz filed a grievance under his union contract, leading the city to reinstate him as part of a settlement agreement.
As a result, Diaz still works as a Shelton police officer.
His response to everything is, 'I'm a cop, why would I lie?'
Diaz did not respond to requests to interview him for this story. His current police chief, Carole Beason, wrote in an email that she wasn't around for those incidents, then didn't respond to further inquiries.
In her statement to police, Diaz's former girlfriend questioned why the Shelton Police Department would want to keep an officer like Diaz, who she said abused his power while using his badge as cover.
"His response to everything is, 'I'm a cop, why would I lie?' " she wrote.
'A deadly force situation'
The Brady lists are not specifically designed to track uses of force by police agencies. Still, at least eight currently working officers ended up in prosecutors' Brady files after using force in a way that was thought to be questionable or excessive.
Gillette, the Yakima police officer who punched a man and later killed Rocendo Arias, is one of those officers.
So is Darrin Dotson, a Jefferson County sheriff's deputy who has a history of losing his cool.
Dotson once got suspended for yelling at a Little League umpire while armed, on duty and in uniform, according to local media reports. The umpire had apparently called a strike on Dotson's 10-year-old son.
A few years later, Dotson was cited as having "clearly exhibited poor control of his emotions" when he detoured from an urgent call to pull over a truck driver, then swore at the man and possibly dented the door of the man's truck when slamming it closed.
Then, in 2016, Dotson intentionally applied his Taser to the face of a man he was trying to arrest.
Targeting a person's face with a Taser goes against the guidance listed in the device's operations manual, which says "to avoid targeting the face … to reduce the risk of serious injury or death," said Andrew Myerberg, the director of Seattle's Office of Police Accountability, which reviews misconduct complaints.
"For me, that would be a deadly force situation," Myerberg said, after hearing a description of Dotson's case.
The Jefferson County Sheriff's Office similarly directs deputies to avoid using a Taser on a person's head or neck.
Myerberg said there are alternative, less lethal tactics that can be used in a situation where someone is resisting arrest, but deliberately deciding to apply a stun gun to someone's face is "hard to justify."
Dotson didn't respond to requests to be interviewed. Neither did Jefferson County Sheriff Joe Nole, who was not in office at the time of the Taser incident or the other two incidents involving Dotson.
An outside prosecutor from Kitsap County weighed whether to press criminal charges against Dotson for the Taser incident. Ultimately, no charges were filed, but the incident was added to Dotson's Brady file at the county prosecutor's office.
Showing bias
Racism is another reason prosecutors flag cops for the Brady list. At least a dozen working cops have landed on Brady lists because of incidents where they showed some form of bias.
Sometimes, those offenses have occurred on social media. In 2017, a Whatcom County sheriff's deputy posted an image on Facebook of a female model in a Native American headdress, with the caption "Victoria's Secret apologizes after use of Native American headdress in fashion show draws outrage."
The deputy, Ryan Rathbun, posted along with that image, "Time to get the small pox blankets out and shut some people up."
According to a 2017 memo from the Whatcom County prosecutor's office, Rathbun said he wasn't biased against Native Americans, and "this remark was a parody of something he had seen on South Park, a cartoon broadcast show."  The county prosecutor at the time, David McEachran, wrote that he considered Rathbun a "well qualified, hardworking and good deputy sheriff" who didn't show bias or prejudice while on duty.
Rathbun remains employed as a Whatcom County sheriff's deputy and has continued to respond to calls out in the community.
Other agencies may have reacted differently to the same set of facts.
"For me, that would be almost certainly a termination case in my mind," said Myerberg, Seattle's Office of Police Accountability director. "I don't see any way that officer would be able to stay with the Seattle Police Department."
Myerberg said discriminatory social media posts do, in fact, say something about a cop's ability to police people fairly.
"If you are racist, you are not just racist on Monday," Myerberg said. "You are racist on every day of the week."
The public absolutely has to trust that when an officer raises their hand and swears, 'This happened,' that what the officer said was the truth.
'A second chance'
Cops often object to being on the Brady list, saying it damages their credibility and could end their careers.
Yet several police officers who have been placed on the Brady list in one jurisdiction later go on to find employment somewhere else.
One of them is Wade Murray, a former Seattle cop who admitted to insurance fraud while trying to cover for his nephew, who had crashed Murray's car into a retaining wall. Murray filed a false insurance claim saying that he, not his nephew, was the one driving, while also arranging for his nephew to leave the scene and for the car to be privately towed. Murray was suspended in 2018 over the incident and now works for the Milton Police Department.
Another Brady list officer who switched departments is James Schrimpsher, the chief of police in Algona. He is on King County's Brady list for being less than truthful in an internal investigation in 2007, when he was a King County sheriff's deputy. He was fired over the incident.
Schrimpsher cautioned against writing off officers on the Brady list as bad cops who are somehow irredeemable.
"I made a mistake going on 15 years ago and, luckily, I had some good mentors who picked me up, dusted me off and put me on the right path," Schrimpsher said.
He said he has used what he learned from the experience to try to improve the state's criminal justice system. That work has included helping get members of the Washington Fraternal Order of Police on board with major reform measures, as well as serving on the Washington State Criminal Sentencing Task Force, which recommended ways to reduce long prison sentences and promote alternatives to incarceration.
"One of the reasons I wanted to be on that task force is that people make mistakes, and they shouldn't have to pay for them the rest of their lives if they have learned from that mistake," Schrimpsher said. "Because I got a second chance."
'The tip of the iceberg'
Lisa Daugaard, executive director of the Public Defender Association, said she doesn't think the worst actors in police departments actually show up on prosecutors' Brady lists.
Rather, she said, the cops who end up on the lists are simply the ones where there is a "smoking gun" showing how they lied, cut corners or abused their authority —  things typically hard to prove.
"The few officers that are proven to have Brady material are the tip of the iceberg," Daugaard said. "The iceberg is the other officers you are worried are hiding evidence, fabricating evidence, producing inaccurate pictures, or subverting justice."
Clark, the lead criminal deputy in the King County Prosecuting Attorney's Office, said his office takes its obligation to turn over potential impeachment material very seriously, and is diligent about providing that information to defense attorneys.
But there are other places the system can break down, including with the police agencies themselves.
Khandelwal, the director of the King County Department of Public Defense, said decisions about who goes on the Brady list rely too much on police agencies investigating themselves and issuing disciplinary findings against officers, which doesn't always happen.
State Sen. Manka Dhingra, D-Redmond, hopes to address that in part by passing a new law, Senate Bill 5066, that would make it mandatory for officers to report any misconduct they see.
But even when there is an official investigation or misconduct finding, prosecutors don't always learn about it in a timely manner, said Dhingra, who also works as a King County deputy prosecuting attorney.
Another proposal, House Bill 1088, would try to fix that by requiring police agencies to notify prosecutors within 10 days about any misconduct that could cast doubt on an officer's testimony. The measure would also require police agencies to check whether potential new hires are on their local county's Brady list.
State Rep. John Lovick, a former Snohomish County sheriff who is sponsoring the bill, said the goal is to help restore people's faith in law enforcement, which he said has been eroded by high profile police killings and allegations of police misconduct.
"This is hopefully going to bring some trust back to the system we have in place," said Lovick, D-Mill Creek. "The public absolutely has to trust that when an officer raises their hand and swears, 'This happened,' that what the officer said was the truth."
"That just comes down to integrity."
---