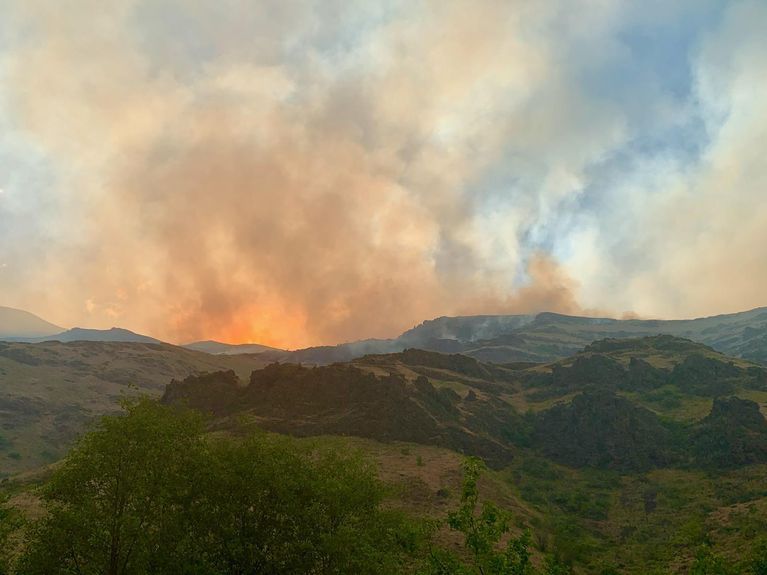 Northeast Oregon Wildfire Jumps Into Southeast Washington In Difficult Terrain, High Wind
A fire grew across state lines in Northeastern Oregon over the weekend, becoming the region's largest blaze so far this year.
The Joseph Canyon fire more than tripled in size overnight Saturday , after high winds and low humidity fanned an area struck by lightning storms late last week. It continued to grow Sunday, and by Monday morning, the fire's footprint had swelled to around 4,000 acres of northern Wallowa County in Oregon, and southeastern Washington. The nearest town is Lewiston, Idaho, about 23 miles to the north.
Air tankers and helicopters are helping firefighters on the ground, who face steep, rugged terrain.
"Extreme winds Saturday challenged air resources … but also aided the suppression effort by pushing the active fire line back onto itself in some areas," according to a Sunday press release from Wallowa-Whitman National Forest.
The fire reportedly ignited on Bureau of Land Management lands, but soon crossed over into Washington state lands protected by the Oregon Department of Forestry.
"This is probably one of the most difficult places to fight fire in Oregon," said ODF deputy administrator Matt Howard in a press release. "Joseph Canyon is known for its extreme terrain, communications challenges, and natural hazards."
Several ranchers and permittees moved into the area to get cattle out of the fire zone, fire managers said.
A Type 2 Incident Management Team is set to assume command of the fire Monday.
In Southern Oregon, the National Weather Service issued a red flag warning Sunday for parts of Eastern Lake and Western Harney Counties, where strong, gusty winds and low humidity could easily spread more wildfire. The warning was expected to lift Sunday evening, but similar conditions are possible again Monday.
Copyright 2021 Oregon Public Broadcasting. To see more, visit opb.org
Autumn has knocked on our doors and crossed our thresholds. With its arrival comes wetter, colder, darker days — perhaps some pumpkin-flavored treats as well — and hopefully, fewer wildfires. Heavy recent rainfall has dropped the wildfire potential outlook down to normal for the Northwest, according to the National Significant Wildland Fire Potential Outlook.
So, how did this summer fare compared to past fire seasons? Continue Reading What impacts did wildfires have on the Northwest this summer?