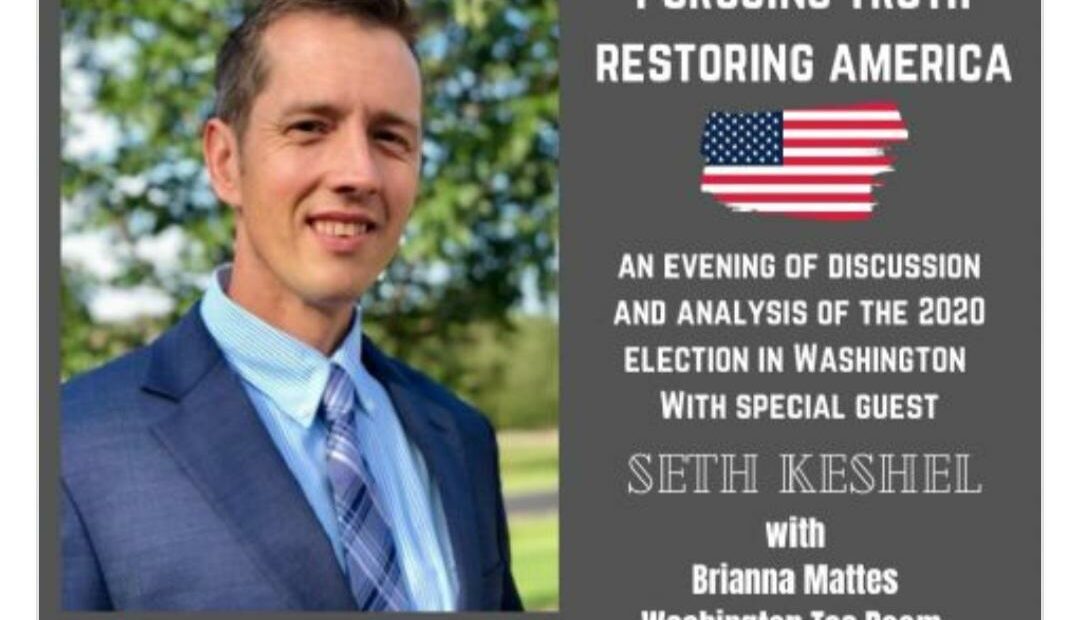 Washington State Rep. Running For Congress Pushes Voter Fraud Accusations
NWPB's Dori Luzzo Gilmour talks to State Rep. Brad Klippert about his claims of massive voter fraud in the 2020 election / Runtime – 3:30
Washington State's Eighth District Representative Brad Klippert is running for Congress against Dan Newhouse. Klippert's main focus for his campaign is election integrity and he has been questioning the 2020 Presidential election results, including speaking at My Pillow Guy Mike Lindell's Cyber Symposium.
Brad Klippert's day job is working for the Benton County Sheriff's Department as a deputy. On the evening of the 2020 election, Klippert was transporting a person in custody over the pass. When Klippert turned on the radio the next morning after spending the night, results had changed.
"…when they started counting ballots again, a dramatic spike in the change, in the direction of the election took place in several different states," Klippert said. "So it's stuff like that came to my attention that causes me to believe that there was something specific about the 2020 election that needs attention."
Klippert has been looking for evidence of election fraud and has called for a full forensic audit of the election in Washington state. In August 2021, Klippert and two other Washington state legislators attended the Cyber Symposium in South Dakota, sponsored by Trump supporter Mike Lindell, and asked for travel costs reimbursement from taxpayers. Washington state paid Four thousand, three hundred and sixty-one dollars for the lawmaker's hotels and flights to the conference.
Klippert gave a two minute speech at the Symposium.
" Before I came here last week, I asked staff in Olympia to prepare a forensic, a full forensic audit proviso for next year's budget," Klippert said at the symposium. "I also asked staff to work on legislation to support that budget. So we are already on work on this in Washington state before I came here."
Klippert explained that he has been looking at Washington state's election law. This eighty-nine pages long piece of legislation is what Klippert and staff have been going through, line by line.
"It's just going through the Washington state election laws, page by page, sentence by sentence, to make sure we take out all the opportunities for fraudulent activities. It's pervasive…"
Klippert says each of the county auditors have their own way of running elections.
And Klippert says that in 2020, 17% of registered voters in Benton county didn't vote.
"Many of them have said, I don't vote because my vote doesn't count, someone else's vote is going to over right it or the fraudulent activity will, so they just throw it in the trash. That is unacceptable to me, I want them to feel confident when they cast their vote."
On January 31st, 2022, Klippert held a virtual town hall and said that in two weeks he would be flying to Seattle to meet with someone that would be giving him evidence that there were election integrity issues in the 2020 election. The person he met was Seth Keshel. Keshel has written extensively on the 2020 election regarding excess votes going to Joe Biden, contentions that have been widely debunked. Northwest Public Broadcasting has asked Klipert for evidence he says he has of widespread voter fraud. Klippert will be hosting another event on April 2nd, with Seth Keshel as a special guest, and said all evidence of the fraudulent activity will be revealed at this event held at a local church.
When asked about elections in Benton County in which Klippert resides, and the local election official Brenda Chilton, whom Klippert shares party affiliation with, Klippert said that he highly respects her and has asked her to run for Secretary of State. Chilton has told Klippert there is little fraud in Benton County.
"If there is any fraudulent activity, to me that is unacceptable," Klippert said.  "I need to be able to go to the voters and say, we have done everything with Washington State's election laws and to eliminate every possible avenue of voter's fraud that could possibly take place."
Klippert has held elected office in Benton County since 2008, winning reelection each time he has run.