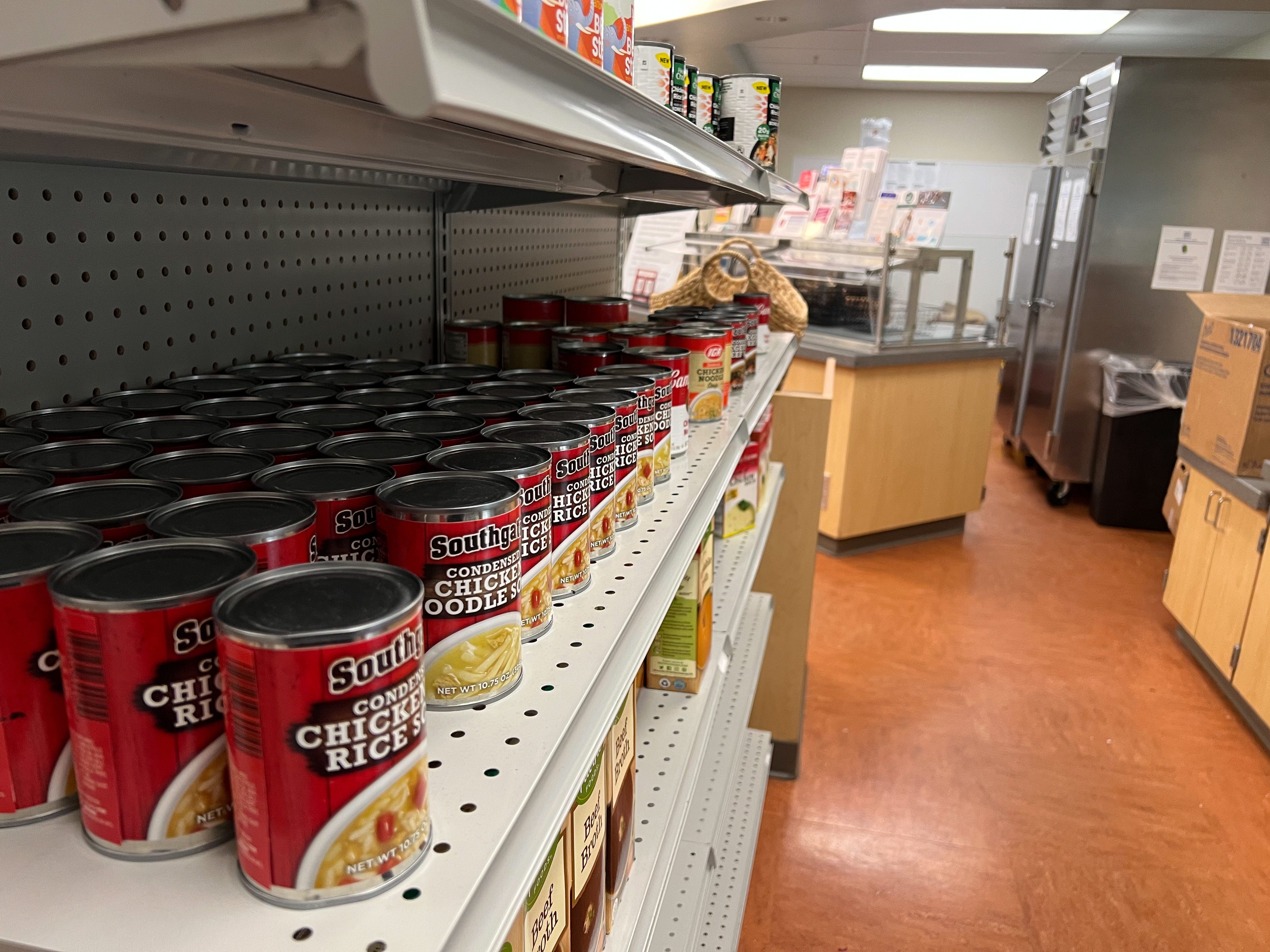 Trying To End The Stigma Of Student Food Pantries
By Saydee Phothivongsa / Murrow News Service
On the first floor of the Compton union building on the Washington State University campus is the Cougar Food Pantry, with its doors open every day from 10 a.m. to 6 p.m., stocked with food for WSU students. But many students don't know this pantry exists.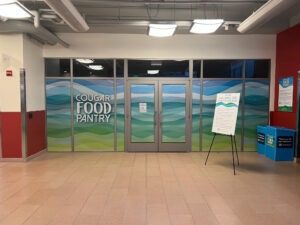 The Cougar Food Pantry is located on the 1st floor of WSU's Compton union building, also known as the CUB / Photo by Saydee Phothivongsa
"We're like the defenders of food security on campus," says Shae McCarron, AmeriCorps Food coordinator who runs the Cougar Food Pantry on campus. "It's just like a little marketplace except that everything is free."
Food insecurity rose sharply during the pandemic, and college campuses have been beefing up their resources to help students. At Washington State University, the Cougar Food Pantry acts as a one-stop shop for students who need it. The shelves of the pantry are stocked and the pantry also has fresh produce from the organic farm on campus, McCarron said.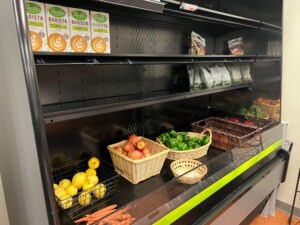 At the Cougar Food Pantry, shelves are stocked with canned goods and fresh fruits and vegetables / Photo by Saydee Phothivongsa
About 30 percent of students at four-year colleges experienced food insecurity in the preceding month, according to a 2021 study by The Hope Center, a national nonprofit that tracks student needs. But many students are not aware of resources on campuses.
WSU sophomore Angela Turner, who uses the pantry at least three times a week, said that there is a stigma that the pantry is for "lower-income" students, but it really is for anyone at any time. 
"There is a lot of prejudice in our society, which has affected this stigma of being less fortunate," Turner said. "The pantry brings a safe and secure approach to needing help with [food insecurity].". 
McCarron said that this year the pantry is trying to drive the point home to students that it is a resource for everyone. 
"You've got to make us essential," McCarron said. " If you don't have food, you die. It doesn't matter who you are. Doesn't matter how much money you have. Food is a root of all cultures, the root of our being. If we don't have easy access to it, then there's something wrong with the system. If you play into that stigma, you're just making it worse."
For students in Pullman, ruralness and affluence are big contributors to their struggle with food security, McCarron said. 
"The reality of the Palouse is that it is a food desert," they said "And we are very much a university town that is surrounded by wealthy families. And the grocery stores in the area really reflect that." 
The lack of access to services on the Palouse contributes to food insecurity in the community, said Paige Collins, executive director of The Council on Aging and Human Services for Whitman County. 
"I think we do have special challenges because we aren't in the heart of Seattle where there are 27 food banks people can access," Collins said. "There are less resources for food at the pantries. However, a lot of the work I've done in the last few years has made our food distributors work harder to get just as much healthy food to Whitman County as in the bigger cities." 
McCarron has plans in the works to promote and destigmatize the use of the Cougar Food Pantry including a free farmers market on Terrell Mall on Earth Day put on by the pantry. 
---
Saydee Phothivongsa is a student at the Edward R. Murrow College of Communication