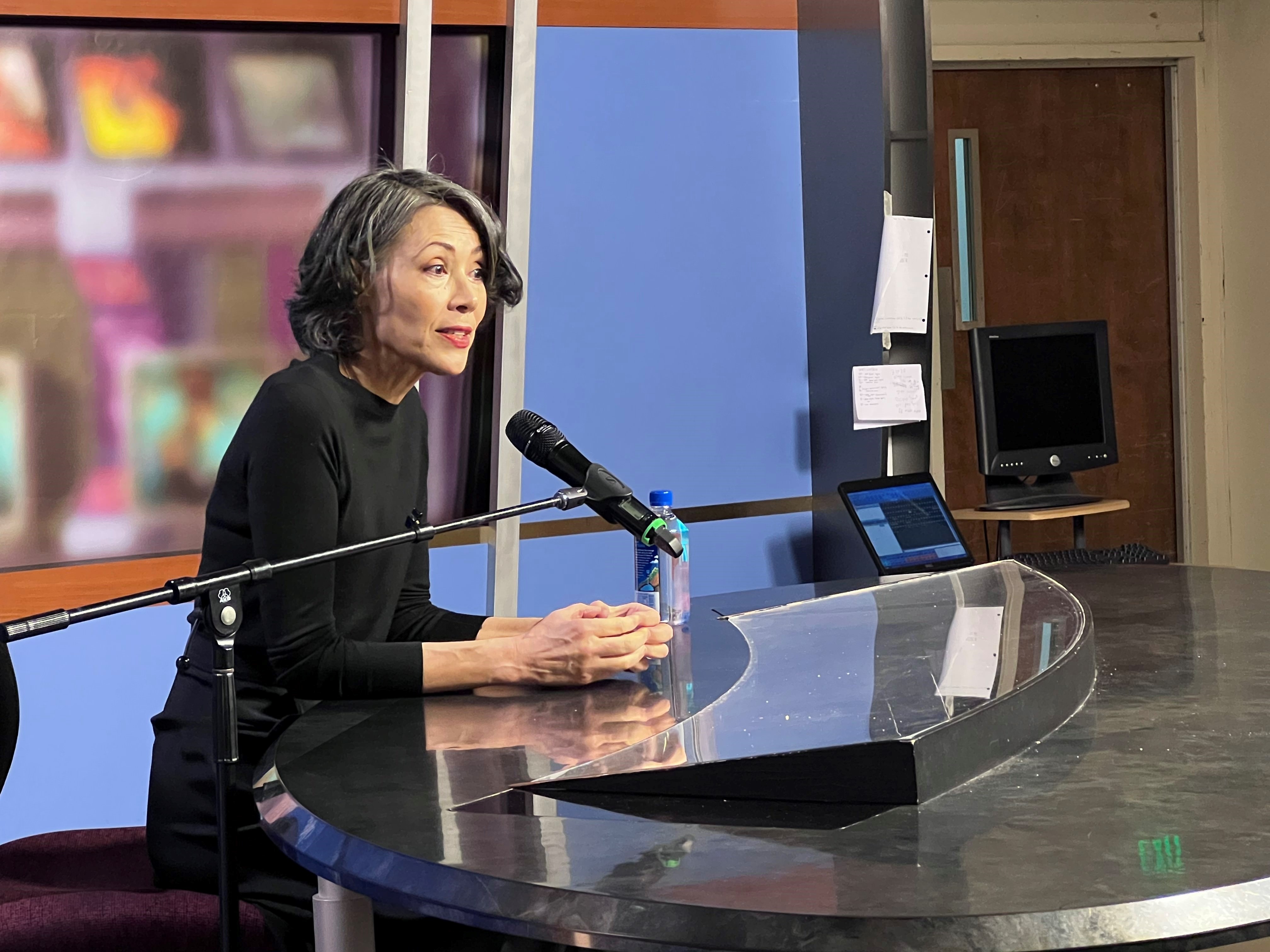 Ann Curry To Receive Edward R. Murrow Lifetime Achievement Award
Award-winning journalist Ann Curry will receive the Murrow Lifetime Achievement Award in Broadcast Journalism at the 46th annual Murrow Symposium tonight.
Curry, a former longtime NBC news anchor and international correspondent, has won numerous reporting awards and is known for her humanitarian work and reporting on war and natural disasters. She has reported on conflicts in Iraq and Syria, the Darfur genocide, and the 2010 Haiti Earthquake, where Twitter named her message imploring the Air Force to allow physicians to land in Haiti as the most powerful tweet of the year and it was credited with speeding the arrival of humanitarian planes.
After working for NBC News for 25 years, Curry founded a multi-platform media startup and hosted and produced a documentary series with PBS, We'll Meet Again with Ann Curry, which featured reunions between individuals whose paths crossed during pivotal moments in their lives from Holocaust survivors to people separated by World War II.
Curry will be recognized by the Edward R. Murrow College of Communication and give a keynote speech at 7 p.m. this evening as part of the symposium.
Ahead of her keynote address, Curry spoke to a group of journalism students Monday about the critical role they play in the future of journalism.
"You want to stand up for people and for stories that need to be told," Curry told students. "You have to stand up and speak out."
Curry said she had a lot of faith in future journalists and spoke of a period of transition within journalism.
"Your generation of young, rising journalists is fully awake in a way that many generations in that past have not been," Curry said. There is more opportunity to get to the truth because of the current chaos, she said.
Curry referred to the truth as the "North Star." She said people become blinded to the truth when they only look at it from one perspective and emphasized that it is not the job of journalists to tell people what to think, but rather the focus of journalism should be trustworthiness.
On the topic of this year's symposium theme, elevate and advocate, Curry said it's always going to be a fight for stories about underrepresented voices and issues, but it's the job of reporters to go into those communities and elevate those stories.
Curry shared a story with students of her time reporting in Los Angeles and covering the story of a young boy who was bullied because his thumb was attached to his hand, and he couldn't play ball with the other kids. Curry spoke of how it was important for her to fight to tell that story and give that boy a voice and elevate it. That story ended with the boy receiving surgery to detach his thumb, but it started with initiating that story and bringing it to the surface.
"Journalism is only as good as the willingness of those who do it to fight," she said.
Curry concluded her remarks to students with a call to action to fight for stories that matter and to fight for the truth.
"It's a good time to be a fighter," she said.
Bruce Pinkleton, dean of the Edward R. Murrow College of Communication, said he thinks of recipients of the Murrow Lifetime Achievement Award as "journalists reflecting the very best of the Edward R. Murrow legacy."
A lot of work went into research and deciding who exemplified the Murrow legacy and tradition, Pinkleton said. A leadership team began discussing the recipient of this year's award nearly a year ago. Pinkleton said Curry was a strong fit for this year's symposium theme, Elevate and Advocate: Communication for the common good.
"Her humanitarian war reporting has just been outstanding over the arc of her career. She's tremendously empathetic in her interviews and she really has captured the world's attention for humanitarian crises," he said. "She has a really gritty determination to get to the truth."
Kathryn Jones is a student at the Edward R. Murrow College of Communication.