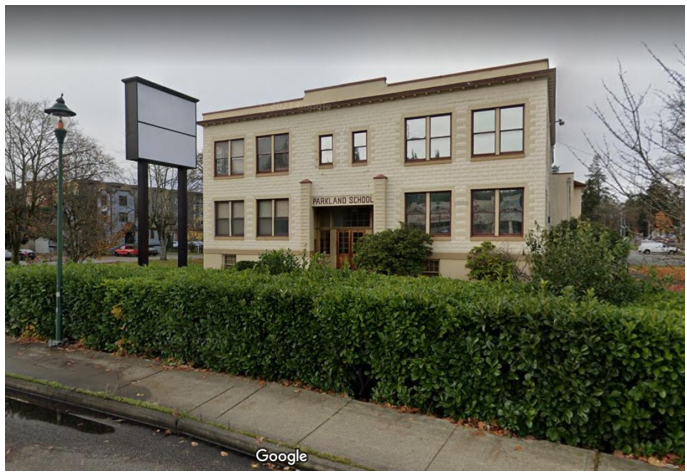 Historic Preservation Commission Recommends Preserving Parkland School, University Weighs Options
Pacific Lutheran University is planning to sell the old Parkland School building in Pierce County but residents want to save the building for a community center.
"My name is Linda Carlson …  I want to speak regarding the value of the Parkland School structure and its grounds in community history — "
"This is Roxy Giddings. I would agree completely with the last callers on the Parkland School —"
Those are just a couple of voices expressing what many others said during the Piece County Council's meeting earlier this week, stating their desire to see the Parkland School building saved.
The group, who has been fighting for the building's preservation for months, now have a new ally. The Pierce County Landmarks & Historic Preservation Commission voted unanimously to keep the building preserved as a historic landmark and to deny the demolition permit submitted by Veer Architecture.
But, as county councilmember Jani Hitchen explains, the commission is just an advisory committee. 
"It's not a decision making body," Hitchen says.
So, while the commission has made a recommendation to the planning and public works department, they cannot prevent a building from being demolished or property from being sold.
In response, the planning and public works department has now formally asked PLU to provide more information regarding cultural and historic preservation of the building, as well as a further explanation of why PLU estimates that it would take $28 million to retrofit the building.
"They're basically saying before, we will let you go to the next step, you need to answer these questions, and many of them are questions that the Save Parkland School group have been asking for a while," Hitchen says.
Community members would like to see the building preserved and renovated into a community center — something Rep. Melanie Morgan allocated state funds for years ago, Hitchen says.
Veer Architecture applied for a demolition permit for the building in February. They, along with DRK Development, plan to turn the site into a five-story, multi-family apartment building, according to their permit application. 
Kent Smutny of Veer Architecture responded via email that the decision by the landmark commission has caused their team to regroup, and that the firm will be exploring different options and be able to share new plans in the coming weeks. Smutny confirmed that they are still pursuing the site for development in some capacity.
Pacific Lutheran University's Zach Powers said in a statement that the university is currently reengaging "area agencies and organizations anew to confirm whether they still have no viable alternative plans for the property." According to the university's website, they can no longer use the building and that the building needs extensive repairs.